One of Scotland's great winter traditions has returned with the country's hilariously named gritters hitting the roads.
Best of all, Scots concerned about the road conditions, or simply keen to track their favourite gritter can do so at the Traffic Scotland website.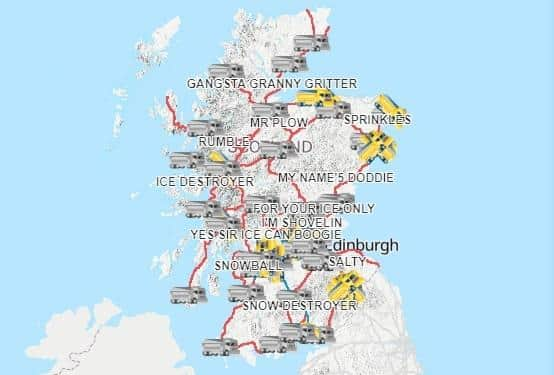 Here's how to track the vehicles – and the funniest nicknames.
How can I track Scotland's gritters?
A full map of Scotland's gritting fleet can be found at scotgov.maps.
Double click to zoom in on the map, and click and drag your cursor to explore the interactive map of Scotland.
What are Scotland's gritters called?
How to drive in snow and ice
Of course the gritters are out there for a reason: to keep the roads safe during the wintry conditions.
Here's how you can minimise risk while driving in snow and ice according to the Scotsman's cars expert Matt Allan:
"It can be hard to tell if a road is icy. If your tyres are making virtually no noise on the road you could well be driving on ice. If you are on sheet ice, don't brake as this will make you skid further.
"If you find yourself behind a gritter or snow plough, only overtake it if it is safe to do so. Drive carefully, as there may well be uncleared snow on the road ahead.
"Remember, braking distances are increased by as much as 10 times in snow and ice, so leave a much larger gap to the vehicle in front."