More than 24 hours after her appointment, it was confirmed that Màiri McAllan will take overall charge of transport as part of her portfolio in joining the cabinet for the first time as Net Zero and Just Transition Secretary.
However, First Minister Humza Yousaf – a former transport minister – has omitted transport from her title.
Ms McAllan's predecessor, Michael Matheson, who moves to health, was the Net Zero, Energy and Transport Secretary.
On Wednesday, the Scottish Government was unable to confirm that transport would be part of Ms McAllan's brief or why it had been omitted from the list of Cabinet portfolios.
There was speculation that it may simply have been to avoid an overlong title for her post.
Former Labour minister Wendy Alexander joked two decades ago about being the "minister for everything" when transport was added to her role by First Minister Jack McConnell and she became minister for enterprise, transport and lifelong learning.
Then at 6.20pm on Thursday, the Scottish Government said the Cabinet Secretary for Net Zero and Just Transition "will have overall responsibility for transport and delivering the Scottish Government's commitment to reducing emissions from transport".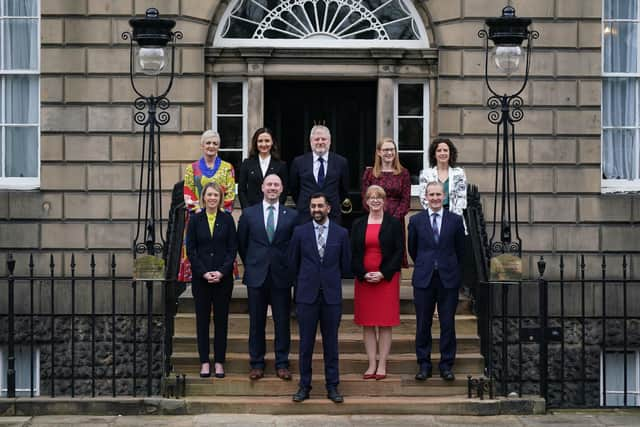 Transport minister Jenny Gilruth has been appointed Education Secretary, with her successor named on Wednesday evening as Aberdeen Central MSP Kevin Stewart, who moves from being minister for mental wellbeing and social care.
Patrick Harvie of the Scottish Greens remains responsible for active travel [cycling, walking and wheeling] in addition to being minister for zero carbon buildings and tenants' rights.
A transport industry chief criticised the omission from Ms McAllan's title.
Paul White, the Scotland director of the Confederation of Passenger Transport, which represents bus and coach operators, tweeted: "Surprising that a policy area as crucial as transport gets dropped from the Cab Sec titles. Surprising and worrying."
Scottish Conservative chairman Craig Hoy said: "It's astonishing that Humza Yousaf's cabinet is lacking a dedicated transport secretary given the state of nationalised Ferguson Marine and ScotRail, and the SNP's shameful failure to dual the A9 and A96."