Humza Yousaf unveils full Cabinet with majority of women for first time ever
Humza Yousaf has vowed to pursue a "radical, ambitious and progressive" policy agenda as he unveiled his full ministerial team, appointing his deputy Shona Robison to the vital role of finance secretary.
Mr Yousaf announced the key roles after being formally sworn in as First Minister. For the first time in the history of devolution, a majority of the Cabinet are women.
Mr Yousaf, 37, said he had assembled a mix of "fresh faces" and experience, with half of those in his Cabinet aged under 40, including him. Keith Brown, the deputy leader of the SNP, was sacked from his role as justice secretary, which he had held since 2021 under Nicola Sturgeon.
Mr Yousaf said it was the "biggest government reshuffle" since about 2007. Critics dismissed it as a Cabinet of "proven flops and lackeys".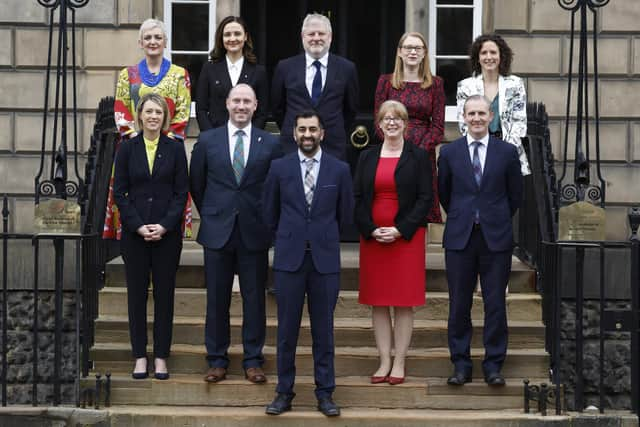 The new First Minister's bid to unite the party after the bruising leadership race hit a number of early stumbling blocks. Kate Forbes, his main leadership rival, refused a job after being offered the rural affairs portfolio. This would have been seen as a clear demotion from her previous role as finance secretary under Ms Sturgeon.
Ash Regan, the third SNP leadership candidate, told The Scotsman she was not approached for a job, but said she was not surprised. "I think it would have been wise, for the sake of unity, to have included some of the other candidates in the government or their supporters," she said. Ms Regan secured just 11.1 per cent of the vote in the contest.
Ivan McKee, who was Ms Forbes' campaign manager during the early stages of the leadership contest, also quit the Government after being offered a job with "less responsibility". The former business minister told The Scotsman his new role would have been "in the same space" but left him without the "tools to do the job".
Meanwhile, Ben Macpherson, who served in four junior ministerial roles under Ms Sturgeon, rejected the offer of a fifth as transport minister. He had been seen as a potential Cabinet member. "After serving in four @scotgov ministerial roles in five years, today I've respectfully declined a fifth," he tweeted. During the leadership contest, he said it was "better to go down a gear" on independence "and take the journey at a reasonably safe speed than crash trying to rush things".
Ms Robison will take over the finance portfolio as well as serving as Mr Yousaf's Deputy First Minister. A close friend of Ms Sturgeon's, she was most recently social justice secretary under the former first minister.
Michael Matheson, the former transport secretary, will take responsibility for NHS recovery, health and social care.
Jenny Gilruth, who was previously transport minister, will join Cabinet for the first time as the education and skills secretary. Màiri McAllan, another junior minister under Ms Sturgeon, will be in charge of the net zero and just transition brief at the age of just 30. This will also include overall responsibility for transport, although it has been removed from the title. The Transport Salaried Staffs' Association (TSSA) called the omission "utterly astonishing".
Neil Gray, who was Mr Yousaf's campaign manager, will join Cabinet for the first time as the wellbeing economy, fair work and energy secretary.
Mairi Gougeon will remain as the rural affairs, land reform and islands secretary, while Angus Robertson will also stay in charge of the constitution, external affairs and culture portfolio.
Shirley-Anne Somerville, who was previously education secretary, will take over the social justice brief. Angela Constance will return to Cabinet in the justice and home affairs portfolio. She was in Cabinet from 2014 to 2018, under both Alex Salmond and Ms Sturgeon, but had more recently served as minister for drug policy, with responsibility for tackling the high number of drug-related deaths in Scotland.
The ten-strong Cabinet, including Mr Yousaf, will be supported by 19 junior ministers. These include new faces such as Emma Roddick, who at 25 is the youngest MSP in Holyrood and will be the new equalities minister.
Jamie Hepburn has been appointed the minister for independence. The creation of the role was one of Mr Yousaf's pledges during the SNP leadership contest.
Scottish Green co-leaders Patrick Harvie and Lorna Slater will keep their ministerial roles under the power-sharing agreement with the SNP.
Mr Yousaf said: "The Cabinet team I have unveiled reflects the priorities that we will pursue as a government – including tackling child poverty, improving public services and building a fairer, greener economy. Ahead of my appointment as First Minister, I have committed myself to a radical, ambitious and progressive policy agenda for Scotland – and I know that this team is the right one to deliver it.
He added: "I have made clear my belief Scotland's government should look as much as possible like the people we represent. As well as being the first ever First Minister from a minority ethnic background, I am pleased that a record number of women have agreed to serve, as well as a significant blend of younger and more experienced members. That said, every single appointment has been made on merit."
Scottish Conservative chairman Craig Hoy dismissed it as a Cabinet of "failed, continuity ministers appointed by a failed, continuity minister". He said: "This cabinet of proven flops and lackeys not only excludes Kate Forbes – who came within a whisker of beating Humza Yousaf in the vitriolic SNP leadership race – but anyone who backed her. Humza Yousaf clearly has no intention of ending the SNP's civil war – just getting his revenge and declaring victory in it."
Jackie Baillie, the deputy leader of Scottish Labour, said Mr Yousaf had assembled a bunch of "B rate politicians".
Earlier, Ms Robison said Ms Forbes' decision to reject a job offer was based on wanting to get "out of the spotlight" after recently having a baby. She was on maternity leave when Ms Sturgeon announced she would resign.
Speaking on BBC Radio Scotland, Ms Robison said: "I understand that the discussion was very cordial and was very much centred on what Kate's thoughts were, and I think she had reflected upon how hard the campaign had been for family life and her desire for a better work-life balance, and she decided that time out of the spotlight would be best to spend time with her family, which is understandable."
The First Minister did consider Ms Forbes for other positions, Ms Robison said, but ultimately she made the decision to go to the backbenches.
One figure close to Ms Forbes questioned this narrative, but a source in her campaign team told The Scotsman: "Kate is now a mum with a young family, and she would like to be around for them more." They said Ms Forbes also felt the co-operation agreement with the Greens would have "tied her hands and cost her dearly" in her Skye, Lochaber and Badenoch constituency.
In the hours before making the appointments, Mr Yousaf was sworn in at the Court of Session, making him the first person from an ethnic minority background to hold the post, as well as the youngest.
Wearing a traditional Pakistani shalwar kameez and watched by his family from the public gallery of Scotland's highest court, Mr Yousaf took the three oaths of office, administered by the Lord President, Lord Carloway.
Comments
 0 comments
Want to join the conversation? Please or to comment on this article.