The figures from traffic information firm TomTom even show that numbers today have matched last year's levels in Glasgow.
Head of traffic innovation and policy told The Scotsman: "We're seeing increases in traffic congestion in both Edinburgh and Glasgow, which is consistent with the pattern shown across the rest of the UK.
"While these congestion rates, especially during rush hour times, are still lower than this time last year, they are noticeably higher than those from the first lockdown in March 2020 - almost double from 16 per cent to 30 per cent in Edinburgh and 9 per cent to 22 per cent in Glasgow.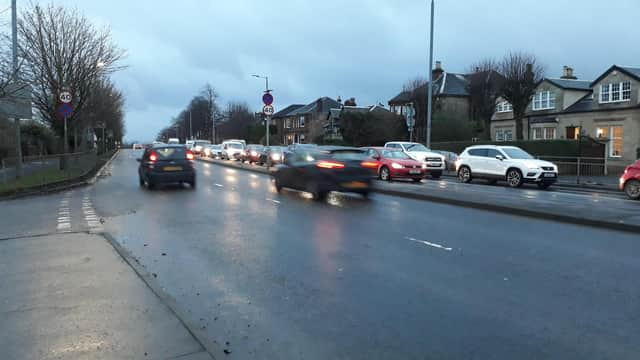 First Minister Nicola Sturgeon said on Friday she was looking closely at traffic levels.
She said: "We are considering whether other restrictions are required."
The Scottish Government's current restrictions state: "To minimise the risk of spreading the virus, we should all stay at home as much as possible and avoid unnecessary travel."
Residents of mainland Scotland are only permitted to leave them homes for an "essential purpose".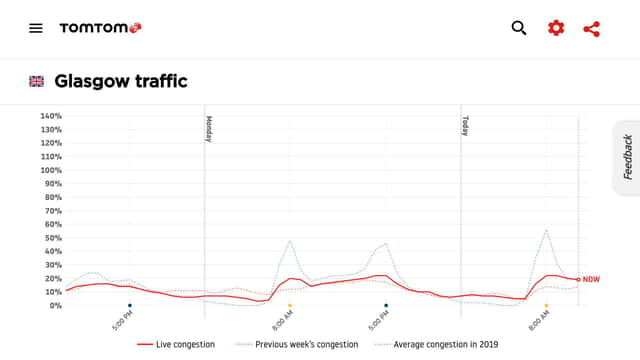 However, the Scottish Government has listed more than 25 examples of "reasonable excuses" to travel, including for work, education, exercise, "essential shopping", shared parenting and caring for a vulnerable person.
The IAM RoadSmart motoring group said the figures were further evidence of the need for greater enforcement of lockdown rules.
Neil Greig, its Scotland-based policy and research director, said: "Viewing this data certainly shows why the [Scottish] Government are concerned about the levels of traffic in this lockdown compared to previous ones.
"What it also shows is the traditional patterns of morning and evening peaks, possibly including the school run, are continuing and the car, particularly in the middle of a freezing January, is still inextricably linked to economic activity.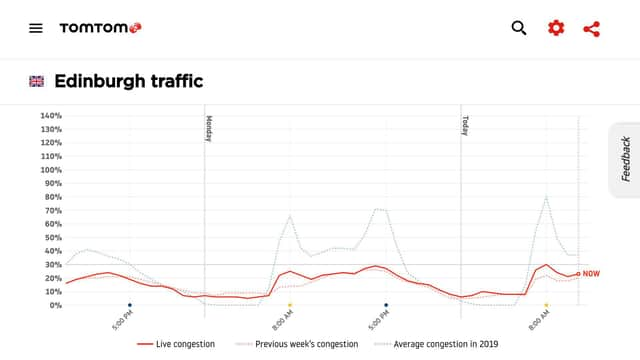 "If you allow more categories of people to work, then people will use their cars to do so.
"Whether it is car use itself that is contributing to rising Covid case numbers, as opposed to what people do at either end of their journey, is still unclear.
"But these figures certainly add to the case for stricter enforcement of current rules or a rethink."
Steve Gooding, director of the RAC Foundation, said:"Whilst some drivers are knowingly disobeying the letter and spirit of the restrictions, much city centre traffic is not made up of private cars but trades people and workers whose jobs are essential to keeping the rest of us safe and able to work from home.
"Lots of the vehicles are likely to be delivery vans serving those people who have precisely followed official advice and done their shopping online.
"One hopes that when all these drivers reach their destinations they are scrupulous in following the other rules about distancing, mask wearing and hand washing."
The Scottish Government's Transport Scotland agency said: "To keep people safe and stop the spread of Covid-19, Police Scotland is enforcing new restrictions on non-essential travel.
The agency said car journeys from December 28 to January 3 had been 50 per cent down on the same period a year ago, compared to down 25 per cent in the previous week.
A message from the Editor:
Thank you for reading this article.
We're more reliant on your support than ever as the shift in consumer habits brought about by coronavirus impacts our advertisers.
If you haven't already, please consider supporting our trusted, fact-checked journalism by taking out a digital subscription.