Call for 'tough conversations' with drivers over cutting car use
Severe Covid-style restrictions on car use will be required to cut emissions and congestion, Scotland's leading transport academic has warned.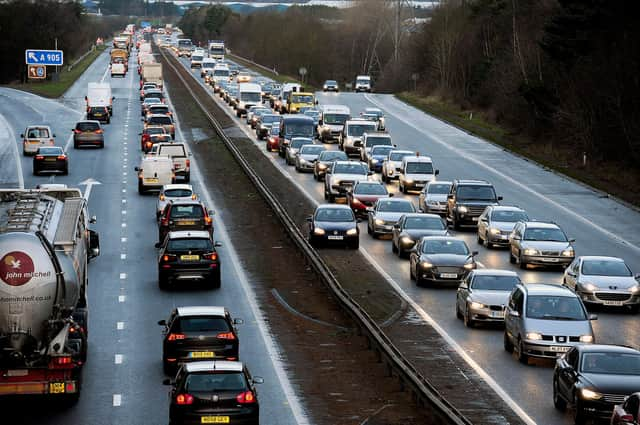 Traffic levels on Scotland's roads are back to 80 per cent of those before the Covid-19 outbreak. Picture: Michael Gillen
Professor Iain Docherty said drivers faced having to make similarly unprecedented lifestyle changes as those triggered by the coronavirus pandemic.
He told the Scottish Transport Awards Summit: "What we have to do is have some tough conversations about saying to people they are going to have to change behaviour in a way they haven't done before in terms of how we travel about.
"But I'd be optimistic, because if there's one lesson in the general discussion about the public health interventions we have all lived with for the last eight months, it's that people have begun to understand that sometimes there is no way out of a situation without real change and changing their own daily lives.
Professor Iain Docherty said the pandemic had made people realise "there is no way out of a situation without real change". Picture: Jim Mailer/Whyler Photos
"That's a lesson that those in the transport sector really need to grasp quickly."
The Dean of the Institute for Advanced Studies at the University of Stirling said: "We are all going to have to use private vehicles less.
"In urban areas, we have to reallocate road space away from private vehicles to buses and active travel [walking and cycling].
"We have seen some of that happen during the pandemic and it has been relatively successful."
More road space should be allocated from cars to buses, cyclists and walkers, Prof Docherty said. Picture: Michael Gillen
Prof Docherty said for Scotland to meet its carbon reduction targets, the number of vehicles on the road would have to be reduced by around one third.
He said that was necessary even if petrol and diesel engines were replaced by electric or hydrogen power because of the emissions involved in manufacturing vehicles.
However, a Scotland-based motoring policy expert was sceptical about the feasibility of such major changes.
Neil Greig, of IAM RoadSmart, said: "The difficult conversation is actually about how you convince people to choose public transport or active travel [walking and cycling] as a viable alternative to the car when they patently don't want to.
"In urban areas, it make sense to continue investment in new road layouts and better public transport, but for the suburbs and in the countryside the car still seems the only rational choice for a long time yet.
"No one can be sure that re-allocating space during the pandemic has been a sustainable success.
"It has been done on the cheap in many instances and against a background of minimal economic activity and a virtual standstill in public transport.
"[It's] hardly the best way to plan for the future.
The Scottish Government's Transport Scotland agency said its strategy was to promote a shift to public transport and active travel.
But it agreed the country's reliance on cars "cannot be ignored in the context of the need to reduce transport emissions to achieve our statutory climate change targets".
The agency's spokesperson said: "We want to lock in the fundamental changes in travel behaviours and trends as a result of the Covid-19 pandemic, with mass shifts to home working and reductions in journeys."
These include plans to create "20-minute neighbourhoods" where all services are within that walking or cycling distance, and local office space to reduce avoidable travel.
The agency said £500 million would be spent on active travel projects over the next five years and an extra £500 million on bus priority measures to tackle congestion to make buses more attractive.
Want to join the conversation? Please or to comment on this article.