Stonehaven fatal crash: Network Rail fined record £6.7m over safety failings
The penalty was reduced from £10 million because infrastructure body Network Rail tendered a guilty plea to the charges
Network Rail was fined £6.7 million at the High Court in Aberdeen on Friday after admitting criminal charges over the Carmont rail crash near Stonehaven in which three people died.
It is the highest financial penalty to have been imposed on the UK Government-owned track and signalling body for health and safety failings and follows the worst British train crash for 13 years. The fine will be paid to the UK Treasury via the Scottish Consolidated Fund, through which court fines are channelled.
Network Rail said the fine would be paid from a "risk" fund to help manage unforeseen costs, so it would not affect safety or operations.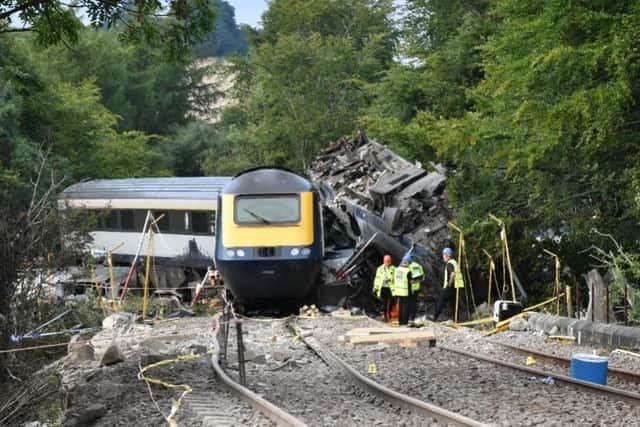 Train driver Brett McCullough, 45, conductor Donald Dinnie, 58, and passenger Christopher Stuchbury, 62, died in the Aberdeenshire derailment on August 12, 2020.
Judge Lord Matthews reduced the fine from £10m because of a combination of Network Rail admitting culpability on Thursday, the actions it took following the crash and it being a publicly-funded body. A fatal accident inquiry will now be held into the crash, the Crown Office said.
Network Rail had been fined £4m in 2012 over the last crash involving a passenger death aboard a train, in Cumbria in 2007. However, it has received higher fines for disruption caused by delays from late engineering work, such as £14m in 2008.
At the High Court in Aberdeen on Thursday, the company admitted a series of failings that resulted in the deaths, pleading guilty to a charge covering the period from May 1, 2011 to August 12, 2020.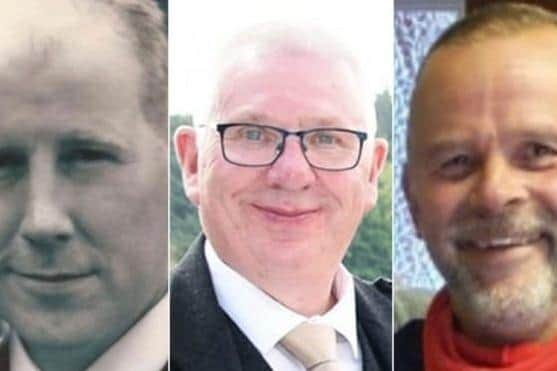 This included failing to inform the driver that it was unsafe to drive the train at a speed of 75mph or caution him to reduce his speed on the day of the derailment. There were also failings in construction, inspection and maintenance of drains and in adverse and extreme weather planning.
Passing sentence, Judge Lord Matthews said: "Very few people in the north-east of Scotland will ever forget the images of the carriages at Carmont (Stonehaven). No penalty I can impose will come close to compensating those whose lives have been touched by this tragedy. The only disposal I have is a fine."
Lord Matthews told the court he had to take many factors into consideration when giving a fine, such as the company's ability to run the public service. He added: "Is culpability high? Yes it was."
In his submission, Network Rail's lawyer Peter Gray KC told the court: "The tragic events of August 12, 2020 shook Network Rail to its core. On behalf of Network Rail, I offer the deepest and most profound sympathies to the families. And to the injured, the deepest and heartfelt regret."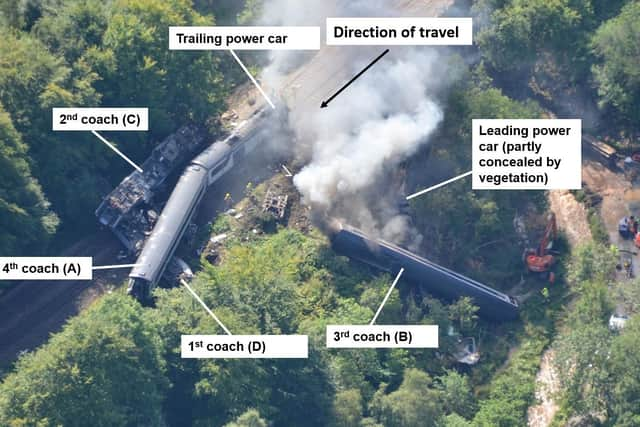 Advocate depute Alex Prentice KC, prosecuting, had told the court on Thursday that Network Rail had failed to maintain or inspect a drain built in 2011.
He said if the drain had been constructed to the agreed specifications, it would have been able to cope with the amount of washout of gravel that resulted in the train derailing.
A Rail Accident Investigation Branch (RAIB) report published in March last year found errors in the construction of the drain installed by Carillion meant it was unable to cope with heavy rain that fell in the area on the morning of the crash. Carillion went into compulsory liquidation in 2018.
The RAIB report made 20 recommendations to improve railway safety, 13 of which were directed at Network Rail, of which only two have been completed.
Network Rail said it was determined to build upon the "significant changes" it had made since the incident, which had "helped us to manage the risk of severe weather to the network", and it had invested millions to improve the resilience of the railway.
Debbie Carroll, who leads on health and safety investigations for the Crown Office, said: "To further serve the public interest, a fatal accident inquiry has been instructed to examine the full circumstances surrounding these tragic deaths, putting all relevant information into the public domain and help avoid such an incident happening again in the future."     
Ian Prosser, HM Chief Inspector of Railways, said: "Network Rail has made progress in implementing the safety recommendations that came from reviews of the failings that contributed to the accident. However, as highlighted in our 2023 annual ORR health and safety report, there remains much work to do as we all contend with the effects of climate change on our network."
Kevin Lindsay, Scottish organiser of train drivers' union Aslef, said: "This is a tragedy that could and should have been avoided. This litany of failure should never, ever be allowed to happen again."
"The sentence handed out is no comfort to Aslef. It cannot be right that those who presided over such fundamental failure, that played fast and loose with health and safety, ultimately costing the lives of three people, are able to hide behind laws that sees a faceless organisation fined and where that organisation actually pays the fine out of public money.
"This is not justice in the truest sense of the word, nor in any way does it ensure those involved are held to account. People within organisations need to be held accountable. It is them, not the organisation, that makes decisions.
"It is now time for the Scottish Government to again consider a change to our corporate homicide laws and make sure that they put in place laws that hold people to account should they ever play fast and loose with the lives of workers and any others as a result of their carelessness."
Neil Davidson, a partner at law firm Digby Brown in Aberdeen, which helped seven people affected by the crash, said: "The errors of Network Rail have robbed families of their loved ones and left survivors with physical injuries and psychological trauma they will suffer for the rest of their lives.
"We can't forget that this derailment did not just happen because of one problem or issue – it was a frankly astounding volume and variety of negligence that contributed to this national tragedy."
Bruce Craig, a litigation and health and safety partner at law firm Pinsent Masons, said: "Where any accused is convicted in a criminal case, the court is trying to strike a balance between punishing them and trying to provide a deterrent to others against engaging in similar conduct.
"Where the accused is a corporate entity, the only way the court can express society's displeasure at what has happened is by imposing a fine.
"Sometimes, as here, the corporate entity is owned by the state. But it is important that in such a case the court does not have regard to that in setting the level of the fine, even though on one level it might be argued that fining part of the state has the result of reducing the funds available to it to provide the service the state has entrusted to it.
"Nonetheless, a fine at as high as £6.7m is unusual where the accused is state-owned."
Alex Hynes, managing director of Scotland's Railway, which comprises Network Rail Scotland and ScotRail, said: "The Carmont derailment and the tragic loss of Christopher Stuchbury, Donald Dinnie and Brett McCullough was a terrible day for their families, everyone involved, and for the railway network.
"It is clear that our infrastructure was at fault for the accident, so it is right that Network Rail pleaded guilty.
"To the families of those who lost their lives, we would say again how deeply sorry we are that this tragedy was able to happen. And to those survivors who were injured, we are very sorry for the pain and distress caused.
"We are absolutely committed to delivering on the recommendations made by the RAIB. We are also determined to build upon the significant changes that we have made since the accident, which have helped us to manage the risk of severe weather to the network."