Stonehaven crash: Survivor shares terrifying ordeal of waking outside train covered in blood after being thrown from carriage in fatal crash
Train driver Brett McCullough, 45, conductor Donald Dinnie, 58, and passenger Christopher Stuchbury, 62, died in the derailment near Stonehaven, Aberdeenshire, on August 12, 2020
A woman who survived the fatal train crash near Stonehaven has recalled the terrifying moment she woke up lying outside of the carriage covered in blood in the incident's aftermath.
The 32-year-old woman, who is not named, but is a local to Stonehaven, said she could still remember the "strange noise like metal dragging along metal" in the final seconds before the train derailed.
She was a passenger on the train that derailed on near Stonehaven, Aberdeenshire, on August 12, 2020, killing train driver Brett McCullough, 45, conductor Donald Dinnie, 58, and fellow passenger Christopher Stuchbury, 62.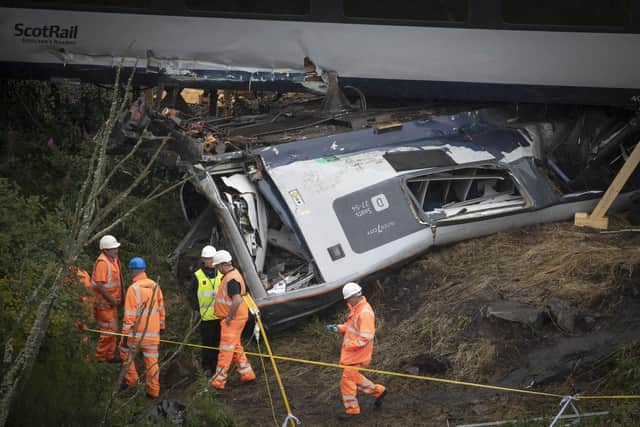 A first person account from a survivor involved in the Carmont derailment had never been heard until today.
The woman recalled of the incident: "I didn't realise what was happening until just before impact. I was reading a novel on my iPad and the first time I realised there was an issue was when the movement on the train felt weird.
"It just didn't feel typical … it was like floating or sliding… like when you aquaplane in a car. There was a strange noise like metal dragging along metal. I will never forget that noise.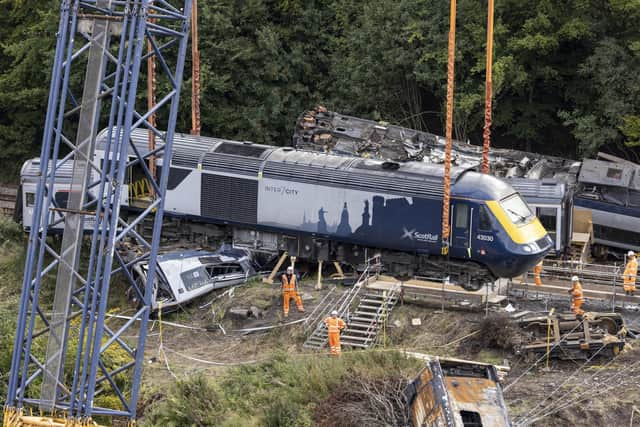 "I looked up at that moment and almost immediately I was thrown across the carriage. I hit the window head on and I was knocked out."
The woman recalled waking to find herself at the side of the railway line with the train behind her. She was later told she would have been killed inside the crushed carriage if she had not been thrown through the window.
"The train was completely off the rails," the woman recalled.
"The carriage directly behind me was laying across the rail track, crushed under another carriage. I later found out that the crushed carriage was the one that I had been ejected from. I could see a fire and smell smoke.
"I became aware very quickly that I was hurt. There was blood over my face from a head wound near my eye. My clothes were also covered in blood and I could feel a bone sticking out my left shoulder.
"My ears were ringing, so it was hard to make things out. But I remember two sounds – one was a weird deep humming noise coming from the train and the other was a voice … a scream … someone calling for help and someone else shouting back that help was coming.
"I was just sitting in shock. At some point I was approached by some Network Rail workers, who were under the bridge when the derailment happened.
"I later spoke to another passenger who was travelling on the same carriage as me – it became clear from the information they were telling me that about 15 or 20 minutes had probably passed from the moment of the derailment to the moment I woke up on the verge.
"I just sat there. A short time later I was told the area was too dangerous, so I managed to get myself to safety.
"I lost all my belongings in the crash, so I relied on both another passenger and members of the public, to tell my family I was alive."
The woman said she had been left "changed as a person" by the experience.
"I was never given the chance to go back to the scene after 12 August, 2020," she said. "I feel like going back would have helped me mentally process things … to help understand the derailment so I could move forwards.
"Anyone who's been involved in something like this knows you just need to know these things. Even if it's hard, you just need to know.
"It made me angry to watch people like the royal family and politicians at the scene when I hadn't been given that same opportunity."
The UK Department for Transport's Rail Accident Investigation Branch (RAIB) concluded in its final report in March last year the incident had been caused by a wrongly-built drainage trench that led to debris being washed onto the track after intense rainfall.
Among 20 safety recommendations in its report, the RAIB called for improvements to the way Network Rail managed lineside drainage and handled extreme weather, along with modifications to older trains like the type involved to improve protection for passengers and crew.
The survivor said the RAIB report findings still made her angry today.
"I'm a lot more fearful now whereas I used to be more easy-going," she said. ""I even struggle to be a passenger in a car. It's like you can't feel safe unless you are literally in control of everything.
"I do still take the train – it took a long time to get the confidence, but I'm getting there … any movement and noise that are even remotely similar to the derailment continue to freak me out."
Of the impact from her injuries, the woman said: "I can't sleep on my left side because of the damage to my collarbone – it also stops me wearing normal clothes, because it's now not possible to wear certain bras due to the pain of the strap on my shoulder.
"I am reminded of the derailment every day when I look in the mirror. The scar on my face is a constant reminder of that day, but also a reminder that without it I wouldn't be alive.
"I'm really grateful to my family who had to step up and help me with everything."
Neil Davidson, partner at Digby Brown in Aberdeen, has helped seven people affected by the Carmont disaster.
He said: "The errors of Network Rail have robbed families of their loved ones and left survivors with physical injuries and psychological trauma they will suffer for the rest of their lives. The prosecution will be vindication for those affected that this incident was avoidable and should not have happened.
"We can't forget that this derailment did not just happen because of one problem or issue – it was a frankly astounding volume and variety of negligence that contributed to this national tragedy.
"As the RAIB report confirmed, there were failures connected to drainage ditches, paperwork, staff communication, crisis management at a senior level and a weather monitoring system that frankly wasn't fit purpose due to staff not being trained to use it.
"The people of Scotland need to know they can trust their public transport, trust that those who manage it are doing so responsibly at all times and trust that the justice system will deliver, when negligent parties do not uphold their duties."
As well as the three deaths, a further six people were injured in the crash.