Russian airspace could be closed for ten years by Ukraine war causing lengthy detours to Asia – Finnair
Scots travellers also hit by Baltic ports cruise ship shutdown
Russian airspace could remain closed for ten years following the country's invasion of Ukraine, forcing some aircraft to continue to make lengthy detours between Europe and Asia, according to one of the world's oldest airlines.
The prediction came as travel agents said Scottish travellers were also being hit by the shutdown of Baltic ports to cruise ships because of the war.
Finnair, which will celebrate its centenary next month as the sixth oldest carrier still flying, said the conflict had been part of its "double crisis" along with the Covid pandemic, which had increased flight times by 20-30 per cent.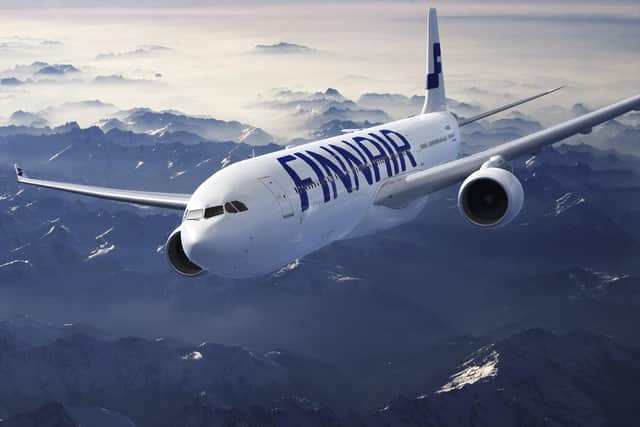 Finnair market director Europe Anssi Partanen, speaking in Edinburgh, said: "We have been talking about being the 'fast airline' between Europe and Asia – with Helsinki airport's geographical position as the last European hub before you hit the Siberian corridor towards Asia – which has been our strength and focus for the past 15-20 years.
"So the double crisis really hit our core quite hard."
"That crisis obviously means that Russian airspace is closed and we are now prepared for the fact that it might open probably not next year...it could be ten years. We are taking it as it is – it's closed, we move on."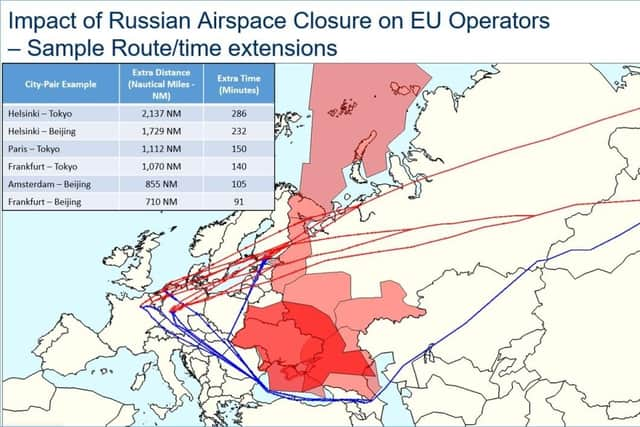 Mr Partanen said Finnair's adjustment to that "new reality" had involved a more "balanced" strategy, adding more routes west to the United States.
The Scottish Passenger Agents' Association president Mike Tibbert said: "Flights on routes which are affected by the closure of Russian airspace now take longer, use more fuel and will consequently be more expensive. So any predictions of there being a further decade of route disruption is disappointing and costly for Scottish travellers heading for the Far East, for example.
"However, the conflict is not just affecting flights but also the cruise market because the Baltic ports are not open for cruise ships and their passengers. With cruising being such a popular holiday type for Scots, this aspect has more impact on our travellers than the re-routing of flights away from Russian airspace."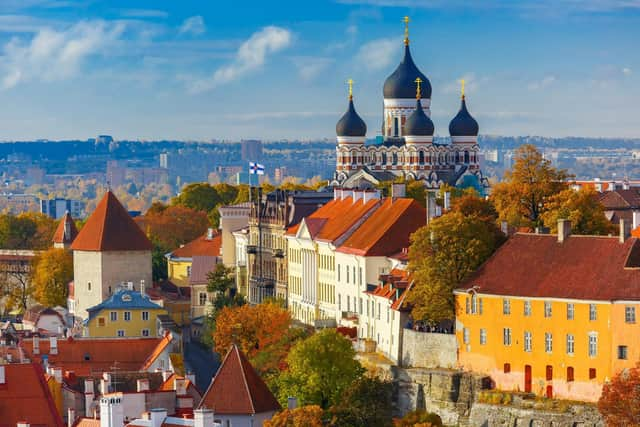 Aviation analyst John Strickland of JLS Consulting said: "Regrettably, I think it's wise to assume a longer term closure. This will continue to make for longer circuitous routings between Europe and Asia, adding time for travellers and costs for airlines."
However, he added: "Scotland enjoys multiple options for travel to and from Asia, including direct services to China and connections via the Gulf hub airports, which are not affected by the lack of Siberian overflights. This puts it in a relatively favourable position compared to some other countries."
A spokesperson for Eurocontrol, which manages flights across the continent, said: "The war in Ukraine means less airspace in Europe is available. At the same time, military flights have increased, and many long-haul flights have to route to the south east to avoid Russian airspace, which is closed to European carriers.
"For flights between Europe and Asia, depending on the route, the journey can be significantly longer, adding extra fuel costs and CO2 emissions."
Comments
 0 comments
Want to join the conversation? Please or to comment on this article.