New move to buy Prestwick Airport 'lacked credibility', says senior Scottish minister, as approach rebuffed
Latest rejection in series of moves to return South Ayrshire site to private sector after ten years
A new attempt to buy Prestwick Airport from the Scottish Government has been rebuffed for failing to demonstrate a "compelling business case" and "the credibility and experience to deliver a sustainable future" for the South Ayrshire site, a senior Scottish minister has told MSPs.
In a letter to a Holyrood committee, wellbeing economy secretary Neil Gray said "Any decision to sell the airport must be informed by what is right for the long-term success of the business, value for money for taxpayers and its contribution to the local and Scottish economy."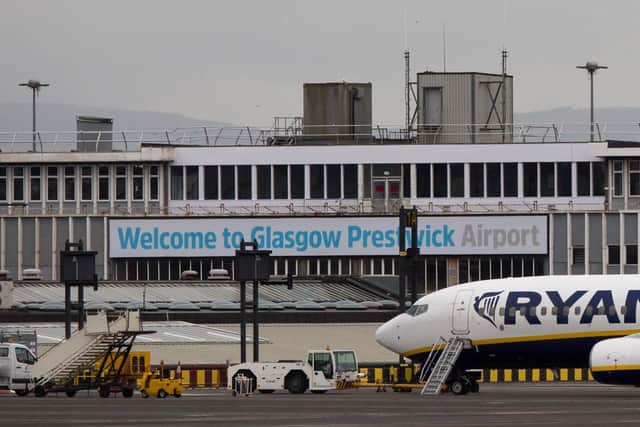 However, opposition politicians said the minister must explain what he was seeking from a bidder.
South Scotland Labour MSP Colin Smyth said: "It's a decade since the Scottish Government took ownership of Prestwick with a commitment to return it to the private sector. This latest failed sale shows they are no further forward achieving that.
"The Scottish Government are always quick to say the airport is now making modest profits, but if all is well, but with so many bids being rejected or withdrawn, ministers need to explain why they haven't been able to find a buyer that meets their criteria.
"Whether Prestwick is sold or remains in public ownership, we cannot go on with the current uncertainty facing the workforce and badly need a clear plan for a sustainable future for the airport."
Scottish Conservatives transport spokesperson Graham Simpson said Mr Gray must give more details of his decision. He said: "Neil Gray needs to be straight with us and say why this bid was not acceptable.
"He should spell out under what circumstances the Scottish Government will find a bid to be acceptable. Otherwise we can assume that there is not in fact an appetite to sell the airport."
Mr Gray said ministers "remain confident of returning the airport to private ownership at the appropriate time and to investors with airport experience and an aviation focus who will continue to build the airport".
He said the expression of interest had been made in March. But he accepted the airport board's view that it "did not present a compelling business case and did not demonstrate the credibility and aviation and airport experience to deliver a sustainable future for the airport".
Mr Gray said the airport, which owes some £55 million in Scottish Government loans and interest, has been profitable for the past three years and would report a "further successful year" for 2022/23.
He said ministers had "full confidence in the board and senior management and its strategy to grow and develop the airport".
An airport spokesperson said the interested party did not have airport and aviation experience to operate and develop an airport "and would rely heavily on consultants to advise on the running".
They said there was also a "high risk of transaction failure due to considerable uncertainty regarding the ultimate source of funding and ownership, with no clear sector experience or investment rationale provided".
Comments
 0 comments
Want to join the conversation? Please or to comment on this article.