RMT vows to fight to keep conductors on trains after ScotRail temporarily shelves changes for Glasgow-Barrhead line that threatened strike disruption
Switch to driver-only train control postponed on newly electrified Glasgow-Barrhead line
ScotRail's main union has vowed to continue its fight to retain conductors' key role in controlling trains after claiming its strike ballot had forced the shelving of planned changes that threatened to trigger major disruption at Scotland's biggest station.
The Rail, Maritime and Transport union (RMT) called off the vote days ahead of the result following ScotRail confirming that class 380 trains, which will start running on the newly-electrified Glasgow-Barrhead line from December 10, would have conductors continuing to control the opening and closing of doors. They will also continue to signal to drivers when to depart from stations.
The RMT had feared ScotRail would replace conductors with lower-paid ticket examiners on the trains, with door control switching to drivers under so-called "driver-only operation" (DOO).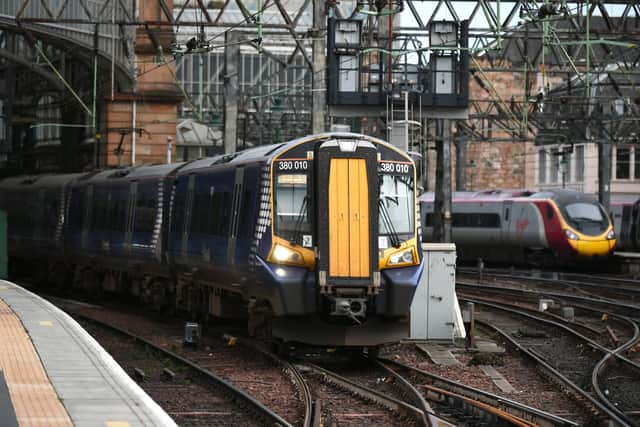 The Scottish Government-owned train operator has confirmed the change had been informally discussed with unions, but no formal proposals were tabled.
However, the truce may only last for the six-month duration of ScotRail's new timetable from December, which could see the company attempt to introduce DOO on the route in June.
ScotRail is keen to extend DOO because it says it has improved punctuality through a single person controlling the train, while fare revenue has increased by ticket examiners being able to focus on selling fares.
Many suburban trains around Glasgow are already DOO under a long-standing agreement and the issue is likely to come up again when lines to East Kilbride and Kilmarnock are electrified.
However, the RMT wants conductors retained for safety and has staged several rounds of strikes to prevent their removal, including stoppages in 2016 that led to ScotRail scrapping such plans on new electric routes such as the main Glasgow-Edinburgh line.
RMT Scottish organiser Mick Hogg told The Scotsman: "We asked for a six-month pause to June. ScotRail has not conceded anything, neither has the RMT. All we have agreed upon is more time. Meantime, the guard [conductor] will continue to operate the doors. If no agreement can be reached, then we are back in dispute."
An RMT spokesperson said: "We have suspended our ballot for strike action following progress being made regarding the role of the guard on ScotRail services. The RMT will always defend the role of the guard on the train and the prospect of a successful strike ballot has made the company take a step back.
"We will now be consulting our members on where to go next in the campaign."
Aslef, the main train drivers' union, said it also opposed any new DOO schemes.
However, a senior rail industry source said: "It is disappointing to see the safety and punctuality-enhancing features of modern class 380s won't initially be used on Barrhead services.
"Driver-controlled operation is the safest and most punctual way to operate modern trains, along with normally having a second person to look after passengers and examine tickets. This has been a successful method of operation across the Strathclyde area for more than 30 years."
ScotRail service delivery director David Simpson said the ballot had been suspended "following constructive discussions" with the RMT. He said: "The introduction of electric trains on the recently-electrified Barrhead line will ensure customers benefit from a more comfortable and reliable service."
Comments
 0 comments
Want to join the conversation? Please or to comment on this article.