LEZ Glasgow: Almost 90 motorists hit with mammoth £960 low emission zone surcharge fines for fifth offence in one month
A total of 937 fines were issued over breaches of Glasgow's low-emission scheme for the month of September
Almost 90 motorists were hit with £960 fines in a single month for breaching the Glasgow low emission zone (LEZ) under surcharge penalties set by the city council.
Figures provided by the council show a total of 89 non-compliant vehicles were issued with the hefty penalty in September for committing a fifth successive breach of the LEZ.
And a further 83 vehicles were punished with a £480 fine for the same month after committing multiple breaches. A total of 937 surcharge fines – ranging from £120 to £960 – were issued for vehicles during September. The basic fine for a breach is £60.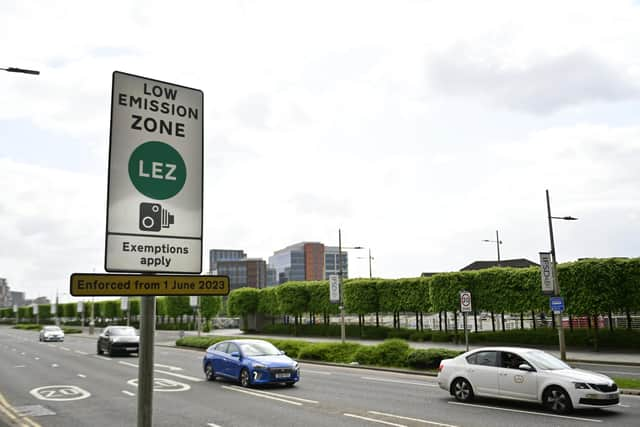 Scottish Licensed Trade Association spokesman Paul Waterson said the "atmosphere was down" in Glasgow's city centre, with businesses already struggling without the financial support that existed during the Covid pandemic. He said the LEZ "isn't helping" and questioned the timing of the scheme's introduction amid increases in utility charges and rising supplier costs.
"These [surcharge] fines make it appear to be a money making exercise without any thought for what this is doing to many businesses, not only for the hospitality trade, but other businesses as well," he said.
Surcharging – where the penalty charge rate doubles for subsequent LEZ breaches – started in July.
Penalty charge rates are capped at £480 for cars and light goods vehicles, and £960 for minibuses, buses, coaches and HGVs. The penalty rate is re-set to £60 when no further breach involving the same vehicle occurs within 90 days after a previous violation.
A total of 2,620 surcharge fines were issued from July to September.
A city council spokeswoman said: "We know from pre-enforcement modelling that the vast majority of vehicles driving into the zone already meet the emission standards. However, Glasgow's LEZ addresses the most polluting vehicles which disproportionately create harmful concentrations of air pollution in the city centre.
"Scottish LEZs operate by way of a penalty system, set in legislation to discourage non-compliant vehicle entry and to maximise the air quality benefits that can be delivered.
"Surcharging, whereby the penalty charge rate doubles for subsequent LEZ breaches, commenced in July after an initial familiarisation period, and applies after the first, or most recent penalty charge notice can be expected to have been received by the vehicle's registered keeper.
"Penalties are reduced by 50 per cent if paid within 14 days, with all revenue above that incurred in running Glasgow's LEZ scheme itself, only used for activities that help reduce air pollution or contribute toward achieving our climate change targets."
Campaigners fighting against the scheme said they had been left "clearly very disappointed" by the ruling.
LEZ Fightback team adviser Jack Irvine previously said: "The war on motorists is relentless and apart from the fact that the pollution levels are well within acceptable levels, we all feel that Glasgow City Council and the SNP/Green alliance seem determined to turn the city into a ghost town."
Comments
 0 comments
Want to join the conversation? Please or to comment on this article.