Jonathan Hinkles, chief executive of Glasgow-based Loganair, admitted that was a "very difficult message", but said travellers had to make "conscious decisions" about who they flew with if they wanted to use the same route in the winter.
It follows no-frills airlines such as Easyjet and Ryanair launching UK summer routes from Scotland over the last few years in competition with Loganair which operated on only a few days a week, with some subsequently being scrapped.
Loganair operates more than 70 routes, the most in its 61-year-history, and, uniquely, operates from all Scotland's main airports apart from Prestwick, including more than half of Aberdeen's flights.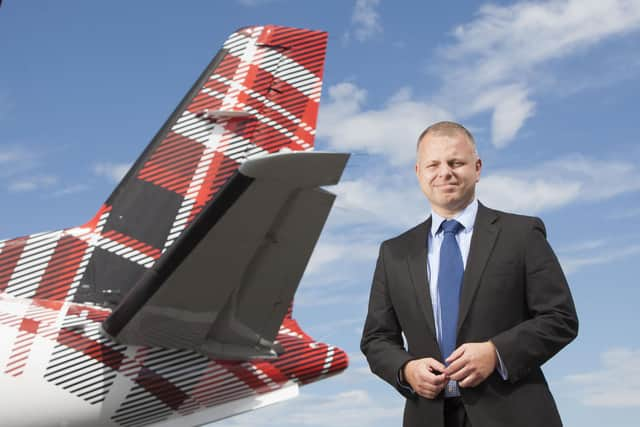 In addition to serving the Western Isles, Orkney and Shetland, its network includes the Channel Islands, Cardiff, Southampton, Newquay, Birmingham, Manchester, Belfast and the Isle of Man as well as three London airports including Heathrow, along with Denmark and several destinations in Norway.
But Mr Hinkles, who has run Loganair for nearly seven years ago after a previous stint at the airline and four years at Virgin Atlantic, said passengers faced a choice of price or year-round service.
Speaking to The Scotsman in the first part of Future Flight, our new series on Scottish aviation, he said: "People say 'I can get a cheaper flight on a Thursday in June', and yes you can, but when you want to fly on a Tuesday in February, you won't see them for dust, but we are going to be there.
"If you want the year-round service of three flights every weekday come rain or shine, we will provide that consistency. If that's what you want as a customer, please support us.

"[It's about] Getting people to recognise that year-round connectivity does require them at times to make conscious decisions about with whom they are going to spend their money.
"It's a very difficult message to get across to people. There are certainly enough in the corporate market who understand that they've got to support a service for it to be there to meet their business travel needs."
However, Mr Hinkles acknowledged that Loganair faced "competition in an open market" like other smaller airlines across Europe. He said: "Everybody's got their own story of how they were doing really well and then this Monty Python foot came along and stamped on their head. It's part and parcel of being in the industry – you can't change it, you just have to decide whether or not to fight."
Loganair, which was launched with a single plane based at the former Renfrew Airport – Glasgow's predecessor – now has a fleet of 38 aircraft from jets to the Twin Otters which land on the beach at Barra and nine-seat Britten Norman Islanders which fly within Orkney.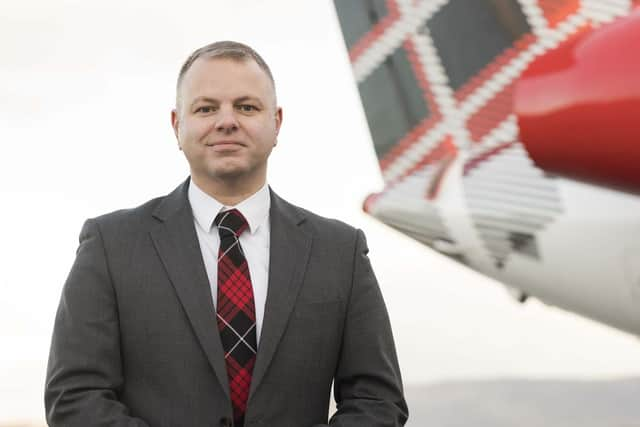 The airline expects to carry more than 1.4 million passengers in the year ending this month and a record 1.6m in the year from April – 50 per cent more than the 1.05m total in pre-Covid 2019-20. The figure dropped to 252,259 in 2020-21 before bouncing back to 910,000 last year.
Mr Hinkles said Loganair had been the first UK airline to return to profit because it had taken over routes from other airlines rather than due to traffic recovering, which has reached 90 per cent of pre-pandemic levels.
He said: "We have taken advantage of opportunities that have come our way and are operating at 120 per cent [activity] of pre-pandemic levels. But the market overall has shrunk because Flybe has exited and a number of other operators have cut back. We have taken on some but by no means all that activity.
"People have adapted to other ways of working and are not necessarily going back to travelling in the way they were. Some of the biggest changes are in the councils in the Highlands and Islands – they used to fly to Edinburgh for meetings, but now perhaps three in four of these are taking place online. That's led to a real shift in that traffic."
Loganair has reduced the frequency of flights on some routes, but this has freed up aircraft for new destinations. Dropping one of the four daily Glasgow-Stornoway services has enabled a daily Glasgow-Exeter flight, while larger aircraft on the Lewis route have helped maintain overall seat capacity.
Mr Hinkles said the airline was focusing on reducing the types of aircraft it flew and saw only the odd gap in the market for route expansion.
However, Flybe's "slots" at Heathrow are now potentially up for grabs, which include to Edinburgh and Aberdeen. Mr Hinkles said flying them against British Airways would be a "suicide mission", but there was "absolutely" a case for switching the slots to other routes, such as Dundee, to improve UK air connections. He said: "If there's an opportunity there, it's really quite exciting".
Meantime, Loganair's successful extension of its London City-Dundee flights to provide a same-plane service to and from Shetland last year are to be replicated with a separate extension twice a week between Dundee to and from Orkney from April. Mr Hinkles described the four-hour trip as "transformational" compared to other options: "The customer feedback was 'Wow'. It worked better than we could ever have hoped."
But he said proposals for restoring flights to Skye from Glasgow, which Loganair operated until 1988, had not been progressed because of the cost of upgrading Broadford Airport: "That's a slower burner if not a burner gone out completely".