CalMac could be awarded new ferries contract without contest – transport minister Fiona Hyslop
Direct award would follow end of current eight-year contract in October next year
The direct award of a new contract for Scottish Government-owned CalMac from next year is to explored, transport minister Fiona Hyslop has told MSPs.
However, she admitted the prospect would not be universally welcomed and said another tender competition remained an option.
Ms Hyslop said a final decision on those options would be taken next summer, with the new contract "vital to drive improvements across the network".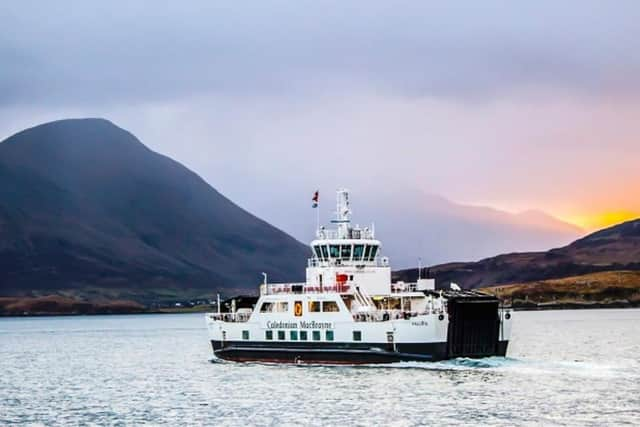 The minister said: "A direct award to CalMac would help change the ethos of the service by shifting the focus from a commercial arrangement to a model more focused on the delivery of a public service.
"This would help drive service improvements, deliver better communications with communities and introduce meaningful performance indicators that better reflect the experience of passengers using the services. I want to be very clear that this will not be an extension of the status quo.
"I understand community expectations for this service, and I want to be absolutely clear – if we ultimately decide on a direct award then, under no circumstances, would that simply mean business as usual."
CalMac chief executive Robbie Drummond said: "Taking the uncertainty out of the contract would allow us to focus all our efforts on improving service delivery, without the distraction of a highly resource-intensive procurement process."
The firm's current eight-year contract was awarded in 2016 by Transport Scotland after a competition with private sector operator Serco and is due to end in October next year. It won after the Serco bid was declared "non compliant".
CalMac's vessels and some of the ports they use are owned by a separate Scottish Government firm, Caledonian Maritime Assets Limited (Cmal). A ten-year contract for CalMac was recommended in a report by the Scottish Parliament's net zero, energy and transport committee (NZET) in June, but Ms Hyslop would not comment on its likely duration.
Scottish Conservatives transport spokesperson Graham Simpson accused the minister of "kicking the can down the road" by not making a decision with less than a year to go.
CalMac has been dogged by an ageing fleet increasingly prone to faults and breakdowns, which has been compounded by a six-year delay to the completion of what will be its second-largest vessels.
Glen Sannox is not now due to be in service until next summer and sister vessel Glen Rosa in 2025 following major problems and huge cost overruns at the Ferguson Marine shipyard in Port Glasgow, which was taken over by the Scottish Government after going into administration for the second time.
Mick Lynch, general secretary of the Rail, Maritime and Transport union (RMT), which represents most CalMac staff, said: "This a step in the right direction. A long-term direct award would bring much-needed stability and certainty to workers and passengers on CalMac operated routes and protect public investment."
The NZET committee said a direct award would "ensure continuity of service and avoid disruption, given the proximity to the end of the current contract".
The committee said: "This would be subject to legality and with the caveat of the Scottish Government, as the owners of CalMac, ensuring that it delivers real improvements for communities."
Comments
 0 comments
Want to join the conversation? Please or to comment on this article.