Storm Babet: 'Devastation' in Angus as people rescued by boat and scores lose homes and belongings
More than 60 people were rescued in the early hours of this morning, including by boat, as Storm Babet holds its grip on Angus.
Emergency response teams are braced for worsening conditions over the weekend as a further red alert for Storm Babet was issued for the area on Saturday and high water levels show no signs of receding.
Jacqui Semple, manager of risk, resilience and safety at Angus Council, gave the latest picture on the ground, saying flooding was now hitting homes in Dundee.
Brechin remains amongst the worst hit, with Marykirk now engulfed with water and Edzell cut off as the North Esk inundates.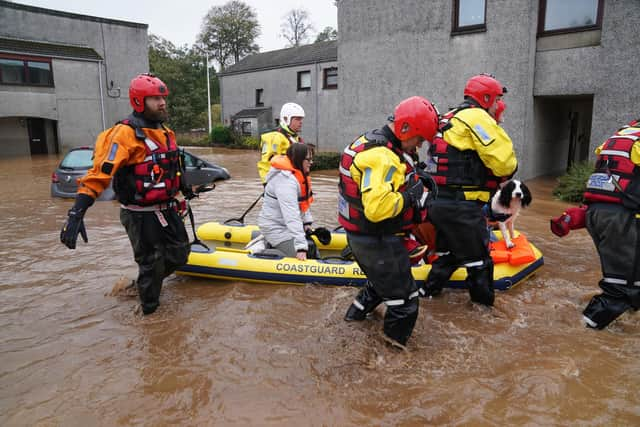 Ms Semple said people from 60 households were rescued from Brechin in the early hours of Friday morning, including some who had chosen to remain in their homes following an evacuation order the previous day. Rescuers have also reached people living around Marykirk, with a rest centre now set up in Edzell to deal with those impacted by the storm.
Ms Semple said there was a sense of "devastation" among those she had encountered at the rest centre at Brechin. An appeal was launched on Friday morning for warm clothing after people started arriving in "soaking clothes". More than 50 people are being cared for there at present, with the number expected to rise.
Ms Semple said: "People are devastated. This is an awful situation for them. The impact is emotional and physical.
"We have got all these people arriving, in shock, soaking wet and upset – so unbelievably upset."
She said the work was not "just about rescuing", but about caring for people who had lost possessions and "those precious things".
Ms Semple added: "I can't underestimate the fact that this is not just about the process of evacuating and rescuing. We're doing that to try and save people's lives and sometimes the hard reality is that property becomes a secondary thing. But all of us like our personal possessions and things that are precious to us and we need to always never ever forget the human factor in this."
She said the past 24 hours had left teams, including coastguard, other emergency services and the voluntary sector, facing "extreme and really challenging conditions".
"We are certainly not out of the woods yet with a further red alert being issued from midnight," she said. "We have to forward look to what is ahead over the weekend and how we can continue to support those in need."
Ms Semple said it was the case that "hundreds of homes" had been flooded in the area, with a "sweep" of households carried out in the early hours to reach those who had chosen to stay at home. In some cases, those who had decided to move to the upstairs of their properties had now decided to leave.
She said the full scale of the picture was yet to emerge given that some in private houses affected by the storm had not yet made themselves known to authorities.
On Friday afternoon, there were more than 50 people in the rest centre at Brechin, with a further 17 at a centre in Montrose and a further nine in Forfar. A rest centre was now being set up in Dundee given the Dichtie Burn, which runs to the north and east of the city, had now inundated.
People who were now being cared for at rest centres were in discussions with homelessness teams to find suitable accommodation for both private homeowners and council tenants.
"It doesn't matter if you are a private homeowner or a council tenant, we need to look at how all people are supported," Ms Semple added.
She said the situation was "really challenging" in Edzell where rising water levels were hampering access to response teams, with a rest centre now set up in the village. Ms Semple said anyone suffering a medical emergency would be airlifted out of the village.
Comments
 0 comments
Want to join the conversation? Please or to comment on this article.