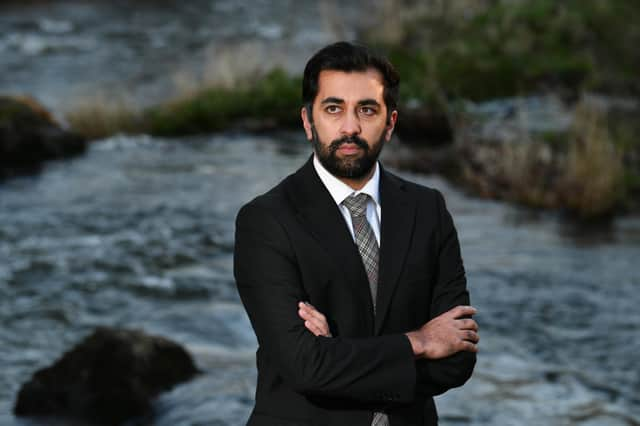 Launching tomorrow on International Women's Day (IWD), the "Manifesto for Women's Rights in Scotland", produced by Women Speak Scotland (WSS), highlights six areas which they believe are under threat and which candidates should agree to uphold.
The manifesto comes just days ahead of the final debate on the controversial Hate Crime Bill – legislation that has prompted concerns about freedom of expression, particularly on the discussion of women's rights and any conflict they have with a proposed expansion of transgender rights.
The Bill has also also been criticised for failing to add the protected characteristic of sex alongside those of race, religion, disability age, transgender identity and variations of sex characteristics, with justice secretary Humza Yousaf establishing a year-long misogyny working group instead, headed by Baroness Helena Kennedy QC.
In a further apparent bid to quell internal SNP concerns, Mr Yousaf has now written to all MSPs and the Parliament's justice committee last week to confirm he would act on any recommendations by the group within a month of its published report.
He said it was vital to "continue to build an approach to tackle violence against women that is truly reflective of the actual experiences of women in our society".
Women Speak Scotland, which was launched last June, said whichever party wins the election and forms the next Scottish Government it must make a commitment to uphold women's rights.
A spokeswoman for the group said: "Women have been fighting for our rights for over 100 years, but now we are facing a serious backlash. We are seeing the advances we've made being watered down or removed one by one.
"Public bodies and organisations too often dismiss women's concerns. Many organisations now routinely confuse 'sex' and 'gender', which has the effect of reducing or removing women's rights.
"WSS supports the promotion and protection of women's sex-based rights, recognising the life-long impact that being born female has on women's experiences, opportunities and relationships.
"Scottish Parliamentary candidates should be aware that women's votes count – we are nearly 52 per cent of the electorate – and we intend to make sure that women's rights and concerns are not ignored during this election, nor by the incoming government.
"We also hope the manifesto will empower those women who aren't yet confident being involved in politics or activism, to feel able to engage in conversation with candidates in their constituencies, by providing information about some of the most important issues facing us at present.
"WSS knows that the vast majority of women are sympathetic to people living however they wish and describing themselves however they wish. But we also know that these same women do not accept that the rights of women, of females, should be undermined to allow the freedom of others. We must all work to secure women's human rights in law, policy and practice."
The manifesto asks parties to reaffirm their backing for the Equality Act 2010, which gives women the right to single-sex spaces in certain places, such as prisons and refuges, and highlights the international Convention on the Elimination of All Forms of Discrimination Against Women (CEDAW) and the European Convention on Human Rights.
CEDAW requires countries to take action to modify or abolish any laws which discriminate against women and to take positive measures "to ensure the full development and advancement of women … on a basis of equality with men".
It also highlights women's rights on healthcare, freedom of speech and association, fairness in sport, the need for robust data on sex to understand discrimination, the need to tackle violence against women and girls, and to ensure that girls are equally entitled to the same rights.
The manifesto launch comes after a recent House of Lords debate saw peers force a change in the language in a Bill on maternity leave for government ministers, as it did not mention the word mother or woman, in an apparent bid to be more inclusive, and after an IWD debate in Holyrood, which later saw some of the women MSPs branded "transphobic" for their speeches on sex-based rights.
Susan Smith of ForWomen Scotland, another new women's organisation, said she hoped candidates would listen to the points raised in the manifesto and commit to protecting women and girls.
"The Scottish Government are pursuing policies that affect women's access to services or support, even going so far as to redefine 'women' in legislation," she said.
"They have talked a great deal about incorporating CEDAW into Scots Law, yet they refuse to uphold the legal rights women are already supposed to enjoy in the UK.
"Meanwhile, the justice secretary describes the abuse women face as a 'pressing' matter, yet he prioritised his deeply flawed Hate Crime Bill, which is emboldening anti-women activists who consider the very principle of CEDAW and the UK Equality Act to be hateful.
"We hope that women will start to press and challenge candidates in the run up to the election. As a non-partisan group, we have pledged to support candidates who commit to upholding these fundamental human rights."
Lucy Hunter Blackburn of MBM policy collective said: "Women need to be free to talk about why sex matters to them in policy and law.
"It would have been unthinkable even a few years ago that a document like this was needed. But it has become increasingly hard for women to talk about the importance of sex in all sorts of contexts without facing criticism and worse.
SNP deputy Westminster leader and spokesperson for women and equalities Kirsten Oswald said: "Lots of organisations are developing manifestos in the run-up to the election in May and the SNP will consider all of them."
A message from the Editor:Thank you for reading this article. We're more reliant on your support than ever as the shift in consumer habits brought about by Coronavirus impacts our advertisers.
If you haven't already, please consider supporting our trusted, fact-checked journalism by taking out a digital subscription.