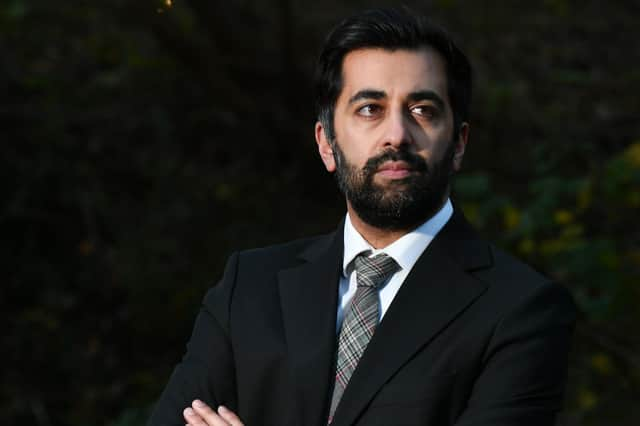 Despite demands for protections for freedom of expression to be tightened in the Bill to ensure that "expressing antipathy, dislike, ridicule, or insult" would cover all protected characteristics and not just religion, Humza Yousaf has lodged an amendment that only protects "discussion or criticism" in relation to age, disability, sexual orientation, transgender identity or variations in sex characteristics.
The justice secretary said he believes the thresholds in the Bill, which would lead to a charge of "stirring up" hatred against someone with any of those characteristics, are high enough not to need an expanded freedom of expression provision. He also claims that a "reasonableness defence" is another safeguard.
However, many concerns had been raised with the justice committee, which was scrutinising the Bill, that the febrile atmosphere in which women's and transgender rights are being discussed could lead to the proposed legislation being used to stop women voicing their concerns, unless there was a specific protection in the legislation.
Mr Yousaf has said he will ensure "how examples for each characteristic might be included in the explanatory notes as to how the freedom of expression provision operates", but campaigners do not believe this gives enough protection.
Lucy Hunter Blackburn of the MBM policy collective, which has raised concerns that saying "sex is immutable" or "people cannot change sex" could be criminalised under the Bill, said: "The Scottish Government has failed to listen to the wide range of organisations who have told it clearly why this Bill needs to include specific, strong protection against chilling effects, and suggested practical ways to do that. It has waited until the very last minute to produce its proposals, making proper scrutiny impossible.
"The Hate Crime Bill is now set to pass into law with a hastily prepared and flawed provision that carries a significant risk in relation to people's willingness to engage in debate around sex and gender identity. The justice committee has been shown abundant evidence that a chilling effect already exists in this area, which this provision is likely to worsen."
Mr Yousaf's position on freedom expression provisions has changed since January when he first proposed a protection for the discussion or criticism of transgender identity.
But it was hurriedly withdrawn after a number of SNP members threatened to quit the party, claiming the amendment was "transphobic" as they felt it had singled out that one characteristic.
Convener of the justice committee scrutinising the Bill, Adam Tomkins MSP, said reaction to the amendment had left him "alarmed and a little afraid".
As a result, an emergency meeting of the justice committee was held last month to discuss freedom of speech.
A four-day consultation period ahead of the meeting saw more than 600 responses, with eight out of ten asking for stronger free speech protections.
A Free to Disagree campaign spokesperson said: "Given how controversial this Bill has been, it's pretty late in the day to be trying to hammer out the terms of the free speech clauses.
"These are essential for building public confidence in the legislation yet here we are with 11th-hour proposals that allow minimal time for scrutiny. The amendments tabled today were rejected by 85 per cent of those who responded to the recent call for views.
"The Government would be better off pausing the most controversial part of the Bill until we can agree free speech clauses that everyone is happy with."
In his letter to the justice committee, Mr Yousaf said: "I am writing to confirm the freedom of expression provision I will be seeking to add to the Hate Crime and Public Order (Scotland) Bill at stage three.
"In deciding what freedom of expression provision to add, I found the justice committee roundtable session extremely helpful in directly hearing from a wide range of stakeholders as to their views on what the appropriate approach should be in this sensitive area.
"It was compelling to hear so many of those contributing at the roundtable indicating that the fundamental safeguard to freedom of expression were the thresholds of the stirring up hatred offences themselves.
"Changes made to the threshold to require an intention to stir up hatred for the new stirring up hatred offences safeguards freedom of expression, making clear on the face of the Bill that a court will objectively assess whether behaviour or material is threatening or abusive safeguards freedom of expression.
"The availability of a reasonableness defence safeguards freedom of expression. Requiring each element of the stirring up hatred offences to be proven beyond reasonable doubt with corroborated evidence safeguards freedom of expression."
Mr Yousaf said he had been persuaded it "is not necessary or appropriate to include race within the freedom of expression provision … as this would suggest a weakening of existing protection for groups targeted on the grounds of race".
And he added: "I was also persuaded that additional provision for religion was needed … reflecting the nature of religion as a characteristic being distinctive and different to the other characteristics.
"As I explained during the roundtable, I am also open to considering how examples for each characteristic might be included in the explanatory notes as to how the freedom of expression provision operates."
A Scottish Government spokesperson said: "The Bill does not prevent people expressing controversial, challenging or offensive views, nor does it seek to stifle criticism or rigorous debate in any way."
A message from the Editor:Thank you for reading this article. We're more reliant on your support than ever as the shift in consumer habits brought about by coronavirus impacts our advertisers.
If you haven't already, please consider supporting our trusted, fact-checked journalism by taking out a digital subscription.