WhatsApp Covid: Humza Yousaf denies erasing WhatsApp messages as Scottish Government under Nicola Sturgeon accused of 'conspiracy against public'
The First Minister is under scrutiny for the government's approach to the UK Covid-19 Inquiry.
The First Minister said reports he had deleted his messages were incorrect, and claimed there had been a Scottish Government policy that advised deleting messages after a month.
Deputy First Minister Shona Robison is set to make a statement to Holyrood on Tuesday outlining a more detailed response to the controversy that has seen reports that Nicola Sturgeon, chief medical officer Gregor Smith, and national clinical director Jason Leitch have deleted their own WhatsApp messages.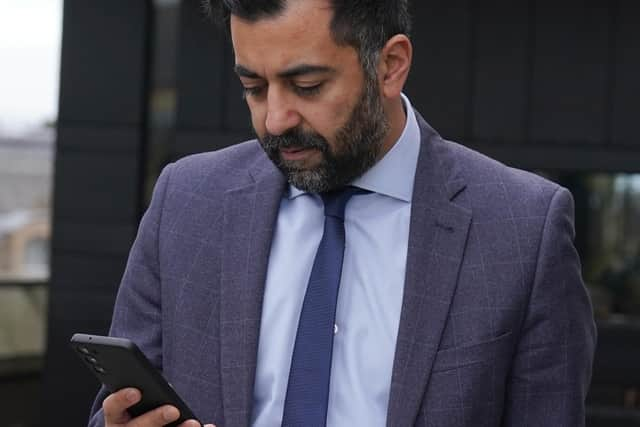 Mr Yousaf had told the Scottish Parliament earlier this year that all information, including WhatsApp messages, would be passed to both the UK Covid-19 inquiry and the Scottish Covid inquiry.
Scottish Labour have accused the First Minister of lying to Parliament, while the Scottish Conservatives demanded a statement from Ms Sturgeon.
The controversy follows reports the former first minister and other ministers "manually deleted" WhatsApp messages from the pandemic period despite public comments stating all information requested by the inquiries would be provided.
Last week, counsel for the UK Covid-19 inquiry said no WhatsApp messages had been provided by the Government, adding the "majority" appeared to have been deleted. The Scottish Government has requested a specific order from the inquiry to release other messages it holds in order to abide by data protection rules.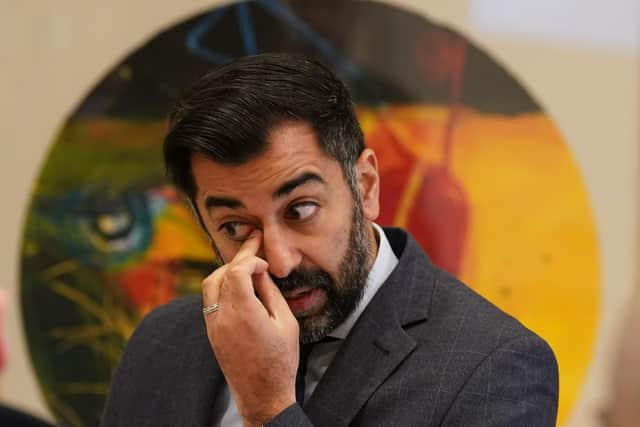 Counsel for the inquiry said the lack of messages from the Scottish Government was "surprising" and demanded clarification on "whether, how and why messages came to be deleted and of the policies under the terms of which individuals claim that they were entitled to do that, if that is indeed their position".
Mr Yousaf said on Monday there was a policy in place within the Scottish Government to delete WhatsApp messages and other, similar, social media messages.
He told LBC: "We had a social media messaging policy, which actually required us to routinely delete WhatsApp messages. That was the policy at the time.
"Now the 'do-not-destroy' notice is one that I expect everybody to comply with – Scottish Government ministers, former ministers, and, of course, Government officials and clinical directors and clinical advisers. That's my expectation."
However, in an apparent departure from the policy he said existed, Mr Yousaf said he had "kept" his WhatsApp messages, adding he was "more than happy" for the inquiries to see them.
He said he was confident Ms Sturgeon "can speak for herself" in terms of what she had retained, what she hadn't and the "rationale for that".
The Scotsman asked to see a copy of the policy referenced by Mr Yousaf and the rationale behind it.
A Scottish Government spokesperson said: "The Scottish Government's Records Management Policy makes clear that records shall be retained as long as they are required to support the Scottish Government in its business requirements and legal obligations."
The spokesperson added: "In line with this policy, guidance on mobile messaging requires that information should be saved to our system of record, which is eRDM. That means that the information is available to the organisation, not just the people involved in any particular conversation.
"We advise that staff should regularly review, record information as required and then delete conversations within one month. This is primarily to promote the proper capture of information, but also to reduce the risk of loss of data."
Scottish Conservative leader, Douglas Ross said the admission about the deletion policy was "extraordinary" and only raised further questions.
"Why was there a policy to routinely delete social media messages? What were ministers and officials trying to hide?," he said. "If this was the SNP Government's policy, it is directly at odds with Nicola Sturgeon's assurance in August 2021 that all messages would be handed over to the Covid Inquiry.
"Humza Yousaf simultaneously claims that deleting messages was Government policy and that he retained his.
"None of this stacks up. That's why it's imperative that he's the one answering questions on this in Parliament, not his deputy, and why his predecessor must give a personal statement explaining her actions."
Leader of the Scottish Liberal Democrats, Alex Cole-Hamilton, said the admission demonstrated a "conspiracy against the public".
He said: "Scottish Liberal Democrats and other transparency campaigners have consistently argued that ministers and advisers use WhatsApp to evade transparency requirements.
"The idea that there was an official policy to regularly destroy WhatsApp messages risks this looking like a conspiracy against the public. Even [former US president] Richard Nixon wasn't shameful enough to destroy the Watergate tapes."
However, Scottish Government insiders are adamant there was no culture within Bute House of ministers, advisers and civil servants using WhatsApp to conduct Government business during the pandemic.
This is despite remote working and ministers staying in different parts of the country during the early days of Covid-19.
Counsel for the UK Covid-19 Inquiry said it was "surprising" that so few messages on instant messaging systems such as WhatsApp had been retained, particularly when compared to the "high volumes" disclosed by the UK Government.
Evidence to the inquiry on Monday showed how Martin Reynolds, one of Boris Johnson's closest aides who was later dubbed "Party Marty" due to his role in the Partygate scandal, turned on WhatsApp's automatic deletion function in one key group.
The group, named 'PM Updates', contained the former prime minister's closest advisers and often focused on Covid-19 policies. It had the feature turned off as plans for the UK inquiry took shape.
Hugo Keith, counsel to the inquiry, said of the group's content that: "This was hugely important information. You were telling the prime minister, daily, hourly, by minute, information he needed to know."
He asked: "Why did you turn on the disappearing message function around the time that the PM announced a public inquiry into the Covid pandemic?"
Mr Reynolds said: "I can guess or I can speculate, but I cannot recall exactly why I did so … I don't believe it was intended to prevent the inquiry from having sight of this."
Meta, the owner of WhatsApp, introduced the disappearing messages feature in late 2020, which allowed users to automatically delete messages after a set period of time.
Simon Case, the UK's top civil servant, was meanwhile revealed to have vented that Mr Johnson "cannot lead" amid pandemic-era frustration with the-then prime minister's leadership, according to WhatsApp messages shared with the UK Covid-19 inquiry.
Case, who remains Cabinet Secretary, told Mr Johnson's then-chief adviser Dominic Cummings the prime minister was making government "impossible".
Mr Case, who has temporarily stepped back from his role due to a "private medical matter", told Mr Cummings that Mr Johnson "cannot lead and we cannot support him in leading with this approach".
In the message, read at the hearing, Mr Case said: "I am at the end of my tether. He changes strategic direction every day (Monday we were all about fear of virus returning as per Europe, March etc – today we're in 'let it rip' mode cos (sic) the UK is pathetic, needs a cold shower etc).
"The team captain cannot change the call on the big plays every day. The team can't deliver anything under these circumstances.
"Decide and set direction – deliver – explain. Gov't isn't actually that hard, but this guy is really making it impossible."
Mr Johnson's handling of the early days of the pandemic came in for particular scrutiny, as the inquiry launched a major week of hearings that will see Mr Cummings and former Number 10 director of communications Lee Cain appear today.
The then-leader, according to a note read from the diary of a former private secretary, asked why the economy was being destroyed "for people who will die anyway soon", in the days before the country went into lockdown.
It also emerged Mr Case, in a WhatsApp exchange with Mr Reynolds, said Mr Johnson was "mad" if he did not believe his private WhatsApp messages would become public as part of the Covid inquiry.
Comments
 0 comments
Want to join the conversation? Please or to comment on this article.