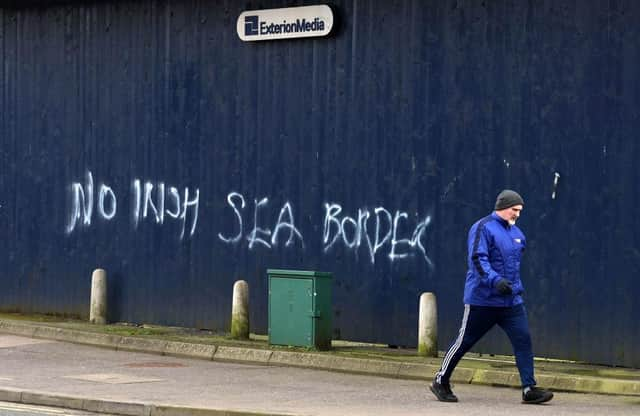 Loyalists have shown fierce opposition to the Northern Ireland Protocol (Getty Images)
Brexit inspections at ports in Belfast and Larne were suspended earlier this week amid concerns over mounting loyalist anger about the Northern Ireland Protocol and the operation of an Irish Sea trade border.
The mechanism has led to a war of words between the Republic of Ireland, UK and Northern Ireland government, with the latter calling for the protocol to be scrapped altogether.
Here are answers to some of the main questions about the protocol and why it is so controversial.
It was how the EU and the UK overcame the main sticking point in the Brexit withdrawal talks: the Irish border.
To avoid disrupting cross-border trade and a return of checkpoints along the politically sensitive frontier, they essentially agreed to move new regulatory and customs processes to the Irish Sea.
That means the checks are now focused on trade between Great Britain and Northern Ireland, with goods continuing to move freely within the island of Ireland.
Trade between Northern Ireland and Great Britain is largely unaffected by the protocol.
The red tape applies on movement in the other direction. Since December 31, a range of regulatory animal and plant safety checks have been in operation, including physical inspections for a proportion of arriving freight at new port facilities.
Customs declarations are also required for incoming commercial goods.
How does the protocol work?
Northern Ireland remains in the EU single market for goods. The region also applies EU customs rules at its ports, even though it is still part of the UK customs territory.
The protocol also sees Northern Ireland follow certain EU rules on state aid and VAT on goods.
Why are unionists and loyalists unhappy about it?
They believe the protocol has created a barrier between the region and the rest of the UK, undermining the constitutional integrity of the Union.
The annoyance is on two levels – practical and symbolic.
They highlight that GB is Northern Ireland's biggest trading partner and the protocol is damaging those economic links.
There has undoubtedly been disruption in the early weeks of the protocol, evidenced by depleted supermarket shelves, as many traders have encountered problems shipping goods across the Irish Sea.
Every piece of evidence of disrupted trade feeds loyalist fears that a wedge has been driven between Northern Ireland and the rest of the UK, with the protocol forcing an economic reorientation with the Irish Republic.