Tory MP Andrew Bowie insists 15-minute cities criticism 'isn't conspiracy theory' and claims Tories can win next election
The Scottish Conservative MP suggested his party could win a historic fourth term
Scottish Tory MP Andrew Bowie has insisted that speaking out over 15-minutes cities is not pushing "conspiracy theories", despite a backlash against the comments.
The minister for nuclear and networks claimed he had just been raising concerns felt by the public after comments made during a radio interview were labelled "post-truth" by Màiri McAllan, the Scottish transport and net zero secretary. The concept of 15-minute cities is based on having shops, services and workplaces easily reachable by foot or bike from people's homes.
The concept of 15-minute cities has been linked to a conspiracy theory claiming they are an attempt to control the public and restrict civil liberties, particularly by local councils. Transport secretary Mark Harper also criticising the scheme this week, calling the concept "sinister" and announcing the Government would crack down on their misuse.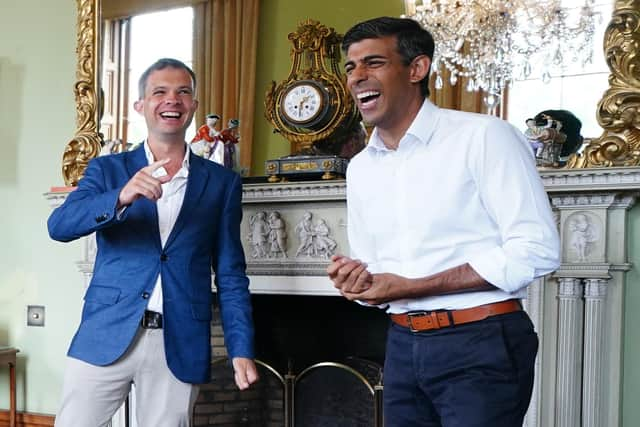 It follows Claire Coutinho, the secretary of state for energy security and net zero, claiming Labour "seems so relaxed" about taxing meat, with no evidence to back up the accusation.
Speaking to The Scotsman this week at Tory conference in Manchester, Mr Bowie, the West Aberdeenshire and Kincardine MP, defended his comments. He insisted he and his colleagues were raising legitimate concerns, adding: "These are proposals that were put up. The proposal on meat, for example, was on a DEFRA consultation. We've ditched it, it's not going to happen.
"So that was a proposal that was put to the Government and we said no.
"The 15-minute towns, 15-minute cities, these were proposals that were floated as ideas in the country and it's something that we do not agree with and do not think should be implemented.
"These are not conspiracy theories, these are not pie in the sky things that were never going to be implemented. These were things that were seriously considered and it is our responsibility as the government, when people have concerns about something, to act on those concerns, to allay those concerns and set out exactly what we believe, and that's exactly what we've been doing."
Asked if the concept of 15-minute cities were a Labour policy, from Whitehall or experts, Mr Bowie said he didn't know.
He said: "I don't know where they emanated from. All I know is that they were specific, actual proposals and we're not going to follow through with implementing them."
Speaking before Rishi Sunak's keynote speech, the junior minister also dismissed the appearance of Liz Truss in Manchester, insisting his party were all behind the Prime Minister, and could even win the next election.
He said: "Liz Truss is a personality, she was leader last year, so obviously she's going to draw a crowd. But nobody is seriously considering another Liz Truss attempt at being prime minister. Nobody is seriously talking about getting rid of Rishi Sunak as leader. We are united behind Rishi, the parliamentary party, I've never seen it more united.
"A year ago, I would have fought very hard, but it would be very difficult under a Liz Truss premiership. I am much more confident now that we've got Rishi in the driving seat … and that we will go on to win a historic fourth election victory."
Comments
 0 comments
Want to join the conversation? Please or to comment on this article.