The Lothian MSP, who was joined by candidates from Scotland's other major parties standing in the region, said arguing over constitutional issues during the next Parliament risked side-tracking other pressing economic and social issues.
"Do we want to spend the next few years getting into camps again where we disagree with each other on our future?" she asked.
"We saw the waste of energy … when the Tories went down their Brexit route – and now we can see the mess that's left us.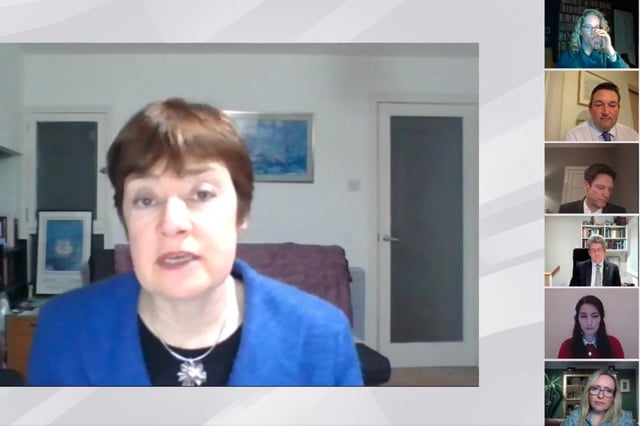 Scottish Labour MSP Sarah Boyack has labelled the prospect of holding a second independence referendum a "massive error" and a "waste of energy" during the first of The Scotsman's online 2021 election hustings events
"And the idea that we would spend the next year, arguing with each other about the details for and against independence – I just think would be a massive error."
She added: "I want to see us focusing on building new houses, tackling short-term lets and tackling the detail day-to-day issues that will impact people."
But the SNP's Catriona MacDonald insisted the Scottish Government needed wider financial powers to "drive the recovery from Covid-19".
Scottish Conservative MSP Miles Briggs accused the SNP of using a second independence referendum to avoid defending their record in power
"That's part of the reason why support for independence has been a sustained majority for the last year," she said.
"It's not because everyone has suddenly become a nationalist. It's because people can see that the Scottish Government and the UK Government have diverged significantly."
She added: "People trust the First Minister to put our wellbeing first. They trust the First Minister to put our health first and I think that is the reason that people in Scotland want to see another referendum on independence."
Scottish Conservative MSP Miles Briggs accused the SNP of using a second independence referendum to avoid defending their record in power.
On Tuesday evening, The Scotsman held the first of its eight 2021 election hustings events
He said: "The SNP clearly do not want to talk about their 14 years in office.
"And when you look at health, education, transport, local government – issues which they have been responsible for … part of the problem with this pandemic is the underinvestment and under-delivery by this SNP Government.
"The next Parliament has to focus 100 per cent on rebuilding Scotland. We won't be forgiven if it is just wasted on constitutional navel-gazing over the course of the next five years."
Scottish Greens co-convener Lorna Slater welcomed the mention of a recovery, but said Scotland needed a "full suite of economic powers" to achieve one.
"We need to have full control of our economic policy, of our taxation, of our benefit system, so that we can make a fairer recovery," she said.
"That that means money in ordinary people's pockets, it means proper pay rises for nurses – it doesn't mean billions spent on nuclear weapons."
Liberal Democrat Fred Mackintosh, however, said "MSPs are only human".
"They have a limited amount of capacity to deal with things," he said. "There's only 129 of them.
"We can't spend the next five years talking about the complexities of currency when we could be working out how to reform education."
He added: "We used to say – Tony Blair said it – that education is the most important thing. The SNP said it too. Well, let's actually make it."
A message from the Editor:
Thank you for reading this article. We're more reliant on your support than ever as the shift in consumer habits brought about by coronavirus impacts our advertisers.
If you haven't already, please consider supporting our trusted, fact-checked journalism by taking out a digital subscription.