SNP say praise from Tony Blair should 'mortify' Sir Keir Starmer and claim Blairites 'back in charge' of Labour
Former prime minister Tony Blair claimed critics who said Sir Keir Starmer's policy offering was too bland were talking "nonsense"
A winner of three general elections, the former Labour prime minister praised Sir Keir for saving Labour from "the brink of extinction". Mr Blair also insisted Sir Keir would not be a back seat driver if his party wins the general election as expected.
But the SNP's depute Westminster Leader, Mhairi Black, condemned the Labour leader for Mr Blair's comments, claiming he sought them out.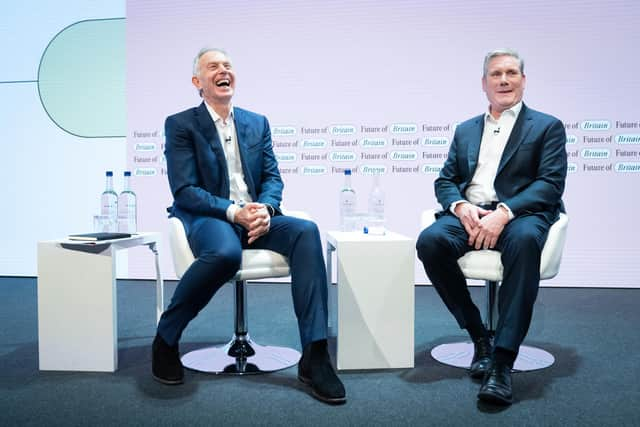 She said: "This is an endorsement Keir Starmer should be mortified to receive, but the truth is it's one he's sought from day one of his leadership. Blair, whose legacy is that of the Iraq War and a shift to the right, is not someone whose endorsement should be chased or happily received.
"If it wasn't already apparent from their staunch support of austerity and Tory-replica policies, it's clear the Blairites are well and truly back in charge of the Labour party.
"Scotland shouldn't be made to choose between two parties intent on imposing a brutal Brexit and austerity agenda on ordinary people, nor between two parties who could barely fit a fag paper between them".
Mr Blair had told the Financial Times Sir Keir had "rescued" the party after predecessor Jeremy Corbyn, and shown "agility and determination" in remodelling it.
He said: "I didn't give up on Labour. But I think the Labour party would have been finished if we had carried on under Corbyn."
Promising not to dictate from behind the scenes, the former PM also mocked those who suggested Sir Keir was a Blairite.
He said: "One of things I admire about Keir is that he doesn't care if people say I'm behind the scenes or not behind the scenes. If we've got something to offer, he'll take it. If it's not, he won't. I like that."
Now running the Blair Institute, the former Sedgefield MP claimed critics suggesting Labour's offering was too bland were talking "nonsense" and that Labour had to hold to the centre ground and stop "equating being radical with just taxing and spending".
Comments
 0 comments
Want to join the conversation? Please or to comment on this article.