SNP leadership TV review: Little wonder TV debate scheduled for after the watershed after fiery encounter
After the dankness of Dumfries, the gloom of Glenrothes and the Cumbernauld coal cellar, surely this was going to be a bit more, well, illuminating.
But already I feel mean for making fun of the modest, am-drammy staging as the thistle-thirled three took to the hustings – and now I'm duty bound to slag off STV's studio set.
Cluttered backdrop imagery, clear plastic lecterns so legs were a distraction – and had our poor candidates been plonked on a skating rink?
Not Dancing on Ice, this was the first televised debate after town halls preaching to the converted. "A hustings we will go," the contenders had chorused up the back of the battle wagon – possibly a reconditioned Runrig tour bus – as Nats redoubtable Mike Russell took questions from audiences made up of the membership for, as he put it more than once in sessions only viewable online, "a contest among friends".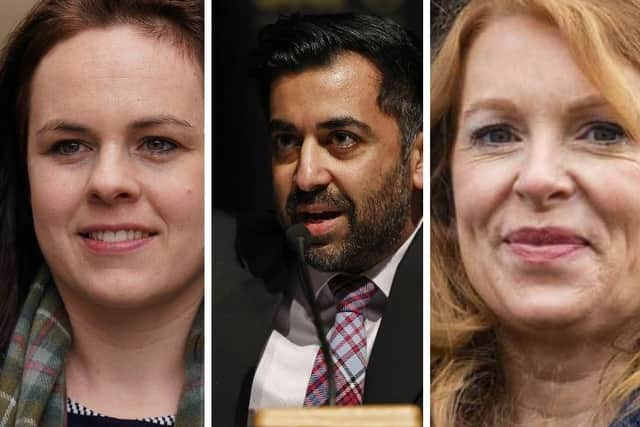 Pre-season friendlies like in football, then – warm-ups for the real action. No one had been out to do a rival any lasting damage with a crunching late tackle, so would that change? Some "mansplaining" from Humza Yousaf a la Rishi Sunak, perhaps? An attempt to break the latter's new British record of 20 interruptions – of Liz Truss, how quickly we forget – in the opening 12 minutes?
Oh yes, it was feisty. A stairheid rammy at times. Or, staying with football, a stramash, the exclamation so beloved of dear, old Arthur Montford, late of the STV parish. The referee was Colin Mackay. It was a wonder he didn't faint like Kate McCann when the Tories' power struggle went primetime.
Before long, those see-through podiums seemed a very good idea. Maybe they prevented Ash Regan (tartan jacket), Yousaf (tartan tie) and Kate Forbes (plaid-free unless she was wearing lucky checked pants) from getting comfortable in baffies, but Mackay was able to keep an eye on any potential leg-breakers with sharpened studs.
Forbes employed absolutely no subterfuge whatsoever in rubbishing Yousaf's record in three different government posts; she was completely upfront. How could he hope to do any better in the top job? He countered with a dig at how her socially conservative views as an evangelical Christian had resulted in a haemorrhaging of her support.
The gloves were off, the boots stayed on. No wonder this debate, unlike those for the Tory leadership, had been scheduled for after the watershed. There was an opportunity for questions from viewers, the best of which invited each contender to reveal which, if any, Cabinet posts they would offer to their defeated rivals. Yes, everyone was very talented, but there was a lot of talent beyond this skating rink. Forbes when pressed said she'd probably keep Yousaf, but "not in health".
How did our trio perform from the waist down? Regan was able to maintain an elegant stance throughout while Yousaf – occasionally patronising and the one who said "if I become first minister" the most, by the end changing "if" to "when" – appeared somewhat spivvy. Three more debates to go so we'll see who's really got the legs.
Comments
 0 comments
Want to join the conversation? Please or to comment on this article.