Gone was any talk of a cosy SNP family. This was a brutal fight for the keys to Bute House.
Kate Forbes, the finance secretary, launched a scathing attack on the record of her rival Humza Yousaf, the current health secretary.
"You've had a number of jobs in government," she said. "When you were a transport minister, the trains were never on time. When you were justice minister, the police were strained to breaking point and now as health minister, we've got record-high waiting times."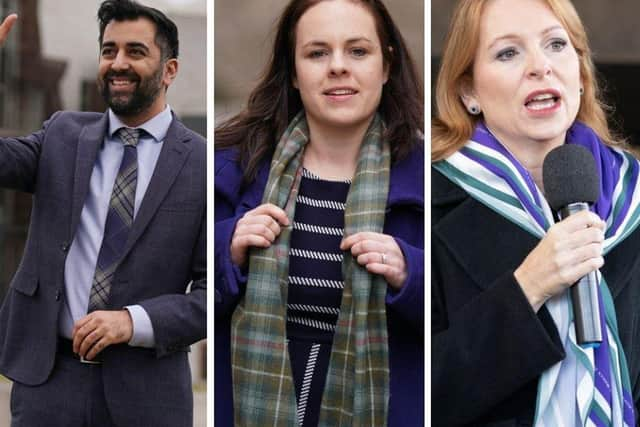 Labour and the Tories must be rubbing their hands with glee.
In return, Mr Yousaf said Ms Forbes would "cave in" to the UK Government over its decision to block Scotland's gender reforms. "How can anybody trust you to stand up for the Scottish people?"
He also highlighted the rocky start to her campaign, which saw Ms Forbes shed support over her socially conservative religious views, such as on gay marriage. She couldn't even keep Yes voters on side, he said.
Meanwhile, Ash Regan, the self-confessed outsider in the race, rubbished the independence strategies of the other two candidates. "Wishy-washy," she said. Her very first words in the debate were stark: "The SNP has lost its way."
All three candidates have already travelled the length and breadth of Scotland, addressing SNP hustings from Dumfries to Inverness. This STV debate was altogether different.
It was fast-paced, brutal and about a million times more entertaining. It was also much more enlightening.
The differences between the candidates were laid bare for all to see. On independence, Ms Forbes and Mr Yousaf both focused on growing support. Ms Regan pledged that at every election going forward, "we will make it crystal clear that a majority of votes for the SNP will be a democratic mandate for independence".
Mr Yousaf said it was "absolutely vital" to continue the SNP's cooperation agreement with the Greens. Ms Regan said she would review it, and Ms Forbes seemed less than committed.
Elsewhere, Mr Yousaf insisted he was the only candidate who would unequivocally support the rights of everyone in Scotland. He sought to portray himself as the continuity option who would carry on Nicola Sturgeon's legacy.
Ms Regan, on the other hand, seems to be seeking the support of those who feel disillusioned with the current SNP leadership.
Ms Forbes said it is time for change. "More of the same is not a manifesto," she said, in a clear dig at Mr Yousaf. "It's an acceptance of mediocrity."
After a handful of lacklustre hustings, the STV debate was a dose of pure political drama. It was a brilliant watch. Nicola Sturgeon and the SNP's bigwigs, however, may feel differently.