SNP leadership race: Decision to speak to country or party is likely to decide who becomes Nicola Sturgeon's successor
There is a misconception in leadership races that contenders should be setting out their stall to the country they either hope to run or will lead.
It is an easy mistake to make, one where you are, as a candidate, driven to set out why you should win the next general election or deliver on domestic promises.
But it is usually a mistake. Take Liz Truss, a woman whose economic policies drew a mixture of glee and scorn during the Conservative leadership contest, but who spoke the language of the people who ultimately voted her in and not that of the MPs who ultimately ushered her out.
Sir Keir Starmer, someone who told SNP voters to "trust" Labour, stands today on – in some cases – a radically different platform to the one he won the Labour leadership on after Jeremy Corbyn. Some might call it dishonesty, others may call it ruthless pragmatism.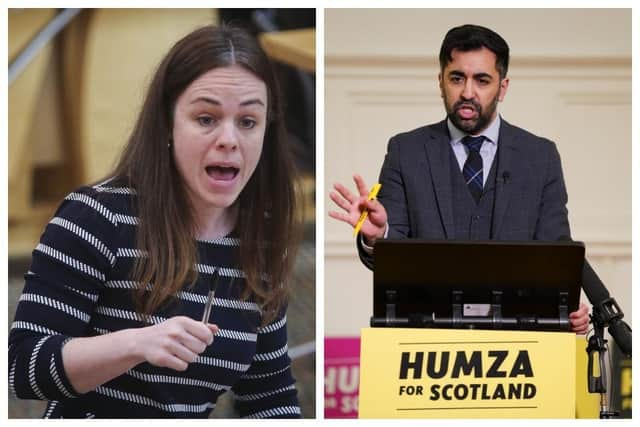 For Kate Forbes and Humza Yousaf, it is likely that whoever can speak to the rank-and-file membership of the SNP best will win.
This is a membership that has never been tested in its modern, massive form. We, and the SNP itself, don't really know where it stands on issues such as the de-facto referendum plans, or the co-operation agreement with the Greens, or the push to tackle climate change.
Ms Forbes has already begun to set out her stall as a unifying figure, someone who can marry the warring internal factions, referencing the talent she sees across the party and, critically, the independence movement.
Her opposition to the gender reforms passed in December and reluctance to challenge the section 35 order puts her at odds with her party, polling shows.
That could be seen to be speaking to the country – particularly those in the independence movement who have left the SNP in recent years – rather than those who will actually vote for her.
But internal disagreements on the speed of the transition away from oil and gas, gender reforms, and a desire for someone sympathetic to fundamentalist views on independence, may spur some impatient members to her cause.
Mr Yousaf, however, is banking on the Sturgeonite approach to government and strategy, at least broadly, to be the way to speak to members and get them onside. Why change what has worked and been popular?
Endorsements from hugely popular figures like John Swinney will be key. But, fundamentally, whoever speaks to the SNP membership most convincingly will win.
Want to hear more from The Scotsman's politics team? Check out the latest episode of our political podcast, The Steamie.
Comments
 0 comments
Want to join the conversation? Please or to comment on this article.