SNP independence: SNP will use general election victory to seek independence negotiations, says Humza Yousaf
The First Minister made the announcement in a speech to activists in Dundee
Humza Yousaf has declared the SNP will seek to open negotiations on securing Scottish independence if it wins the next general election.
The First Minister said he would pursue talks with the UK Government "on how we give democratic effect to Scotland becoming an independent nation" if his party wins the most seats in Scotland.
He said it would be up to Westminster to decide whether a second referendum should then take place – or whether the election result itself would be enough. However, he said a referendum is still his "Plan A".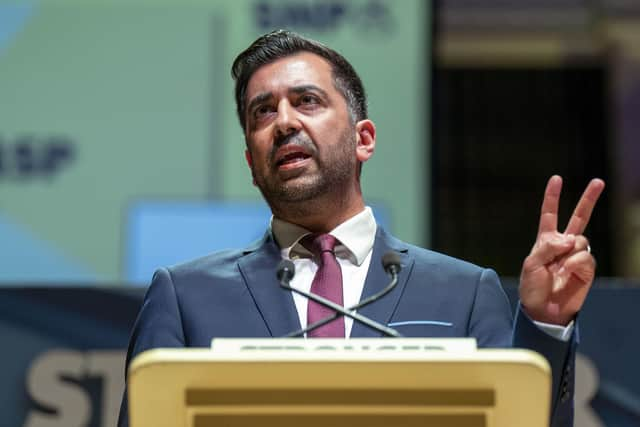 Mr Yousaf made the announcement at his party's independence convention in Dundee. His predecessor, Nicola Sturgeon, wanted to use the general election as a "de-facto" referendum by claiming victory if the SNP secured more than 50 per cent of the vote.
The First Minister told journalists he did not favour this "because if you want to test a proposition for popular support, you do that through a referendum".
His own strategy amounts to an attempt to pile pressure on Westminster to agree to a rerun of the 2014 referendum. It would enable him to claim victory at the general election if the SNP wins just 29 seats. In 2019, the party won 48 out of 59 seats, but boundary changes will reduce the total in Scotland to 57.
UK ministers will likely find it easier to ignore calls for another referendum if the SNP goes backwards, as recent polls suggest the party will, meaning Mr Yousaf's strategy is a huge risk.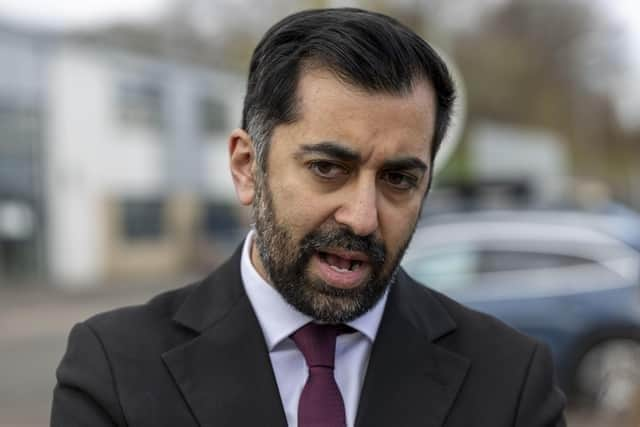 Speaking in Dundee, the First Minister told activists that "page one, line one" of the SNP's manifesto will read: "Vote SNP for Scotland to become an independent country."
He said: "If the SNP does win this election, then the people will have spoken. We will seek negotiations with the UK Government on how we give democratic effect to Scotland becoming an independent nation.
"Remember, we are not the block on a referendum – a referendum is our Plan A. Westminster are the ones blocking it.
"So whether that democratic effect is a referendum or simply the general election itself, that is for them to answer. They told Scotland, this is a voluntary union. Prove it.
"But we will not wait for Westminster. If we win the general election, we will take that mandate from the people and ensure we as a government are ready to negotiate our independence."
In a 40-minute speech in Dundee's Caird Hall, Mr Yousaf said his party would "set out in a detailed document the terms we would seek in discussions with the UK Government for Scotland becoming an independent country".
He said this would be called "Withdrawal from Westminster – a New Partnership Agreement", adding: "This new partnership agreement between Scotland and our friends in the rest of the UK would include draft legal text on the transfer of powers from Westminster to the Scottish Parliament necessary to prepare for independence. It would set out the Scottish Government position on issues such as the division of assets. And it would detail future arrangements for continuing, indeed better, co-operation with the rest of the UK."
He said the SNP would also establish an envoy position – a representative of the Scottish Government in Brussels – if it wins the general election, to "prepare the ground for Scotland to become an independent member state of the EU".
Elsewhere, the party will conduct "a nationwide, open, and inclusive consultation on a draft interim constitution, the founding document of our newly-independent state", he said.
Mr Yousaf said SNP activists would engage in a "summer campaign on the opportunities of independence". This will culminate in a rally in Edinburgh on September 2, which the First Minister will attend.
Speaking to journalists afterwards, he said: "Our Plan A has not changed. Our Plan A remains wanting a referendum – standing for election to say that if we win that election, we should have a mandate for another referendum. That's been denied, and denied, and denied. So, in some respects, that Plan A has absolutely not changed. We still want a referendum. That's been denied to us, so the next way to test the proposition is through a general election.
"And if we make it clear – page one, line one of that manifesto – that a vote for the SNP is a vote for Scotland to become independent, then we will begin to seek negotiations with the UK Government on how to give that democratic effect."
Asked how this differed from the mandate the SNP says it has secured at multiple previous elections, he said: "It does, with a very simple proposition, that we've never put on line one, page one of a manifesto, make it really clear, if you're voting for the SNP, you're voting for Scotland to become an independence country.
"The question that inevitably you're going to arrive at is, well, if Westminster says no, then what do you do? How do you break the logjam? That's a question, of course, for the UK parties. If this is a voluntary union, then they've got to be able to prove it."
There was evidence of confusion over Mr Yousaf's strategy. Speaking later, Pete Wishart, the SNP's longest-serving MP, told delegates: "If we as a party secure 50 per cent-plus of the popular vote that will be a clear indication that Scotland has voted for independence and that is what we will deliver to Westminster."
Elsewhere, the event in Dundee saw a number of tributes to Winnie Ewing, the SNP icon who died recently at the age of 93.
Conservative MSP Donald Cameron said Mr Yousaf had "thrown another slab of red meat to nationalists to deflect from the chaos engulfing his party". He said: "The SNP delegation that bothered to turn up to Dundee are speaking to themselves about their number one priority while people are struggling with the global cost-of-living crisis and our public services are under incredible pressure. By confirming he will attend an independence rally, Humza Yousaf is showing his eye is well and truly off the ball when it comes to tackling his party's failings during 16 years in office."
Ian Murray, Labour's shadow Scottish Secretary, said: "Humza Yousaf is clearly preparing for failure with these plans, which seem to suggest that even if his party haemorrhage seats at the next election they will take it as a mandate to continue focusing on separation.
"We need a government focused on tackling the urgent challenges we face – from the cost-of-living crisis to the chaos in our NHS to a declining economy – but in the SNP we have a tired party rehashing the same old tired arguments. Today has laid bare just how bereft of fresh ideas the SNP truly is – even when it comes to their driving constitutional obsession.
"Voters won't be fooled by Humza Yousaf's promise of a losers' referendum – Scotland needs change, and it's clear the SNP is incapable of delivering it."
Scottish Liberal Democrat leader Alex Cole-Hamilton said: "The SNP have put on an entire conference dedicated to demonstrating how tired, out of touch and bereft of ideas they are. Nobody believes Humza Yousaf's plan is going to lead to the break-up of the UK. It's a desperate ploy to appease a dwindling band of single-minded nationalist activists."
Comments
 0 comments
Want to join the conversation? Please or to comment on this article.