Humza Yousaf has said he does not believe there would be any reason "out of the ordinary" for a reported two-week wait in clearing a search warrant for the home of Nicola Sturgeon and her husband Peter Murrell.
The First Minister said Scotland's prosecution service does not make decisions "based on election contests or politics".
Questions have been raised after it emerged the Crown Office was told on March 20 that Police Scotland wanted a search warrant, but this was not signed off until April 3 – a week after the SNP leadership contest ended.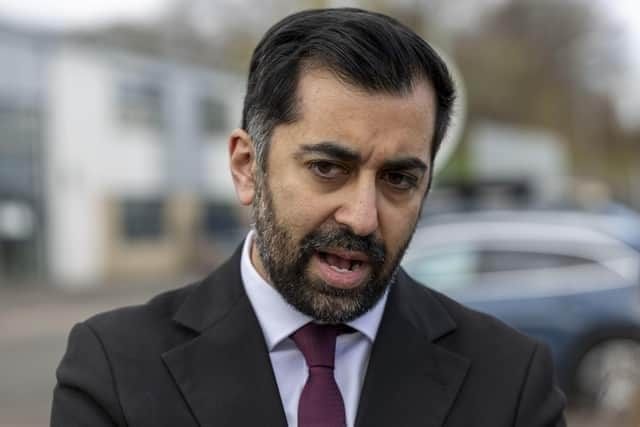 Officers swooped on the home shared by Ms Sturgeon and Mr Murrell, the former chief executive of the SNP, two days later, as well as searching the party's headquarters in central Edinburgh. The new details emerged following a Freedom of Information request by the Scottish Conservatives, which was first reported in the Scottish Sun.
It is understood the police submitted a draft warrant on March 20. This was then signed on the same day it was finalised, which was April 3.
Kenny MacAskill, who served as justice secretary between 2007 and 2014, but is now an MP in Alex Salmond's Alba Party, has called for a judge-led inquiry into the Crown Office.
Asked about the issue on BBC Radio 4's Today programme, Mr Yousaf said: "I suppose that would be a question for the Crown, not questions for Government or ministers or the First Minister – we would never dream of interfering, neither in a live police investigation, but certainly not in a search warrant."
He added: "I don't believe that there would be any particular reason out of the ordinary that it would take that time, but again, it would be a question for the Crown Office."
Mr Yousaf said the Lord Advocate and Solicitor General – Scotland's two highest law officers – would recuse themselves from any decisions relating to investigations involving politics.
He said: "I think the decision of the Lord Advocate, or in this case the Crown more generally, would be not to make decisions, I don't think, based on election contests or politics. They make decisions in terms of what is appropriate in relation to the Crown, so really what you're asking me to do is to make an inference about a process that has nothing to do with me. I have no involvement in it, neither did I, neither would I. It would be really a matter for the Crown Office."
A spokesman for the Crown Office and Procurator Fiscal Service (COPFS) said on Tuesday: "In all matters, Scotland's prosecutors act independently of political pressure or interference. It is standard that any case regarding politicians is dealt with by prosecutors without the involvement of the Lord Advocate or Solicitor General.
"COPFS understand the interest in this case but to protect the fair administration of justice we urge restraint in public comment."
The probe into the SNP's finances – which stems from how more than £600,000 raised from members for an independence campaign was spent – has resulted in two arrests, that of Mr Murrell and then party treasurer Colin Beattie. Both men were released without charge pending further investigation.
Despite the probe, Mr Yousaf said his party can be trusted with people's money, adding it will "definitely" have the required funds to fight a general election campaign.
Meanwhile, the First Minister said the party's new auditors are "confident" they can file the Westminster group's accounts on time. If the May 31 deadline is missed, the group could miss out on £1.2 million of Short money – public funds given to opposition parties to support their parliamentary work.
Mr Yousaf said: "We had a conversation with (the auditors) as a party… and certainly the last conversation we had with the auditors, they were confident in meeting that deadline."
The party struggled for six months to appoint new accountants after the departure of Johnston Carmichael in October, a fact only provided to Mr Yousaf when he became party leader, with AMS Accountants Group hired earlier this month.