Aamer Anwar, the solicitor for the family of Sheku Bayoh who died after he was restrained by police officers in Kirkcaldy in May 2015, said for far too long communities had been "grieving at gravesides" and being ignored on institutional racism.
His comments come after the chief constable, Sir Iain Livingstone, admitted that Scotland's national police service was "institutionally racist and discriminatory" adding he hoped the statement would be a "catalyst" for change.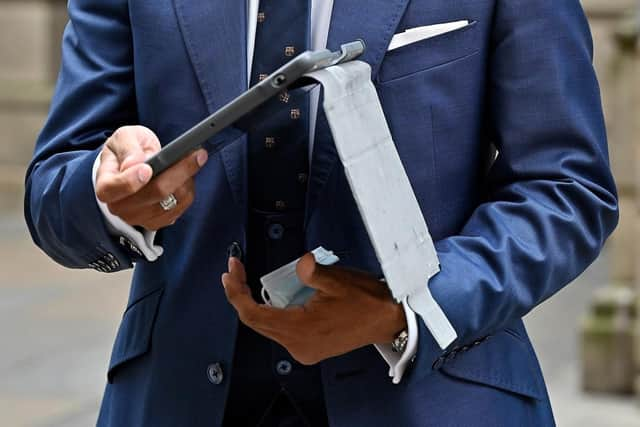 Mr Anwar said: "Today is testament to all those officers who took an oath to serve our community, but because of their race, sexuality or gender were persecuted and discriminated against by their police service.
"The family of Sheku Bayoh want me to thank the chief constable for raising his voice for the truth and being brave enough to say what black and Asian communities have known for decades."
He also attacked the Scottish Police Federation, the representative body of around 17,500 police officers, for their "arrogant child-like denial" of institutional racism and of "adopting a knee jerk response to those that call it out", demanding that "the Federation have no option but to modernise and change".
The lawyer added: "Our communities are tired of grieving at gravesides, tired of trying to prove structural racism exists. Policing by consent is the pillar of any civilised democracy and today is an opportunity for a fundamental reset and restoring trust with all our communities.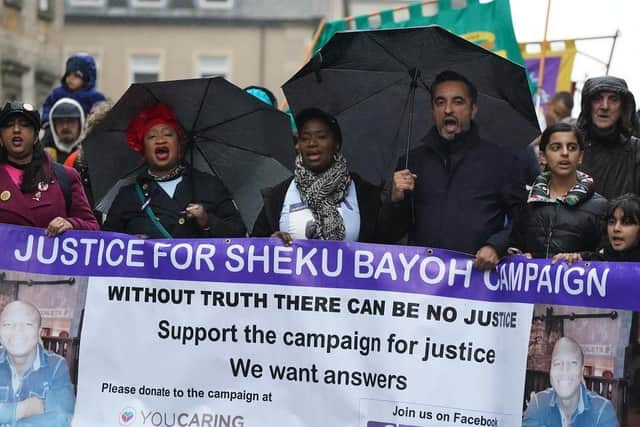 "Over the years there has been little evidence of institutional or individual learning from investigations, inspectorate reports, inquiries and reviews, whilst whistleblowers are systematically bullied, punished and erased- that cannot and must not be allowed to continue.
"The Chief Constable has set a challenge not just for the Police Service of Scotland, but to all police forces throughout the United Kingdom, especially the Metropolitan Police who refuse to accept indisputable evidence of institutional racism.
"In the end the real test on institutional racism, will not be the sympathy expressed for families like those of Sheku Bayoh but whether this country acts to ensure that real change takes place in our all-powerful police service."
The chief constable had earlier pointed at the experience of Mr Bayoh's family during his statement to the Scottish Police Authority.
He said: "A candid, clear assessment of institutional discrimination means recognising our absolute duty to provide just and effective policing for all according to their specific needs and circumstances.
"It also requires identifying and removing the deep-rooted barriers to achieving this. These are necessary steps to progress the commitment that Police Scotland will be anti-racist; a personal commitment I made to my fellow citizens at the commencement of the public inquiry into the death of Sheku Bayoh.
"And, as a commitment to the people of Scotland, it is also a commitment to Sheku Bayoh's family and loved ones.
"The onus is on us, the police service, to address gaps and challenge bias, known or unwitting, at every level, wherever bias occurs, to maintain and build confidence with all communities."
Lord Bracadale, who is chairing the inquiry into Mr Bayoh's death, said it welcomes Sir Iain's statement.
He said: "The Sheku Bayoh inquiry was set up to examine the events surrounding the death of Mr Bayoh, including whether race was a factor in those events.
"I look forward to the continued co-operation of Police Scotland in the work of the inquiry."
Want to hear more from The Scotsman's politics team? Check out the latest episode of our political podcast, The Steamie.