Scottish Green: Patrick Harvie is right, climate change is a generational issue, as party set to launch Rutherglen and Hamilton West candidate
As the Scottish Greens ready their Rutherglen by-election campaign launch on Tuesday, where does the public sit on climate change?
The Scottish Green co-leader's comments suggesting the veterans "haven't moved on" in regards to climate change in a Scotland on Sunday interview sparked a degree of outrage and accusations of ageism, but the polling facts demonstrate that, to a degree, Mr Harvie is right.
Belief in climate change and the requirement to tackle its impact on the world is a generational wedge issue.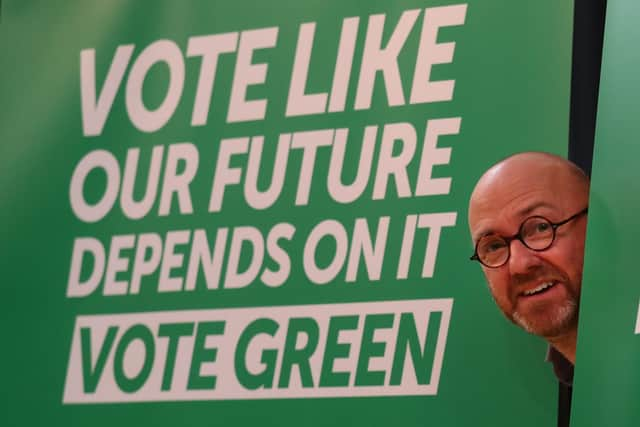 Pollsters YouGov released fascinating figures last week on climate change which show young people are far more likely than older generations to believe that human activity is either entirely or mostly responsible for global warming, in line with scientific opinion.
For those aged 18 to 24, almost 70 per cent believe this is the case, with just 4 per cent believing it is equally responsible along with other factors.
The oldest voters – those aged over 65 – are five times more likely to believe humans are equally responsible, and just two in five would agree humans are entirely responsible.
The trend is clear – the older you get, the more of a climate sceptic you are even if you do not believe that humans have no impact on climate change. This is reflected in national polling in Scotland, where the Scottish Greens have a remarkable degree of support amongst younger voters.
While caution is rightly required given the small sub-samples involved, among the youngest voters (16 to 24-year-olds), the Scottish Greens are the second most popular party in Scotland with 26 per cent when it comes to the regional list vote, the last Savanta poll for The Scotsman shows.
Across 16 to 34 year-olds, they sit as the third most popular party, with 21 per cent of that demographic backing them, behind the SNP (38 per cent) and Labour (24 per cent). The Liberal Democrats and Conservatives languish on 10 per cent and 6 per cent respectively.
Among older voters, the position is flipped. Older voters (55+) are most likely to vote either Labour or Conservative (30 per cent and 28 per cent respectively), with the Greens well back on 9 per cent.
With parties such as Labour and the Conservatives either watering down green policies or shifting to economic arguments as rationale for not enacting them more swiftly or reducing oil and gas production, the opportunity for a party like the Scottish Greens to own the issue is obvious.
Former first minister Nicola Sturgeon also sensed this opportunity when bringing the Greens into government.
Young voters see a party that stands strongly on the defining issue of their lifetime and has, so far, delivered meaningful immediate change on other key aspects of their life such as rent controls (housing is 16-24 year-old's third biggest priority for Scotland). The Greens sit in a political niche that is rapidly becoming mainstream.
They are also, without doubt, aided by Holyrood's proportional representation system at elections, which allow voters to spread their ballots across different issues.
But until rivals embrace net zero in the same way, the polling suggests they are going nowhere.
Comments
 0 comments
Want to join the conversation? Please or to comment on this article.