Fergus Ewing and Robin Harper are old men whose generation hasn't moved on - Patrick Harvie
The Scottish Green co-leader responded to criticism of his party in an interview with Scotland on Sunday.
Patrick Harvie has labelled veteran SNP and Scottish Green critics of his party part of a "generation that simply hasn't moved on".
The Scottish Green co-leader reserved special criticism for long-serving nationalist MSP, Fergus Ewing and former first minister, Alex Salmond.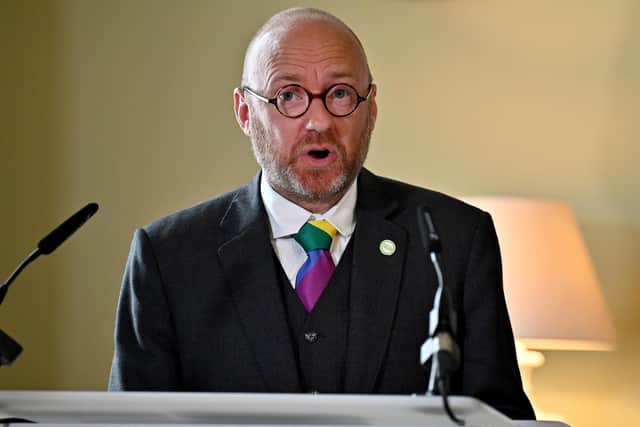 It comes as the SNP continues to debate the Bute House Agreement, the cooperation deal signed between it and the Scottish Greens in 2021, amid concerns from backbenchers that the coalition has become a drag on the party's fortunes.
Chief among those public critics are Fergus Ewing and Kate Forbes. When asked for his opinion of the two SNP MSPs, Mr Harvie said: "I think very different things about the two of them. We'll probably agree and disagree about a range of different things, but one of them is a bright and articulate person and the other is not."
Pressed further, he added: "The other is Fergus Ewing.
"He represents a generation that simply hasn't moved on and come to terms with the reality of what the climate emergency requires of us all collectively.
"I don't think that's true of Kate Forbes despite the fact that I will fundamentally disagree with her on certain issues. For example in the way that she raised some of the issues around HPMAs, I don't think that was in a knee-jerk reaction of just saying this is a bad idea and it shouldn't happen."
He later added the former Scottish Green leader Robin Harper's defection to Labour was "disappointing" and said "there seems very little reflection on the fact that he was willing to be candidate, MSP, and effectively co-leader of a pro-independence party."
When asked if Mr Harper was in the same bracket as Mr Ewing, Mr Harvie said "they absolutely shouldn't be", before adding that Harper's views were being used "as a proxy by others whose real objection is independence".
Mr Harvie accused internal SNP critics of being the reason behind the party's struggles in the polls as it also battles the ongoing impact of Police Scotland's investigation into party finances.
Asked why there were critics of the deal within the SNP, Mr Harvie said: "I think there are some in the SNP who need to go back and reflect on the experience of being a minority government in the last session, the toxicity of that, and recognise that the public respond well when politicians find common ground and look to cooperate and build consensus.
"Even looking at the SNP's fortunes, people who are stirring up hostility within the SNP's ranks, they should be asking themselves whether they have far more to do with the SNP's polling numbers at the moment than any individual policy delivery."
He also labelled Alex Salmond a "discredited figure" and the Alba Party, now led by the former first minister, as an "ego-trip party", stating an electoral pact as proposed by Mr Salmond would be "absurd".