Scottish election 2021: Tories claim Scottish budget would need to double to pay for SNP pledges
The Scottish Conservatives have claimed the SNP's manifesto pledges would total £95 billion in a single year – although the Scottish Government's budget is just £34 billion.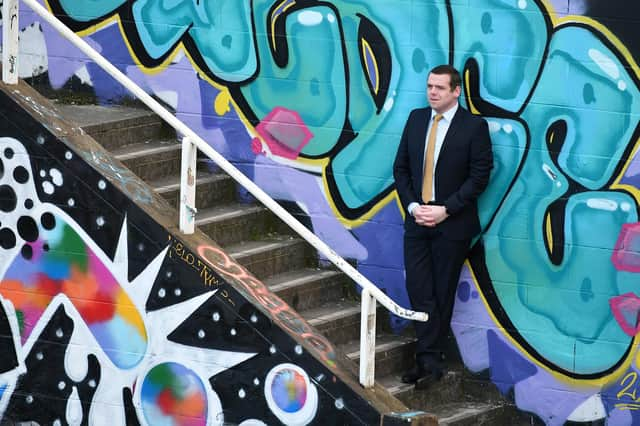 Scottish Conservative leader Douglas Ross says the SNP manifesto pledges don't add up. Picture: John Devlin
The rival party said the SNP's spending plans, which include abolishing NHS dental charges at a cost of £100 million, far outstripped the current budget – and that as the manifesto did not include many existing budgetary commitments, the annual costs could be even higher.
On Thursday, at the launch of her party's manifesto, Nicola Sturgeon said that an expected 20 per cent growth in tax take and a 14 per cent rise in the block grant from Westminster would cover the costs of new pledges.
At the same time, the First Minister said she would freeze income tax over the parliamentary term.
However, the Institute for Fiscal Studies has raised questions about the affordability of the pledges, saying they would "require tricky trade-offs" with either "unspoken tax rises" or "cuts to at least some other areas of public spending".
The cost to introduce Universal Basic Income alone could reach £58bn, according to Scottish Government civil servants. A proposal for a four-day week could also cost taxpayers more than £3bn a year.
The Conservatives said it was also "unclear" if the entire budget lines for local government, the Scottish public pensions agency, schools, universities and colleges and justice – excluding police, courts and prisons – had been included in the SNP plans.
Scottish Conservative leader Douglas Ross said: "This is the SNP's White Paper for independence all over again. Her plans for independence relied on fantasy economics and this analysis shows that the SNP's 2021 manifesto is just as misleading.
"It's clear the SNP manifesto is not remotely credible. It's a fantasy wish list in pursuit of another referendum.
"The SNP reject scrutiny at every turn. We did more to cost their manifesto than they did, as the ruling party of government.
"We should all be fully focused on rebuilding Scotland with credible plans to create jobs, rebuild our economy and fully fund essential public services including our schools, hospitals and local councils."
However, Kate Forbes, the SNP's finance secretary, said the Tory figures were "desperate nonsense".
"They are clearly spooked by the bold plans the SNP has put forward and are resorting to simply making things up," she said.
"I hope they are better at basic arithmetic when it comes to costing their own manifesto than they are in trying to cost ours.
"The SNP has set out an ambitious, but affordable, package of progressive policies that will drive Scotland's recovery and help us to build a healthier, fairer and greener country.
"Overall our plans will see an additional £6.1bn in resource costs and £1.7bn in capital costs. Both are less than the central projections of the Medium Term Financial Strategy published earlier this year, making these plans affordable even on relatively cautious financial estimates of future revenue.
"The biggest risk to Scotland's recovery is a return to Tory austerity. At this election, only by casting both votes SNP will deliver an SNP Government with transformative policies for a strong, fair and green recovery, and put Scotland's future in Scotland's hands in a post-pandemic referendum."
In a detailed analysis, the IFS had stressed the list of policies in the SNP manifesto included "clearly has a significant net cost".
David Phillips, an associate director at the IFS who leads the institute's work on devolved and local government finance, said: "The SNP's manifesto continues with a trend of greater universality in public service provision – providing services free to everyone, rather than using means-testing to focus support on those with the lowest incomes.
"The plans set out would also mean substantial gains for certain groups of households. Many families with, particularly younger, children; households that would benefit from the exemption of all 18 to 21-year-olds from council tax; and those paying for home care, for example.
"Paying for all of these pledges in what could be a tight funding environment over the next few years will require tricky trade-offs though: tax rises or spending cuts in at least some other areas. The tougher fiscal situation an independent Scotland would face in at least its first few years would make the challenge of delivering these commitments even harder."
In unveiling the manifesto, Ms Sturgeon promised to boost frontline spending by at least 20 per cent, rising by £2.5bn by the end of the next Holyrood term.
And she stressed despite the spending pledges, income tax would be frozen for the duration of the next Scottish Parliament if the SNP wins the election next month.
Mr Phillips said: "Arguably the most important tax plan in the SNP manifesto is an intention not to do something – the SNP aims to freeze income tax rates and to increase thresholds by no more than inflation.
"The firm commitments to tax and benefit changes in the manifesto are relatively modest in overall revenue terms – though there are some giveaways that will be significant for the tightly targeted groups who receive them."
A message from the Editor:Thank you for reading this article. We're more reliant on your support than ever as the shift in consumer habits brought about by Coronavirus impacts our advertisers.
If you haven't already, please consider supporting our trusted, fact-checked journalism by taking out a digital subscription.
Want to join the conversation? Please or to comment on this article.