SNP's big-spending manifesto risks sparking a race to economic ruin – Scotsman comment
Free dental treatment for all, free bus travel for those under 22, free school breakfasts and lunches for every primary school pupil, a free internet connection and device for every child, free bikes for school-age children who cannot afford one.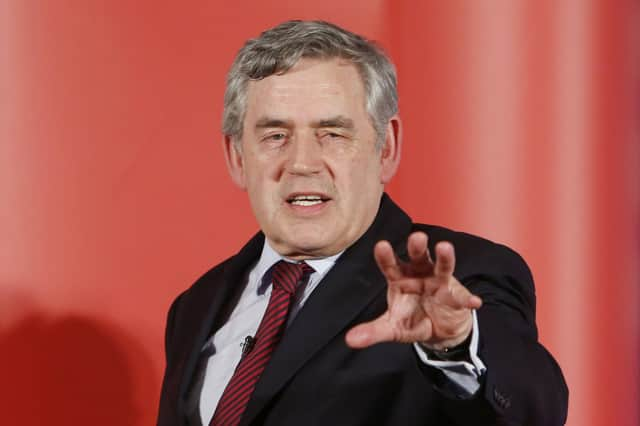 Politicians would do well to remember Gordon Brown's recognition of the importance of prudence in public finances (Picture: Danny Lawson/PA)
The SNP manifesto contains a lot of promises to make a lot of things "free" if it wins the election on May 6, along with some hefty spending commitments, such as an extra £2.5 billion for the NHS and £1 billion to help close the educational attainment gap between rich and poor.
But then, it has been pointed out that when a politician promises to spend lots of money, we should remember it's our money they will be spending, not theirs. One way or another, all this would be coming out of our pockets.
So we would be foolish not to ask basic questions like "where is the money coming from?" and "can we actually afford it?"
Most Popular
502 Bad Gateway
And we would be wise to scrutinise the details for any devils lurking therein. For example, the manifesto says children "who cannot afford them" will receive free bikes, but it presumably means their parents and the definition of "cannot afford" will be key.
The SNP's promise of a spending spree is in keeping with recent trends in politics. Jeremy Corbyn's Labour manifesto for the 2019 UK election was unsurprisingly stacked with big ticket items, but Boris Johnson also appeared to have found the magic money tree that Theresa May once insisted did not exist.
And the Covid pandemic has, quite rightly, seen the UK and Scottish government commit eye-wateringly vast sums to keep the economy afloat.
Given that background, there is a risk that politicians could get caught up in an arms race to spend more than each other, or at least not look like the political disciples of Ebenezer Scrooge in comparison.
Former Prime Minister Gordon Brown is sometimes derided for the high value he placed on prudence in public finances, particularly in his days as Chancellor.
However, any government that truly cares about its people and wishes to look after their best interests must ensure that its economic foundations are solid and not allow over-optimism, best intentions and what cynics may view as election gimmickry to lead it astray.
A message from the Editor:
Thank you for reading this article. We're more reliant on your support than ever as the shift in consumer habits brought about by coronavirus impacts our advertisers.
If you haven't already, please consider supporting our trusted, fact-checked journalism by taking out a digital subscription.
Want to join the conversation? Please or to comment on this article.