Think-tank the Observatory for Sport (OSS) on Wednesday published its manifesto ahead of next week's election, in which it called for the creation of a "national sports agreement" and a "national conversation" surrounding physical activity. The organisation said the pandemic had exacerbated the gap between deprived and well-off areas of Scotland in terms of access to sport.
SNP education spokesman Fulton MacGregor said sport needed to be at the heart of the Covid recovery, pointing to "positives" in the pandemic of people using active travel and utilising their local parks.
He said: "In the last period the SNP has been in government, there has been a focus on sport and activity.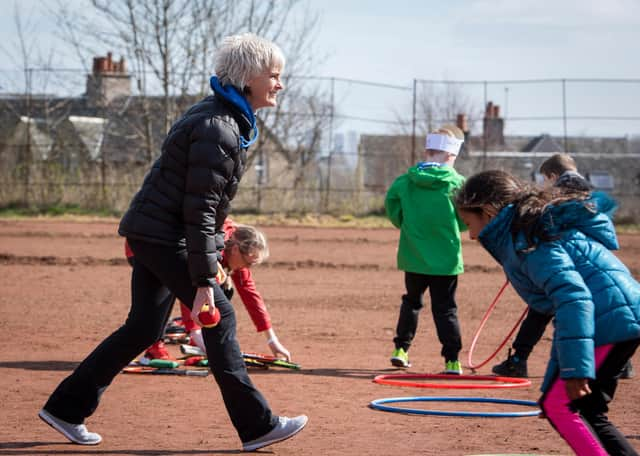 "However, I hear that more can be done. In fact I do think that there is more that can be done. And I like how you started off today by talking about a national conversation and I think that needs to be done.
"If the SNP is going to be elected as the government, this extra funding is going to be put in. There needs to be a conversation about how that's used and we need to do it right and we need to make sure that we get it right."
However, Mr MacGregor warned that red tape was preventing many grassroots sports organisations from being able to operate, pointing to a netball club in his constituency that was unable to access sports ground facilities.
Last week, Nicola Sturgeon unveiled plans to double funding in sports and active living, increasing investment in sport and active living to £100 million by the end of the next parliament.
Mr MacGregor said: "We need to break down this red tape. There is an opportunity here for sport and physical activity to be part of our recovery."
Political parties were united in their support for improving children's ability to access a variety of sports.
Brian Whittles, from the Scottish Conservatives, said: "The one thing that Covid has highlighted beyond question is the impact that health has on the economy.
"Scotland is the wealthiest nation in Europe. Unfortunately it is the unhealthiest small country in the world. And that ill health is a significant drag on an economy and we can't take we can't get away from that.
"We're going to have to focus on how do we make people stop treating ill health and start making people well."
He added: "Too often we have fantastic local facilities, but they are inaccessible. That is one of the key asks that I've put forward to our own party – how do we open up the school estate? Because they are community assets and for too long community assets have been ripped out of our communities, especially outside our cities, and therefore the ability to access that physical activity has declined."
Scottish Greens' sports spokeswoman Alison Johnstone warned there was a "limited offering" of sport in schools.
She said: "One of the things we need to do is tackle poverty at its root. Health inequality and poverty are inextricably linked. We know that.
!If we could link up our schools and our governing bodies better, that would help. Too many young people don't have access to good coaches at school.
"Whether it's canoeing, whether it's bowling, whether it's football, it doesn't matter what it is.
"I think it's really important that we just acknowledge that being active or being part of a cohesive sporting team just brings so many benefits that would really help our national health and it's fair to say that our record in that regard is not something to be proud of, so we need to use everything at our disposal to improve that.
"What we need is this national conversation to take this agenda forward. We need to learn more, we need to understand what they'll certainly need to invest more equally."
Liberal Democrat Alex Cole-Hamilton said his party was supportive of sport becoming a major part of Scotland's Covid recovery.
He said: "First, we will focus on mental health attainment and investing in sport that actually inspires people by giving people the sort of relationships with youth workers and sports coaches and access and entitlement to outdoor education, inspiring young people to take sport, as not just a chore or something they have to do in school, but something that actually gives them some hope and wellbeing."
Chris Costello, the Scottish Labour party candidate for Central Scotland said the SNP Government's cuts to local authority funding had affected access for many young people.
He said: "We are losing out on youth workers, on coaches, on resources for sport and recreation and it is unacceptable."
OSS chief executive David Ferguson said: "There is no doubt the past year has thrown up challenges and opportunities for us as individual public facilities and services and policy makers.
"The OSS was created to support the grassroots communities, to grasp the real value of sport for all to address the decline in certain areas, facilitation, help us identify the problems that are holding us back, and collaborate on those solutions – there are some great solutions out there.
"In our manifesto, we call for a national conversation, to allow us to do more, to bring all the parties together to really look at this and look at sports, and improving health education, employment and improving community cohesion."
A message from the Editor:
Thank you for reading this article. We're more reliant on your support than ever as the shift in consumer habits brought about by Coronavirus impacts our advertisers.
If you haven't already, please consider supporting our trusted, fact-checked journalism by taking out a digital subscription.