Mr Ross also warned Nicola Sturgeon was putting independence before Scotland's recovery from the coronavirus pandemic in her decision to work with Mr Salmond.
In a TV interview earlier this week, Ms Sturgeon did not categorically rule out working with Mr Salmond's new party, Alba, which he launched last week in a bid to create a 'super-majority' for independence.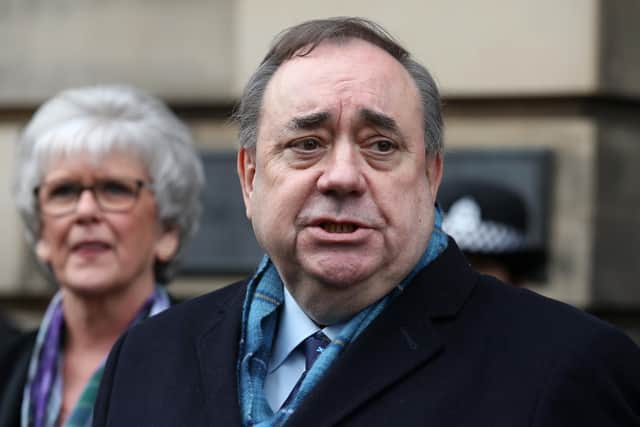 Mr Ross said: "I made the comment when Alex Salmond had yet another comeback in Scottish politics and launched this party as leader and the candidate in the North East of Scotland that he is unfit for public office.
"He can direct people to look at what courts have determined, that what juries have determined – but people can also look at what he has himself accepted was behaviour that was inappropriate and he let down those who worked closely with him.
"I think it's been very clear throughout the last couple of years with the inquiry and the committee into the Scottish Government's handling all harassment claims against Alex Salmond, Nicola Sturgeon has told us time and time again, he was her mentor, and her friend for more than three decades, and now it seems that has all changed and she doesn't trust him. She says he was always economical with the truth.
"The threat is both of them – that they have focused politics yet again on another politics referendum, so the SNP get a clear majority."
Mr Ross also accused Ms Sturgeon of "facing both ways at the same time" in her relationship with the former first minister.
He said: "Nicola Sturgeon can't face both ways at the same time. On one hand she's saying Alex Salmond is someone who can be trusted, he's a gambler, takes risks and will be the wrong person to be back in Scottish politics.
"But on the other hand she's suggesting that she'll work with those within the Scottish Parliament who are elected with the desire to hold another independence referendum to separate our country, all over again.
"She simply can't have it both ways and that's what she's trying to do, and that's why the threat from the nationalists is so clear in this election, that they will do whatever they can.
"As Nicola Sturgeon has said already today, even during the recovery phase from Covid-19 she wants to hold another independence referendum, and that means the focus can't be on the NHS like I'm trying to bring it back to today."
Earlier this week, Mr Ross reiterated calls for unionist parties to work together to block independence – which have been rejected by the Liberal Democrats and Scottish Labour – but refused to be drawn on whether he had had direct conversations with leaders of other parties.
In a radio interview this morning, Mr Salmond said he believed Ms Sturgeon would work with his Alba Party as independence is "bigger than personalities".
A message from the Editor:
Thank you for reading this article. We're more reliant on your support than ever as the shift in consumer habits brought about by Coronavirus impacts our advertisers.
If you haven't already, please consider supporting our trusted, fact-checked journalism by taking out a digital subscription.