The former SNP leader is writing to the broadcasters involved and the regulator Ofcom demanding "fairness and parity of coverage" in the election campaign.
He claims that by fielding 32 candidates on the regional list in the Holyrood elections, and having two MPs and a number of local councillors standing as candidates, the Alba Party should be represented in the leaders' debates.
Broadcasters STV and BBC have not ruled out the inclusion of either Mr Salmond or an Alba Party candidate in future debates, saying in separate statements their coverage would be "in line with Ofcom guidance".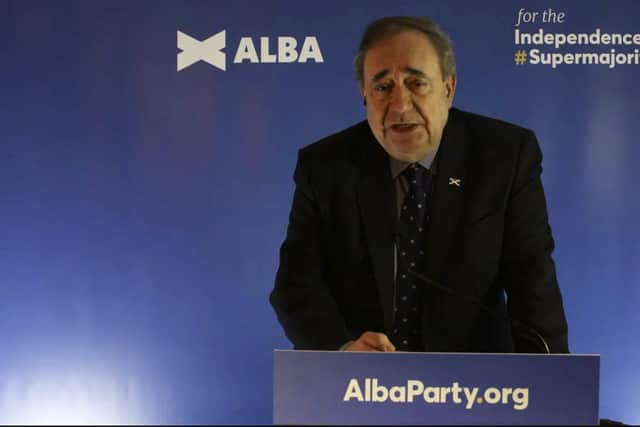 The regulator's official guidance states: "Due weight must be given to the coverage of parties and independent candidates during the election period.
"In determining the appropriate level of coverage to be given to parties and independent candidates, broadcasters must take into account evidence of past electoral support and/or current support.
"Broadcasters must also consider giving appropriate coverage to parties and independent candidates with significant views and perspectives."
Ofcom said in a statement the request from Mr Salmond would be "considered", but stressed the decision surrounding those who featured on TV debates remained "editorial matters for the broadcasters".
Mr Salmond's demand comes less than a week after he was unveiled as leader of Scotland's newest political party, which has seen a number of defections from the SNP.
The Alba Party was not included in the first televised debate of the Scottish election campaign, which saw Nicola Sturgeon take on her rivals from the Tories, Labour, the Liberal Democrats and the Greens.
Mr Salmond said: "We have waited until the declaration of candidates before writing. Now given our strength, the case for Alba participation in debates and fair coverage is unanswerable. We expect a positive reply."
However, at an online press conference, when asked if he would take legal action to force representation, Mr Salmond said: "I'm not ruling it out."
"Political parties have to think long and hard about that," he said. "I hope and believe that won't be necessary.
"I watched the debate and heard Willie Rennie talk about me three or four times. I heard the invigilator talk about Alba. You can't really conduct a debate talking about a political party when they're not represented, it's not fair or right."
But he added: "I must say I'd be strongly tempted down that course, but Alba is an organisation which many thousands of people have contributed their hard-earned cash expect us to devote it to the campaign, not to legal action."
Mr Salmond said he believed his party should be represented in the debate because it was putting up 32 candidates "the length and breadth of Scotland" and had a "substantial number of parliamentarians and ex-parliamentarians and elected councillors on our list".
He added: "The arguments about the case for women in society we're putting forward are distinctive from many other parties, but above all in terms of the requirements for political balance in an election campaign is so vital, you should have three parties arguing for independence and three against that. For the parity required, I think we can offer that.
"I hope and believe the broadcasters will see the advantages of that and, of course, make the debates more interesting."
The Alba Party's list of Holyrood candidates includes Mr Salmond himself, former Scottish justice secretary Kenny MacAskill and Neale Hanvey, who was suspended from the SNP when he was elected to the Commons in 2019.
Mr Salmond said: "It is less than a week since launch and already Alba has a comparable number of members to the Liberal Democrats and the Greens and are contesting seats across Scotland."
Labour only has one Scottish MP, and Mr Salmond highlighted that his party has "double the Westminster parliamentary representation of the Labour Party in Scotland".
Speaking at an election campaign stop in Edinburgh, Scottish Liberal Democrat leader Willie Rennie said of Mr Salmond's request: "It's for the broadcasting authorities to decide, but he can't bully his way in to this debate. He needs to earn it.
"I'm sure the BBC and STV will be robust in their position on that."
Mr Rennie said the nationalist movement had become "fragmented", while the debates around Mr Salmond over the past few weeks had been "ugly and poisonous".
He added: "Nicola Sturgeon has effectively lost control of the nationalist movement she had a pretty firm grip on before."
The BBC said in a statement: "Nominations have now closed, so we'll be looking, as we always do at this stage in an election campaign, at our future plans for coverage in line with our guidelines and Ofcom's guidance."
A spokesperson for rival broadcaster STV, which is due to hold its own leaders' debate on April 13, said: "STV will have wide-ranging election coverage across news and current affairs, and we'll share more details with you shortly.
"Across the board, our coverage will be comprehensive and in line with Ofcom guidance."
An Ofcom spokesperson: "We haven't yet received Mr Salmond's letter, but we will consider it appropriately.
"Our general position is that Ofcom does not determine the line-up or format of any leaders' debates. These are editorial matters for the broadcasters."
A message from the Editor:Thank you for reading this article. We're more reliant on your support than ever as the shift in consumer habits brought about by coronavirus impacts our advertisers.
If you haven't already, please consider supporting our trusted, fact-checked journalism by taking out a digital subscription.