Health Secretary Jeane Freeman today revealed that construction work on the NHS Louisa Jordan is finished, and it will be able to take an initial 300 patients, rising to more than 1000 if needed.
Built within Glasgow's Scottish Exhibition Centre, 800 people have been involved in the design and build of the "fully operational" temporary hospital which includes pharmacy, radiology, laboratories, CT scanners, full patient health records, as well as catering, portering and cleaning facilities.
Chief executive of the hospital, Jill Young, said the initial 300 beds were now in place as were the "necessary trained workforce, infection control, supplies and equipment."
She added: "We have the planning in place to commence the escalation, if required, to the maximum capacity of 1036 bed bays which are also now in place. We will continue to train staff for environmental induction and awareness because it's like nothing anyone has ever seen in a normal ward environment.
"From tomorrow we are ready and willing, with our NHS colleagues across the country, as part of the Scottish Government's overall response to the pandemic should the need arise for us to do so."
Nicola Sturgeon announced on March 30 that Scotland would establish a temporary hospital to increase capacity to deal with the pandemic peak, similar to the NHS Nightingale in London.
The hospital was named after Glasgow born First World War nurse Sister Louisa Jordan who died on active service in Serbia in 1915 as part of the Scottish Women's Hospitals for Foreign Services.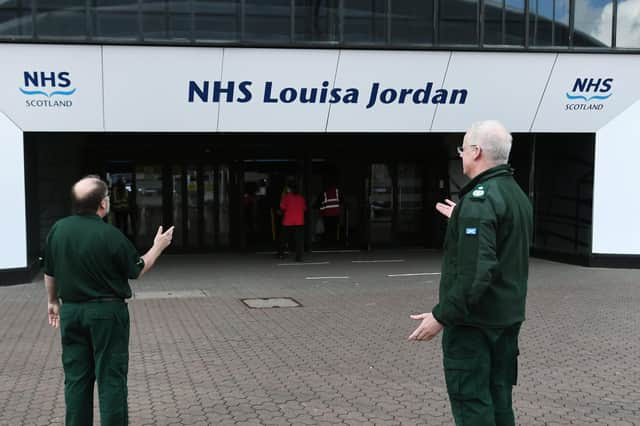 Stressing her hope that the hospital would not be required, Ms Freeman gave thanks to all who had "worked tirelessly" to transform the SEC.
"I want to offer my sincere gratitude and thanks to the contractors and NHS Scotland staff who have come from across Scotland to work tirelessly to transform the SEC into the NHS Louisa Jordan. You are an inspiration to us all," she said
"The decision on whether patients need to be admitted to the Louisa Jordan will be reviewed on a regular basis as the data on case numbers continues to come forward."As I've said before, I hope that this facility will not be needed, but it is valuable to have this extra capacity and I'm grateful to everyone who has delivered this hospital at such speed."
The hospital is expected to operate on the basis of phased demand, with the level of staffing also fluctuating. All beds and equipment have been procured through normal NHS Scotland channels, and not being redirected from existing hospitals.
The government has said that any equipment not used, or which can be reused, will be distributed to existing or new NHS facilities when the temporary hospital is eventually dismantled, but the cost is expected to be around £43 million.
Ms Young also expressed her thanks to all staff who had constructed the hospital and said it was "a privilege to lead the project".