Scotland critical event would have 'peddled misinformation and transphobia' amid criticism of Labour
Pauline McNeill dropped out of hosting and attending the event following a formal complaint.
Scottish Labour has been criticised for failing to stand up for women as others raised concerns a gender critical event in Holyrood would have pedalled misinformation and transphobia.
The MSP was set to host an event titled "The Meaning of Sex Under the Equality Act 2010" in Holyrood next week, which would feature representatives from the campaign group Sex Matters.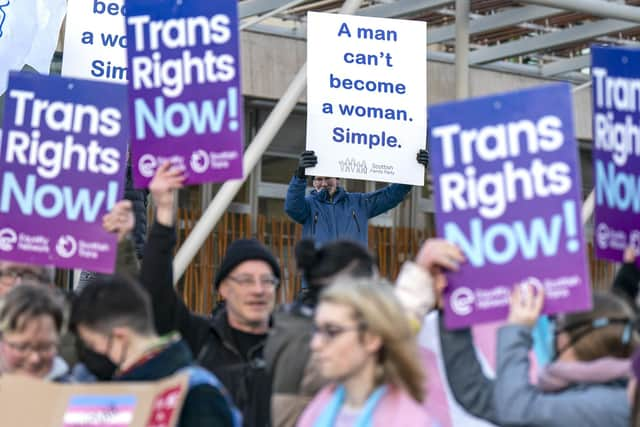 Holyrood descended into vicious infighting and fierce rhetoric over reforms to the Gender Recognition Act, which would made it easier for transgender people to legally change sex.
The reforms were passed with cross-party backing, but the UK Government blocked them from becoming law, citing their impact on equality law. That decision is now subject to a legal challenge from the Scottish Government.
The event is due to include contributions from prominent gender critical activist Maya Forstater, barrister Naomi Cunningham, legal academic Michael Foran, and author of Trans: When Ideology Meets Reality, Helen Joyce. Ash Regan, the former SNP minister who resigned over gender reform plans, is set to host the event.
Scottish Green equality spokesperson Maggie Chapman said she was "glad" Ms McNeill had decided to withdraw from the event.
She said: "I am glad that Pauline McNeil will not be taking part in this event, but she should not have co-organised it to begin with.
"Our Parliament is a place to discuss and debate big issues, not to pedal misinformation, transphobia and prejudice, which I have no doubt this event will do.
"Announcing it on the first day of Pride Month was a clear and calculated attempt to divide people, and to stigmatise our LGBTQIA+ communities."
However, other parliamentarians attacked Scottish Labour and accused the complaint of "silencing" free speech.
Joanna Cherry, the MP for Edinburgh South West and a fierce internal critic of the SNP's policy on gender reforms, called the decision a "disgrace".
She said: "What a disgrace. Discrimination and silencing of free speech should have no place in Scotland's parliament.. Many LGB people and indeed some T are gender critical.
"Our rights to be same sex attracted are not conditional on accepting gender identity theory."
Rachael Hamilton, the Scottish Conservative equalities spokesperson, said: "[I am] deeply disappointed to see Labour once again shutting down valid and necessary discussion about women's sex-based rights."
Want to hear more from The Scotsman's politics team? Check out the latest episode of our political podcast, The Steamie.
Comments
 0 comments
Want to join the conversation? Please or to comment on this article.