Scottish Labour frontbencher drops out of gender critical event at Holyrood after formal complaint
Pauline McNeill was hosting the event before the complaint.
A Scottish Labour frontbencher has been forced to drop out of hosting and attending an event with prominent gender critical activists following a formal complaint to the party, it can be revealed.
Pauline McNeill was set to host an event titled "The Meaning of Sex Under the Equality Act 2010" in Holyrood next week, which would feature representatives from the campaign group Sex Matters.
Holyrood descended into vicious infighting and fierce rhetoric over reforms to the Gender Recognition Act, which would made it easier for transgender people to legally change sex.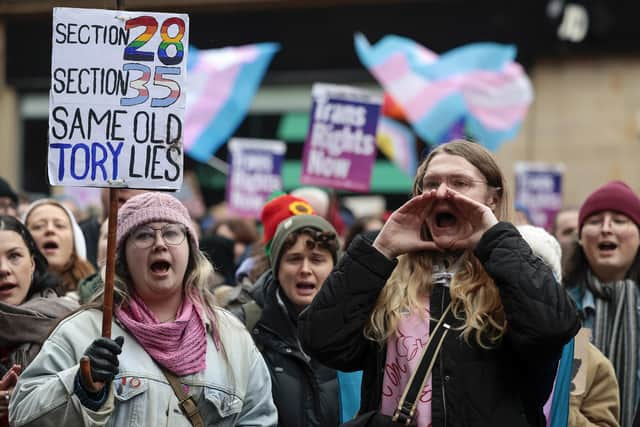 The reforms were passed with cross-party backing, but the UK Government blocked them from becoming law, citing their impact on equality law. That decision is now subject to a legal challenge from the Scottish Government.
Ms McNeill, who is Scottish Labour's justice spokesperson, is an outspoken critic of the Scottish Parliament's gender reforms, which were passed in December last year. She was due to co-host the event with Ash Regan, the SNP MSP who resigned from the Scottish Government over her opposition to the reforms.
The event is due to include contributions from prominent gender critical activist Maya Forstater, barrister Naomi Cunningham, legal academic Michael Foran, and author of Trans: When Ideology Meets Reality, Helen Joyce.
It cited Sex Matters, founded by Ms Forstater and Ms Cunningham, and their campaign to amend the UK Equality Act to clarify the protected characteristic of sex means biological sex.
The event would have been subject to "Chatham House rules", meaning information could be taken from the discussion, but no-one would be allowed to attribute views to any of the attendees.
However, following a formal complaint, Ms McNeill will no longer host or attend the event.
A Scottish Labour spokesperson said: "Pauline McNeill MSP will not be attending or hosting this event."
The formal complaint, seen by The Scotsman, said the timing of the event and its invite – sent on the first day of Pride Month to all MSPs – "appears to be a deliberate attack on trans people and their allies".
A Scottish labour source said it was the right decision for Ms McNeill to step away from the event.
However, they added the event should never have been organised in the first place.
They said: "This is the right decision, but Pauline should never have organised it in the first place and I hope she apologises publicly for it."
Ms McNeill and Ms Regan were both contacted directly for comment.
Comments
 0 comments
Want to join the conversation? Please or to comment on this article.