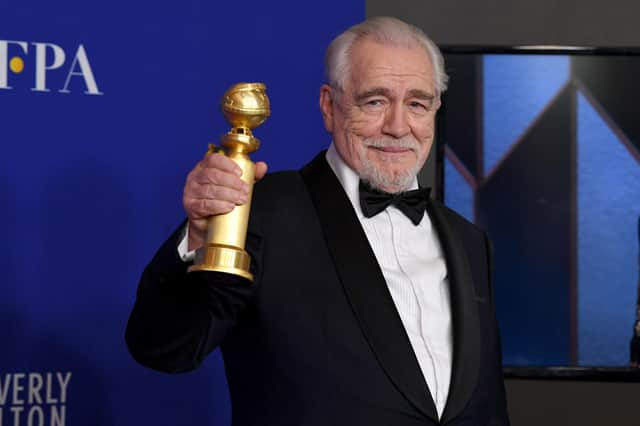 Succession star Brian Cox has given several thousands of pounds to Democratic campaigns. Picture: Kevin Winter/Getty
Now, Scotland on Sunday can reveal four prominent Scots living stateside are also playing supporting roles in the upcoming US elections, having made swaths of donations to Democratic causes to help prevent Donald Trump from securing a second term in the White House.
Brian Cox, the Golden Globe and Emmy-award winning actor, and a vocal critic of the US president, has made dozens of donations since the turn of the year, while his fellow actor, Alan Cumming, has given a four-figure sum to a Democratic committee.
Kevin McKidd, who shot to fame in Trainspotting before carving out a successful television career in the US, has also made a flurry of donations to Joe Biden's campaign in recent months.
Actor Alan Cumming is among the famous Scots to give to Democratic causes. Picture: Nick Agro/AFP/Getty
The Trainspotting connection does not end there, however. The writer, Irvine Welsh, a long-time resident of the US, has also helped bankroll Democratic causes.
While US election finance law prohibits foreign nationals living in the country from making political donations, the Scots in question are able to contribute thanks to the fact they hold US citizenship, dual nationality, or are Green Card holders. The latter status grants individuals permanent residency rights in the US, and allows them to make political donations, despite the fact they cannot cast a vote.
Cox, who has enjoyed critical acclaim for his portrayal of the fictional Scottish American media magnate, Logan Roy, in the hit series, Succession, has variously described Trump as a "buffoon," a "pink Pinocchio," "two dimensional," and "about as deep as a blackhead."
But the Dundee-born star, who has dual citizenship, is also putting his money where his mouth is, and has become a prolific donor to an array of Democratic campaigns.
Trainspotting star Kevin McKidd has given a flurry of donations to Joe Biden's campaign in recent weeks. Picture: Valerie Macon/AFP/Getty
The 74-year-old, who is also a high-profile supporter of Scottish independence, has made 33 donations worth $586 (£452) in 2020 to date, with the overwhelming majority of his money going towards progressive causes instead of the Joe Biden campaign directly.
Records maintained by the Federal Election Commission (FEC), the Washington DC-based regulatory agency tasked with enforcing campaign finance law, show that since March 2016, Cox has made 256 donations worth a total of $5,387 (£4,155)
The recipients include the Congressional Black Caucus and End Citizens United, which works to secure campaign finance law reform Other donations went to powerful fundraising committees devoted to Hispanic causes and equality issues.
Cox, who has properties in Brooklyn and upstate New York, as well as Primrose Hill in London, has also given to the campaign of Jamie Harrison, a Democrat looking to unseat the Republican senator Lindsey Graham in South Carolina.
Author Irvine Welsh has also given to Democratic committees. Picture: Anthony Wallace/Getty
All of Cox's contributions have been made via Act Blue, an online fundraising facility which allows donors to give money to various Democratic efforts.
In June, another notable Scottish independence supporter, Alan Cumming, gave three donations totalling $1,500 to the campaign of Suraj Patel, a Democrat who was running for the US Congress, but later conceded defeat.
Cumming, who also lives in New York and has dual UK and US citizenship, is a long-term supporter of the Democrats. FEC records show he donated around $20,000 (£15,460) to committees for President Barack Obama in previous years.
Speaking earlier this year, the 55-year-old said he may leave the US if Trump is re-elected.
"If he gets in again, if America is stupid and corrupt enough to let him back in, I don't want to be here. It's really at that point," he explained. "It's so toxic and so dangerous. And he is so out of control."
His fellow Scot, McKidd, has also been politically active in his adopted homeland, taking to Twitter in recent weeks to denounce Trump as "public enemy number one" and a "total and utter idiot."
However, the star, best known in the US for his role in the long-running television series, Grey's Anatomy, has been nowhere near as prolific as Cox in terms of donations.
The 47-year-old, who became a US citizen in 2015 and now lives in California, made his first contribution to the Biden for President campaign as recently as August this year, and has since followed it up with nine more payments, FEC datasets show.
The payments, made to the main Biden campaign as well as the Biden Victory Fund committee, amount to $615 (£474).
Welsh, meanwhile, has made just one campaign contribution this year, giving $100 (£77) to the committee for the re-election of Alexandria Ocasio-Cortez, the congresswoman widely tipped as a future Democratic presidential candidate.
The 62-year-old, one of Scotland's most popular authors, has lived in the US since 2009, and is a Green Card holder. He first moved to Chicago, but now stays in Miami Beach, Florida. He has previously given $210 (£162) dollars to the Democrats in September 2017.
Such sums pale in comparison to the major celebrity donors detailed in the FEC databases.
The actor, writer, and comedian. Seth MacFarlane, best known for creating the animated comedy series, Family Guy, has donated several million dollars to various Democratic committees this year alone.
Hollywood star George Clooney is another celebrity who has made significant contributions to the Democrats, including a half a million dollar donation to the Biden Victory Fund earlier this year.
The film director, Steven Spielberg, has also made swaths of large donations to the party over the past ten months, totalling several hundred thousand dollars. They include a payment of $250,000 (£193,000) to the Biden Victory Fund.
A message from the Editor:Thank you for reading this article. We're more reliant on your support than ever as the shift in consumer habits brought about by coronavirus impacts our advertisers.
If you haven't already, please consider supporting our trusted, fact-checked journalism by taking out a digital subscription.