Dani Garavelli: How Scotland's links with America will be affected by US election outcome
A few hours before we speak, Mike Moffo sends me a link to the video he has been working on. It's a powerful plea to American voters to get out and vote for Joe Biden.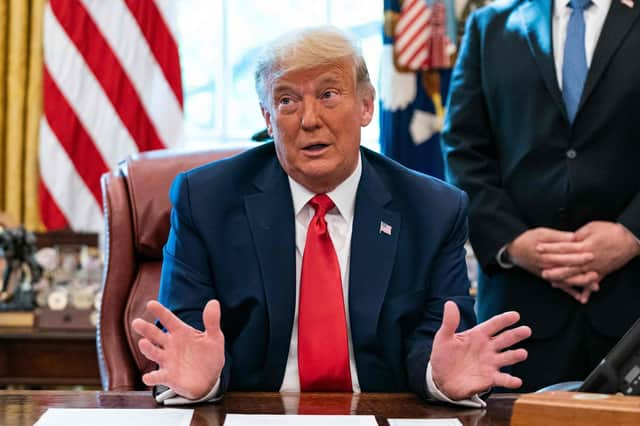 US president Donald Trump. Picture: Alex Edelman/AFP via Getty Images
"We know what they say about us: 'Disillusioned, Disenfranchised, Disinterested'," says rapper Black Thought. "That's *exactly* what they want us to think. But we still have a choice. We can choose...to Unite."
The video had been released on social media with the headline: "Unite By Mail. Unite Early. Unite In Lines That Stretch Around The Block." It has now been viewed more than a million times.
Moffo, who runs a creative strategy consultancy, worked on John Kerry's election campaign; then he worked on Barack Obama's campaigns. Now he is working to get Biden elected - not as part of the official campaign, but through what is known as a pro-Biden Super PAC (Political Action Committee).
Stephen Gethins. Picture: Lisa Ferguson
This time round, however, he is doing it, not from Washington DC, but from Edinburgh, where he lives with his Norweigian partner Carina Svensen and their six-year-old son Alexander.
Unlike many Americans who have moved to this country, Moffo is not part of the Scots diaspora (his father has Italian roots, his mother, Irish). "Carina and I are Scots by choice," he says. And yet Moffo's move here is linked with efforts to exploit the affinity his compatriots feel for the country. When they met, Svensen was working for the hospitality industry in Edinburgh.
"My former boss had moved into his family business. Its model was to pluck the best five-star hotels in the UK and Ireland and cut a deal whereby it would get a percentage of all the bookings," he says.
"Then it went to high-end American travel agents and said: 'We will do this soup-to-nuts itinerary for you - and you can white label it and take all the credit'." Svensen had travelled to the US to promote what was then the Hotel Missoni. They sustained a long-term relationship until Obama was re-elected, then decided to move to Europe.
"Carina had lived in London, so that might have been the obvious choice," Moffo says. "But in the two or three years we had been back and forth to Edinburgh, we fell in love with it, so we moved here."
Moffo believes the country has much to offer Americans. "In the time I have been here I have never had any trouble getting high-flyers in the political class to come and do a lecture at the university and then go off to drink whisky or play golf," he says. "The same can be said of major investors who would bite off my arm for a tour of the city."
Although politically Scotland places more emphasis on Europe, its prosperity is inextricably bound up with its relationship with the US. America is Scotland's top single international export
market - in 2018, exports to the US were worth £5.5bn and made up 16% of Scotland's total international exports.
As of March 2019, there were 655 US-owned businesses operating in Scotland - employing 114,220 people and generating a turnover of over £35 billion.
Over the last two decades we have successfully capitalised on Americans' desire to visit, and their interest in our food and drink. We have forged mutually beneficial links in financial services, medical science, the tech sector and our universities.
For many reasons, however, the last few years have proved difficult. The uncertainty of Brexit has complicated negotiations with US businesses, while Covid - of course - has blighted everything, but particularly the tourist industry.
And then there is Donald Trump. In another world having a US president with such established Scottish roots would have been an asset. But the business tycoon's relationship with his mother's native land soured long before he ran for president and the reaction to his visits here has become increasingly hostile.
Trump's Make America Great Again slogan chimes with Boris Johnson and the Brexiteers' protectionism but not with the Scotish government's more internationalist approach. When Theresa May was holding his hand in the Rose Garden of the White House, Sturgeon was
distancing herself. Trump's visits often attract protesters, but only in Scotland has he been met by comedian Janey Godley holding a placard saying: "C***".
Trump has also increased tariffs on whisky, shortbread, and other goods, increasing costs for many Scottish exporters - something the Scottish North American Business Council (SNABC) and others are lobbying to reverse.
How much difference all this makes to the wider Scottish-American relationship is hard to pin down. "You are talking about centuries of family, business and educational connections - that is not undone by one four-year presidency from one administration," says Stephen Gethins, former SNP SpAd, former MP, and now professor of practice in international relations at St Andrews University. "They go way back, they cut across the political spectrum, they cut across state lines and they are fully built into US society."
Nevertheless, there is a feeling in some circles that the American election marks a time for a reboot of strategy, particularly if - as the polls currently predict - there is a change of administration.
Last week, a report from Scottish political analyst firm European Merchants warned that, whoever was elected, Scotland needed to take the initiative to build a "deeper bilateral political relationship" and "foster new mutually-beneficial partnerships across government, business and civil society" to boost the Scottish economy.
"Scotland benefits from close political, economic, social and cultural connections with the US," said political scientist Anthony Salamone who wrote the report. "Such connections must, however, be constantly renewed, and consideration should be now given to means to develop the US-Scotland relationship from Scotland's present constitutional position."
But what form should such a strategy take? What sectors should we be targeting? And with Brexit increasing the political divergence between Westminster and Holyrood, how should we position ourselves?
Should Scotland play to its ideological differences, and - like Ireland - market itself as a potential bridge to Europe? To what degree is it even possible for it to chart its own course, while its "ambassador" to the US is based within the British Embassy?
So many questions. What no-one seems to dispute is that we should be making more of our diaspora. In the 2010 US census, 5.5m people in the US claimed Scottish ancestry, but there is also a "civic" diaspora - those whose affinity with Scotland is based not on genetic connections, but on first-hand experience of living and working in Scotland. "If you have been a student at one of our universities, you don't walk away after four years with a shortbread image, you walk away having been part of a centre of excellence and research and innovation and culture," Gethins says.
"That relationship doesn't end the moment you graduate. It becomes a really powerful asset for the whole country."
It took a while for a newly-devolved Scotland to wake up to the potential economic reach of its diaspora. In the early years, Holyrood devoted most of its energy to its relationship with London and Brussels, but then several events shifted its focus across the Atlantic. One was a sense of solidarity provoked by 9/11. Another was the haemorrhaging of mass manufacturing jobs, brought to Scotland by Scottish Secretary Ian Lang in the 90s, to Eastern Europe and China, and the need to bring in new investment and employment.
In 2001, the then First Minister Henry McLeish attended Tartan Week - started up by Scots-Americans in New York in 1998 - and, on a whim, announced he intended to appoint a full-time civil servant to the British Embassy in Washington DC.
McLeish resigned soon afterwards, but his successor as First Minister, Jack McConnell, followed through, and soon both Susan Stewart and Lorna Jack were promoting Scotland in the US.
Those years saw the burgeoning of Tartan Week. The centrepiece - the Tartan Day Parade - has become an ever glitzier affair with US-based celebrities such as Sean Connery and Brian
Cox leading kilted pipe bands and drummers through the streets of Manhattan. At the cluster of cultural events which surround it, politicians, officials and cultural figures network. In Washington and NYC, links are forged and deals hatched.
"The American impression of Scotland had been a place that was all dirt tracks and castles with the odd golf course thrown in," McConnell says. " We were keen to stress science and culture and all the other aspects of modern Scotland that were important to visitors - so we were promoting Scotland in the round, with culture and fashion, and education."
One unwelcome result of successive administrations' schmoozing was the luring of Trump to Aberdeenshire. His golf course damaged the Menie Dunes, a site of special scientific interest, yet yielded a fraction of the promised jobs. Last week, construction of a second course at Menie was approved.
However links with Edinburgh's thriving financial services sector proved more fruitful. Efforts were also made to develop the financial services district in Glasgow where JP Morgan had opened an office in 1999. Twenty years on, the company announced plans to build a new 13-storey office in the city's Argyle Street, capable of accommodating 2,700 employees.
With George Bush bringing in strict regulations around stem cells research, the Scottish government also saw an opportunity to attract American scientists to the growing Scottish biotech industry and an emphasis on promoting universities generally.
That was then. So, what's happening now? Are we still reaping the economic rewards of the Scottish-American relationship?
According to Scottish Development International - the government agency tasked with helping overseas businesses set up in Scotland - we are still notching up plenty of successes.
"SDI has four offices across the United States and our colleagues relentlessly promote investment opportunities where Scotland is a global leader, including in the low carbon, health, digital and high value manufacturing sectors," says Mark Hallan, Director of Global Investment.
US-owned companies operating in Scotland supported by Scottish Enterprise/ SDI include Spire Global, a Glasgow-based satellite company, Diodes Incorporated, a semiconductor manufacturer in Greenock and Sense Photonics, a LiDar tech company in Edinburgh.
The Scottish government has expanded GlobalScot - a volunteer business-to-business network, through which Scottish business leaders around the world offer advice to Scottish companies who want to trade internationally.
It has also invested in US trade missions organised by the SNABC whose executive director is Allan Hogarth.
Pre-Covid, such trade missions would involve eight to 10 companies travelling to a city to attend business to business meetings and make connections with potential customers, distributors and representatives from the private and public sector.
These trade missions tap into the diaspora. For example, Kelpies sculptor Andy Scott had offered to host a reception for the trade mission to Philadelphia which was supposed to take place in March. That trade mission took place virtually.
On other occasions Hogarth has stumbled on Scottish links by accident. While organising a virtual trade mission to the Pacific Northwest, he contacted the Mayor of Bellvue who said she was happy to help as her grandfather was from Portpatrick. Ditto the director of Oregon Film whose wife is a Glaswegian film producer.
Hogarth says that although different US administrations throw up different challenges - such as tariffs - Scottish businesses are pragmatic and focused on delivering value for their customer in the prevailing circumstances.
In any case, he says, they are really dealing, not with the US as a single entity, but with 50 separate states. The SNABC holds webinars too. The last one involved successful Scottish business people across five states giving advice to 80 companies. The next - to be held on November 4 - will try to analyse the implications of the election result.
There is much going on, then. And yet there are those who believe the Scottish government's strategy is either lacking in direction, or thwarted by the limitation on its powers.
"I think there has been a lack of clarity around enterprise strategy and that has had an impact on the American relationship," says McConnell. "If I had advice for Nicola Sturgeon and the opposition it would be - in the event of a Trump defeat - to use the change in the political environment to recharge the Scottish narrative and set out a new energetic strategy for economic and educational engagement".
Gethins, who is writing a book on the development of a Scottish foreign policy, with or without independence, also sees this as a watershed moment.
Having attended both UK and Scottish events in Washington DC, he believes the UK government is failing to recognise the power of the Scottish diaspora.
Three years ago, he was there with the Foreign Affairs Committee at an event being hosted by the then ambassador Kim Darroch. "[The ambassador] was getting a hard time because the British Embassy had clearly been caught on the hop with Trump's election and the Brexiteer Tories were saying: 'Where are you with the US trade deal?'"
"There had been a briefing on the Hill, and only a small handful of elected representatives had turned up. Having seen the number of elected members at Tartan Week events, I felt the UK
government was failing to tap into the diaspora. Can you imagine how it would have gone if they had tied in a fairly dry briefing with a whisky or shortbread or a bit of Burns?" he asks.
Gethins denies the Scottish government strategy lacks focus, but says the current uncertainty is making it very difficult for both politicians and the SDI. "Brexit and subsequently Covid have sucked the oxygen out of so much of what the politicians have wanted to do over the past four years."
The point of his book, he says, is that with Brexit, Trump and Covid, we are sitting at the start of a new chapter of history. "Whether or not we are independent we still have a role to play in the world. I hope the book will provoke debate because, if we do have another referendum, we need a more sophisticated debate about Scotland's foreign policy,"
At the time of writing, analysts put the chances of Biden winning the US election at 92%, but anyone who has ridden the political rollercoaster of the last few years knows it's not a done deal.
Nor are the implications of either result straight forward. As Obama's VP, Biden made it clear he was not pro-Brexit. This may mean he is less disposed to agreeing a favorable trade deal with the UK. On the other hand, his multilateralist view of the world is much more in tune with Scotland's.
While neither president is going to have Scotland's agenda at the top of its priorities, there are ways in which their different approaches could impact our prosperity.
"One area where Scotland has been successful in recent years is climate diplomacy," says Gethins. "With Cops26 [the UN climate change conference] hopefully taking place in Glasgow in 2021 there is a good opportunity for Scotland to burnish its environmental credentials."
Of course, climate diplomacy is more likely to flourish under Biden than under Trump. "That's true," agrees Gethins, "but if we get another Trump presidency, there will be more to think about than this one summit."
As for independence, neither candidate is likely to campaign for it, but there is no reason to think it would affect the Scottish-American relationship. As Murray Leith, professor of political science at the University of the West of Scotland, points out, many ordinary Americans were bemused we didn't grasp the thistle last time round. And Brexit has changed the landscape so much since then." The American response might be more positive than it was before," he says.
For the moment, all we can do is wait for November 3; just like those Americans who have made their home here.
Krysten Blackstone has been living and studying in Edinburgh for nine years. Originally from northern Maine, her views differ from those of her parents'. "They are Republicans; they might not like Trump but they would never vote for a Democrat." For that reason it was a relief for her to be in Scotland for the 2016 election.
Blackstone threw a party in honour of a predicted Remain win, and another in honour of a predicted Hillary Clinton win later the same year. There will be no party this time - and not just because of Covid.
"It was truly awful," she says. "We had a Pinata and it was going to be this wonderful night where America elected its first female president. But I very quickly realised it was not going to go as expected. I was petrified - all I had was a beer and a sip of an Espresso Martini.
"This time round I will still stay up to watch it. I will be hoping for a Biden win, but I won't take anything for granted."
Want to join the conversation? Please or to comment on this article.