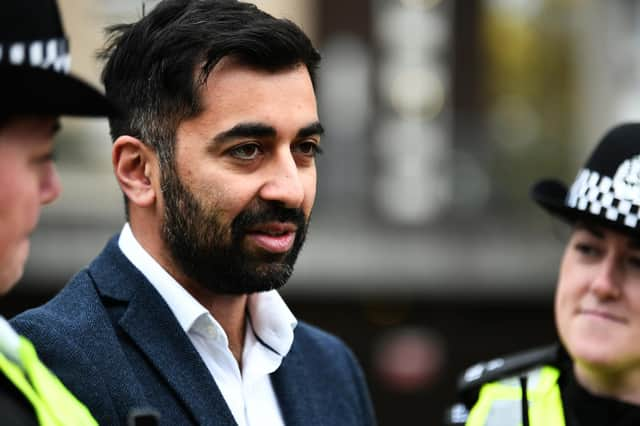 Humza Yousaf has added a "reasonableness test" to to whether language is abusive or insulting in the Hate Crime Bill.
MSPs on Holyrood's justice committee passed amendments ensuring that an "objective standard" will be applied if someone's behaviour or words lead to a charge of stirring up hatred against a protected characteristic.
The committee also agreed to delete a section of the Bill that would have seen directors of plays prosecuted for controversial theatre performances also caught up by hate crime legislation.
A move to have all stirring up offences deleted from the legislation by Scottish Conservative Liam Kerr was defeated by a unanimous vote of the committee, despite Mr Kerr not pushing his amendments to a vote.
Instead Scottish Greens MSP John Finnie pressed for a vote to ensure the amendments could not be brought back at the final stage of the Bill when it is voted on by the whole Parliament.
Mr Kerr's amendment to provide a "dwelling place defence" of a kind that exists in similar legislation in other parts of the UK was also rejected by the committee by seven votes to two, as were bids to remove the words "abusive" or "insulting" from the Bill, with eight of the MSPs on the committee voting against.
Justice secretary Humza Yousaf, who moved the "reasonable person" amendments, said an "objective standard" was being added to the Bill.
He said: "For an offence to be committed, a person must be engaged in conduct or communicated material which is threatening, abusive, or in the case of characteristics relating to race, insulting.
"There has been public and stakeholder concern as to who gets to decide what is abusive under the Bill, and there may be a perception that reliance will be placed on the subjective view of individuals, which could result in people being investigated for a criminal prosecution for very spurious allegations which do not in any sensible view amount to abusive behaviour, and similar concerns could equally apply to what amounts to threatening or insulting behaviour.
"I agree it's best to include provisions in the Bill which clarify and puts beyond doubt the nature test which needs to be applied when interpreting these terms, and the best way to do that is to apply the objective test of a reasonable person."
On the terms "abusive and insulting", Mr Yousaf said: "The importance of getting the balance right between protecting people from hate crime while protecting freedom of expression is something we all agree with, but removing abusive conduct from the scope of the new offences in relation to stirring up hatred does not achieve that balance … while seeking to remove insulting from the racial hatred provision would leave Scotland with the weakest racial hatred protection in the UK."
Jamie Gillies, spokesman for the Free to Disagree campaign, which is spearheading opposition to the Bill, welcomed the changes. But he added: "There is some way to go before the stirring up hatred proposals are fit for purpose.
"The content of freedom of expression protections is still completely unknown. If robust free speech protections on divisive issues like religion and transgender identity are not brought forward, the stirring up proposals will remain completely unworkable."
A message from the Editor:Thank you for reading this article. We're more reliant on your support than ever as the shift in consumer habits brought about by Coronavirus impacts our advertisers.
If you haven't already, please consider supporting our trusted, fact-checked journalism by taking out a digital subscription.