Reaction to Scottish Hate Crime Bill amendments left MSP 'alarmed and afraid'
The reaction to a free-speech amendment by Scotland's justice secretary Humza Yousaf to his controversial Hate Crime Bill left an MSP "alarmed and a little afraid", a Holyrood committee has heard.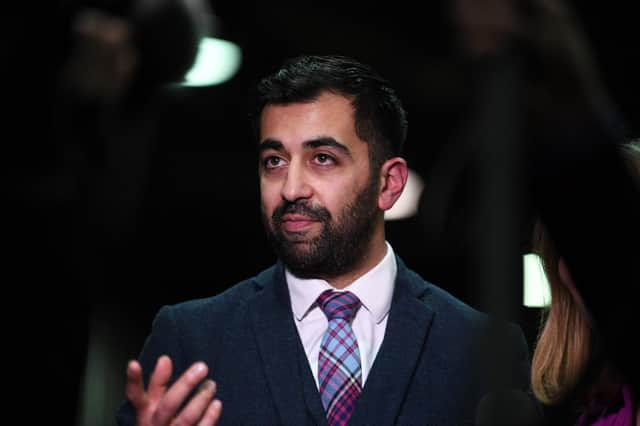 Justice Secretary Humza Yousaf has struck a deal with opposition parties to put a broad protection of freedom of expression in the Hate Crime Bill.
Scottish Conservative MSP and convener of the justice committee Adam Tomkins said the reaction from some to Mr Yousaf's amendment, which would have allowed a specific freedom of expression protection when discussing transgender identity, was "disturbing".
The amendment put down by Mr Yousaf last week said "behaviours and materials are not to be taken as threatening or abusive solely on the basis that it involves or includes discussion or criticism of matters relating to transgender identity".
It sparked a backlash within his own party, with many younger and LGBT+ SNP members threatening to quit or resigning their membership, which prompted Nicola Sturgeon to record a video in which she pleaded with them to remain party members.
As a result, it was revealed by Mr Yousaf on Monday evening that he had withdrawn his amendment and had met with opposition parties to try and write a new amendment, which would give a broad freedom of expression protection for all categories, included in the Hate Crime Bill.
This was welcomed on Twitter by Scottish Greens co-leader Patrick Harvie, who said there had been "shockingly transphobic" amendments put down by MSPs to the Bill.
However, Mr Tomkins said the reaction, including Mr Harvie's tweet, to the original amendment had been distressing. He said decisions made on freedom of expression should not be made "behind closed doors".
Mr Tomkins said with hate crime legislation there was a "criticism of vagueness" and of "over-breadth", both of which must be avoided in the Bill.
He added: "It seems to me that the events of last few days, the reaction to the amendments put down in this group about transgender identity make it more apparent that we absolutely must define what we mean.
"I have to say I have been disturbed by the reaction I have seen to what were modest, innocent amendments put down by the Cabinet Secretary and which I would have voted for.
"But it's clear that even the words the Cabinet Secretary's carefully chosen in the amendment have caused fear, alarm and distress and I take that seriously, but I have to say I'm alarmed and distressed and perhaps even, if I'm honest, a little afraid of aspects of the reaction to it."
Mr Tomkins continued: "Yesterday a leader of a party in Holyrood tweeted that a number of amendments put down were 'shockingly and overtly transphobic' and I think we've come to the point where if we're going to criminalise hate speech on the grounds of transgender identity we have got to define what we mean.
"I struggled to find an amendment in this that I thought was 'shockingly or overtly transphobic'. If we take the words of Liam Kerr's amendment, and I don't know if this was the amendment the MSP was talking about, stating that sex is an immutable biological characteristic does not make you transphobic, stating that there are only two sexes, does that make you transphobic really?
"Using the words woman or man in equivalent terms or pronouns in a certain way – does that make you transphobic? Is that the speech we're seeking to criminalise here?
"It seems to me a conclusion has been reached behind closed doors that the way forward is to find some sort of generic free speech clause and I worry about this. Given the problems we're trying to tackle are of vagueness and overbreadth, having a generic rather than a series of very specific clauses might not meet that challenge."
Mr Tomkins said while he supported a "collaborative approach" to amendments, "on something like this when we're talking about matters of fundamental principle and some very vulnerable people, that collaborative approach surely has to be in Parliament and in public and not behind closed doors in rooms with party representatives talking only to themselves".
"I need more reassurance now than I did 48 or 72 hours ago because of some of the things I've seen written about in the context of these amendments," he said.
"I'm less reassured now that we're going to be able to fix this appropriately."
Mr Yousaf said he "appreciated" Mr Tomkins reflections and agreed there was an "obligation on us to be specific to be able to provide clarity, to come together to find precision where we possibly can".
But he added: "We also have to recognise – and this is something I heard loudly and clearly when I met with a number of stakeholders on Friday and when I spoke to a number of members across political parties – that being specific can lead to some groups feeling targeted and marginalised. So how do we get that balance right?"
He said using the word "criticism" in any new amendment would be important because "in a democracy people should be allowed to criticise, but how do we do that in a way that also doesn't make any group feel marginalised? Perhaps applying that freedom of expression clause to all characteristics is a way of getting round that".
Mr Yousaf said he would come back at stage three of the Bill, when it is debated in Parliament rather than just at committee "with a freedom of expression clause that will still be robust and provide that clarity, but will not leave people feeling like they've been targeted in any form".
Scottish Liberal Democrat MSP Liam McArthur, who brought forward a more general amendment, said Mr Tomkins was correct that any discussion of it should happen in full Parliament and public and that "a catch-all amendment will be seen as transparent and robust and vigorous for all the reasons you highlighted in the way this debate has been playing out".
A message from the Editor:Thank you for reading this article. We're more reliant on your support than ever as the shift in consumer habits brought about by Coronavirus impacts our advertisers.
If you haven't already, please consider supporting our trusted, fact-checked journalism by taking out a digital subscription.
Want to join the conversation? Please or to comment on this article.