PMQs: How did the SNP's Stephen Flynn, Rishi Sunak and Sir Keir Starmer perform at Prime Minister's Questions?
Rishi Sunak faced a difficult Prime Minister's Questions on Wednesday, with a series of tough questions about the Northern Ireland protocol he did not have answers for.
The Prime Minister had hoped to unveil a new deal as early as Monday this week, only for Downing Street to hit a stumbling block and admit any announcement is now likely to come next week instead.
For Sir Keir Starmer, the issue enabled him to ask questions already being raised by Mr Sunak's own MPs, forcing the Prime Minister to fall back on old insults about the Labour leader being a remainer.
The SNP Westminster leader Stephen Flynn also grilled Mr Sunak, raising an important issue, but not quite nailing the UK Government on any specific details.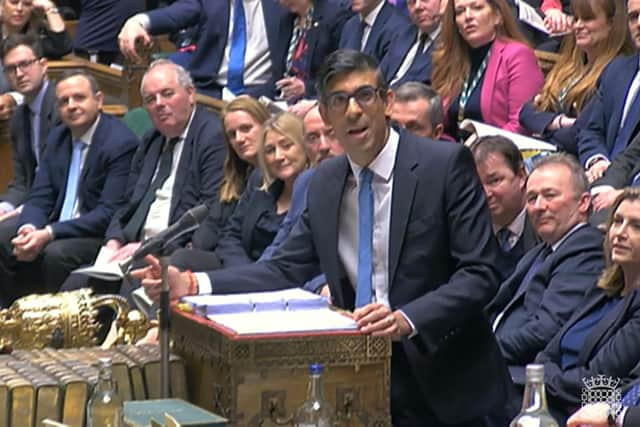 The Prime Minister was always going to face questions about the revised changes aiming to fix the NI protocol, and so it proved.
In lieu of details, Mr Sunak could only offer vague rhetoric, and notably refused to say whether Northern Ireland would remain under the European Court of Justice jurisdiction, or if it would continue to follow some of Brussels' laws.
The Prime Minister told MPs: "I am a Conservative, a Brexiter and a unionist, and any agreement that we reach needs to tick all three boxes. It needs to ensure sovereignty for Northern Ireland, it needs to safeguard Northern Ireland's place in our union, and it needs to find practical solutions to the problems faced by people and businesses.
"I will be resolute in fighting for what is best for Northern Ireland and the United Kingdom."
Instead of answers, he could only offer retorts about Sir Keir wanting a second referendum or to "surrender", and as such failed to encourage vocal support among his MPs.
The Labour leader asked for details of the negotiations, calling for Mr Sunak to be honest about the compromises that were needed.
Clearly trying to portray the delay being about Tory infighting rather than issues with Brussels, Sir Keir claimed it was Mr Sunak's MPs causing the problem. He said: "It's not my questions he is avoiding, it's their questions he is avoiding. His predecessors wasted months pushing the Northern Ireland Protocol Bill.
"If implemented, it would tie us up in battles with the EU, the United States and others at precisely the time we should be building common ground to boost our economy and show unity against [Vladimir] Putin.
"Now, the Prime Minister clearly wants a closer relationship with the EU, so can he confirm that if there's a deal, he will pull the Protocol Bill?"
Offering Labour support for a deal, his rhetoric was one of delivering rather than arguing, which is the current issue for Downing Street.
The new SNP Westminster leader has struggled at times in his tenure, calling out poor Tory performance, but struggling to frame it with a question that really pinned Mr Sunak down. Today was far better, with Mr Flynn pointing to energy profits and the end of financial support in April, asking if the Prime Minister and Chancellor "intend to raid the pockets of ordinary Scots whilst lining the pockets of Westminster", as he called for energy bills to come down.
He said: "I'm not sure that inferring that energy bills don't matter to the people of Scotland's a winning strategy for this Prime Minister. But let's get real – the fact that wholesale gas prices have fallen by 75 per cent means a windfall to the Prime Minister and the Chancellor of around £15 billion.
"So what they're saying, as it stands, is that they intend to raid the pockets of ordinary Scots whilst lining the pockets of Westminster … it is time to set aside any notion of an energy price increase, instead protect households and perhaps reduce bills by £500, does he not agree?"
The SNP Westminster leader made a strong comparison, albeit one that just saw Mr Sunak discuss his pride in the levels of support.
Comments
 0 comments
Want to join the conversation? Please or to comment on this article.