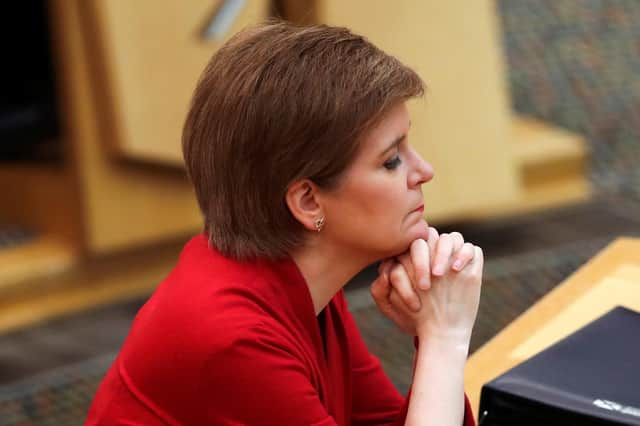 An open letter, signed by 120 women and organised by the SNP Women's Pledge group, calls on the SNP leader to support women in the way she backed LGBT party members who also recently threatened to quit amid a row over alleged transphobia.
The women, including councillors, the party's Women's Convener and "working class women, minority women and survivors" also demand the party reaffirms a commitment to women's rights to single-sex spaces, assures women they can campaign for their needs "on the basis of sex" without facing accusations of transphobia, and pleads with Ms Sturgeon to "reassure women who have left the party or are thinking of leaving that you value them and are taking action to support them".
The letter comes after months of vitriolic internal argument within the SNP over proposals to reform the Gender Recognition Act to allow transgender people to self-identify as the opposite sex, rather than require a medical diagnosis of dysphoria, and the potential clash such a move could have on women's rights to single-sex spaces such as toilets, changing rooms, refuges and prisons.
As a result of the row the plans were shelved by the Scottish Government and a new consultation was carried out, with the results yet to be made public. However female party members who do not support the reforms claim they have been subject to misogynistic abuse and threats while those pushing for change claim that "widespread transphobia" has been unchecked in the party.
Last month Nicola Sturgeon issued a personal video message on Twitter to party members after reports of high numbers of young people leaving the SNP due to concerns on transphobia. Members said they were quitting after the Scottish Government backed legislation which would allow rape victims to request a medical examiner of the same sex rather than gender, and because a freedom of expression amendment to the Hate Crime Bill, put forward by Humza Yousaf, would have allowed free speech on issues of transgender identity. The amendment was later retracted.
SNP MP Joanna Cherry, who has been accused of transphobia, which she has emphatically denied, was dropped from her shadow cabinet role at Westminster within days of Ms Sturgeon's video. She later then received threats of violence, leading to a 30-year-old man, believed to have been an SNP member at the time, being charged. He is due in court next month.
SNP Women's Pledge convener, Councillor Caroline McAllister, said that a failure of the party to support Ms Cherry had prompted the letter to Ms Sturgeon, which she believes will gather further signatories.
"Significant numbers of women members are feeling marginalised and disenfranchised within the party," she said. "Many female members have reported women leaving the party in significant numbers due to abuse and smears aimed at them and no action appears to have been taken by the party.
"They see the attacks and threats on Joanna Cherry yet no public condemnation from our leadership and are left feeling unsafe in the party as well as unable to speak out in defence of women's rights. This has had a chilling effect on a number of women."
The letter lays out why the women believe single-sex spaces are required, stating: "Put simply, for reasons of bodily boundaries and trauma, we cannot share female-only spaces with male people regardless of their personalities, dress sense or identities."
It continues: "We would like to particularly note that where female-only spaces are not available in places such as women's refuges and rape crisis centres, it is working-class women who are most impacted, as it is women on low incomes who have nowhere else to go. This is why it is these women who mostly populate such services in the first place.
"We are therefore very grateful for politicians who advocate for the needs of women and girls to be met, and for our human rights based on those needs to be upheld.
"There is no privacy, dignity or safety for women and girls as a class if we cannot have our bodily boundaries respected, or trauma-informed spaces. Our equality is not possible without those things, particularly for women and girls facing the most barriers and those living with trauma.
"Trans people should have protections from unlawful discrimination, and they currently have that under the Equality Act 2010, and they should have their own provisions where appropriate. As many keep saying, 'rights are not a pie', protecting women's sex-based provisions takes nothing away from trans people, trans people can and should have their own provisions.
"We therefore completely reject any notion that meeting women's sex-based needs is transphobic, not least as the needs of women we have highlighted are well evidenced, justified, and also recognised and made provision for in the Equality Act 2010."
Alleging that women in the party have been "relentlessly abused, harassed and threatened for standing up for our rights, including from other members of the SNP", it also claims that despite complaints to the SNP's National Secretary "nothing has been done about it and the leadership has not addressed this at all".
"The message from SNP leadership is very clear: if you support women's rights... you do not deserve any action to be taken regarding any misogyny, abuse, harassment, threats or other forms of attack you may be on the receiving end of. Nor do you deserve any recognition of such attacks or any danger you are in, nor indeed do you deserve any support. Your welfare as a human being is simply not to be valued by the leadership at all."
As well as calling on Ms Sturgeon to "condemn the abuse, harassment and threats" received by Ms Cherry, the letter urges her to "make it clear she is entitled to view women's needs and rights as important and to advocate for them, as are all other SNP members and representatives".
It also claims a definition of transphobia being proposed within the party would "directly prevent women from being able to talk about our sex-based needs" and as a result should be altered.
Further it adds: "We believe the party is imploding largely due to a lack of tolerance. We encourage you to take a principled stance for tolerance, encouraging tolerance of difference.
"We ask you to reassure women who have left the party, or who are thinking of leaving the party, due to the distressing, hostile and unjust environment women are facing, that you hear them, that you value them, and that you are taking action to support them and all women in the party in regard to everything that has been raised here."
An SNP spokeswoman said: "We all have a duty to encourage respectful debate, and no one should be subjected to abuse. The First Minister has spoken before about the abuse she receives on a daily basis, and the way in which such abuse can put young women off politics."
A message from the Editor:Thank you for reading this article. We're more reliant on your support than ever as the shift in consumer habits brought about by Coronavirus impacts our advertisers.
If you haven't already, please consider supporting our trusted, fact-checked journalism by taking out a digital subscription.