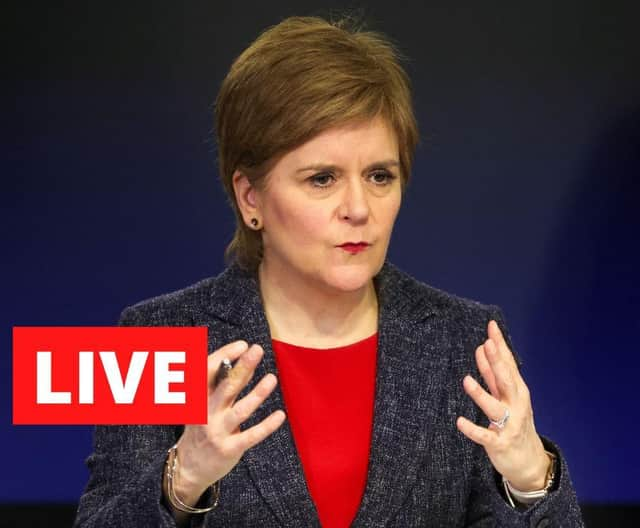 The most recent return lists a total income of £140,496 from her employment as an MSP and First Minister.
Here's how the press conference unfolded.
Nicola Sturgeon press conference LIVE: Updates as First Minister holds general conference
Show new updates
Hello and welcome along to our live blog ahead of the First Minister taking part in a general press conference.
Nicola Sturgeon's tax returns for the years dating back to 2014 have been published by the SNP.
The most recent return lists a total income of £140,496 from her employment as an MSP and First Minister.
Since April 2009, Scottish ministers have frozen their pay and declined to accept their full salary entitlement, with the remainder going towards public spending.
And as well as bringing you live updates from the First Minister, we have the Scotsman's Daily Bulletin giving you insight into the big news stories across the country.
More on the tax returns being released, which the First Minister was quizzed on at the last briefing.
Ms Sturgeon said: "I previously committed to being open and transparent to the people of Scotland about my own earnings. Today's publication makes good on that commitment.
"These documents show clearly that my sole source of income is my job as First Minister – the office which I have the immense privilege of holding. "I hope other party leaders, including the Prime Minister, will follow suit in an effort to promote transparency in public office."
Nicola Sturgeon has thanked members of the media for attending the press conference.
She starts with some introductory remarks. She says her thoughts are with people in Turkey and Syria following the earthquake earlier today - and adds that the Scottish Government will be looking at what relief they can offer.
She also confirms that her tax returns have been published after it was mentioned in a previous press briefing and confirm that her only income is her MSP First Minister salary.
She also congratulates the Scottish Rugby team following their victory at Twickenham.
Nicola Sturgeon is quizzed on minimum pricing and the bottle deposit scheme
The First Minister says that the Scottish Government is taking part in consultations. She adds that the return scheme is an environmental scheme and that many others have similar schemes in place.
She says that the government has taken time to listen to views on industry and that amendments have been made in recent months. She says that her government will continue to work with those in the industry as much as possible.
The First Minister is asked if the Gender Reform Bill is dead or if her government will challenge the UK's Government's use of a Section 35 bill in court.
Nicola Sturgeon says that her position on challenging the Section 35 order has not changed due to the subject matter but also to offer "greater clarity" on the circumstances of when it is appropriate for the UK to use a Section 35 order.
She adds that parliament as a whole passed that bill with a 2/3 majority and followed on from a number of countries.
Nicola Sturgeon adds that that when cases involving crimes such as rape are dealt with seriously and appropriately.
When asked on SNP members should be standing down if they oppose the bill, the First Minister says that like any party there is a general understanding of views, but like any democracy there are individuals that can't accept the party line on certain issues.