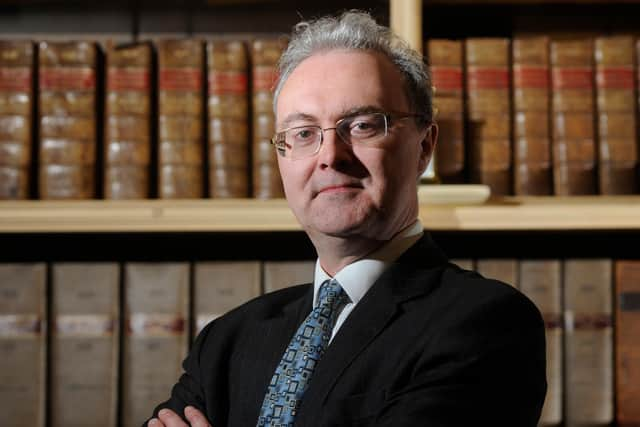 Lord Advocate James Wolffe QC has agreed than an inquiry should take place, but only after all current legal proceedings involving the case are completed. He also dismissed the suggestion that only a judge from elsewhere in the UK would ensure any inquiry is credibly independent.
The Lord Advocate was responding to a debate in the Scottish Parliament into the scandal that has seen the cost of legal fees and compensation to Mr Whitehouse and Mr Clark rise to more than £24 million, with an expectation the total cost could reach around £100m.
He has previously apologised to MSPs and the public for a "very serious failure in the system of prosecution" in relation to the case, which was linked to the collapse of Rangers Football Club a decade ago. The Lord Advocate also admitted there had been "significant departures from standard practice", but did not concede criminality by anyone in the Crown Office.
In Holyrood, Scottish Conservative MSP Murdo Fraser, who brought forward a motion to demand an independent inquiry, said the case was an "unprecedented scandal".
He said for public confidence to be restored in the Crown Office and Procurator Fiscal Service, a "full, independent, public inquiry" was needed, with a judge at the helm who should "not be from the Scottish bench, but from another jurisdiction in the UK".
However, an amendment to his motion lodged by the Lord Advocate was agreed by MSPs, which could allow a Scottish judge to head the inquiry.
During the debate, the Lord Advocate agreed the situation was "unprecedented in Scottish legal history", but that once "all related legal proceedings are completed" a "mechanism of inquiry, which should be led by a judge, should be determined".
But he said he did not believe the judge should have to come from outside Scotland for the inquiry to be independent.
"This case represents a serious failing in the procedure of criminal prosecution and no-one should doubt that I recognise the legitimate questions which it raises," he said.
"I've committed the Crown to release further information when it's possible to do so and committed myself and the Crown to supporting a process of inquiry once related legal proceedings are concluded.
"As far as criminal allegations are concerned, I'm putting in place arrangements, including the involvement of external senior counsel with no previous involvement in these matters, to ensure that any allegations of criminal conduct will be considered fairly and objectively. If criminal proceedings due ensue, they must take their course before any inquiry could proceed.
"I agree with Mr Fraser that there should be a process of inquiry, that it should be transparent and independent and should be led by a judge."
However, when asked by Mr Fraser about appointing a judge from outwith Scotland, the Lord Advocate added: "I entirely agree the judge appointed must be demonstrably independent and command confidence in that regard, and it may well be appropriate to appoint a judge from outwith Scotland.
"However, it would be premature to say that when the time comes to establish an inquiry that no Scottish judge could meet that requirement."
The Lord Advocate continued: "I agree the inquiry should be rigorous, independent and fully resourced. The only point I depart from the substance of Murdo Fraser's motion is he seeks to pre-judge the part model and type of inquiry to be selected.
"I do not rule out a statutory public inquiry. That may be the right way forward but other models and forms of inquiry are available and should not be ruled out."
Mr Fraser later added: "We were told by the Lord Advocate that lessons have been learned from this costly debacle, but that is simply not good enough. Innocent men could have ended up behind bars with their good reputations destroyed because of malicious prosecutions. Taxpayers are left paying the bill.
"We cannot possibly trust the Lord Advocate to mark his own homework. While he concedes the need for a judge-led inquiry, that does not go far enough.
"Mr Wolffe's predecessor Frank Mulholland is now a high court judge and is central to this scandal. Given that Mr Whitehouse has made allegations of criminality, it is therefore vital for a public inquiry to be presided over by an independent judge from outwith Scotland.
"It is worth noting that the Crown initially tried to dodge responsibility by hiding behind the convention of immunity from being sued. They are only being held to account due to the resources and determination of the litigants, who won a landmark legal case ending this immunity."
Scottish Labour's Rhoda Grant backed Mr Fraser and said any inquiry should be extended to include an examination of the role and involvement of Police Scotland.
She said: "This is an extremely concerning issue to the people involved and the Scottish justice system. To arrest and then detain people means suspicions exist at a level of criminality that could cause public harm. To then discover there was no evidence against them to countenance such action is shocking.
"It is clear that this was not only mishandled by the Crown and prosecution service as the police are also being pursued for compensation. We agree this requires an independent public inquiry, but we cannot do this without looking at the role of the police as well."
A message from the Editor:Thank you for reading this article. We're more reliant on your support than ever as the shift in consumer habits brought about by Coronavirus impacts our advertisers.
If you haven't already, please consider supporting our trusted, fact-checked journalism by taking out a digital subscription.