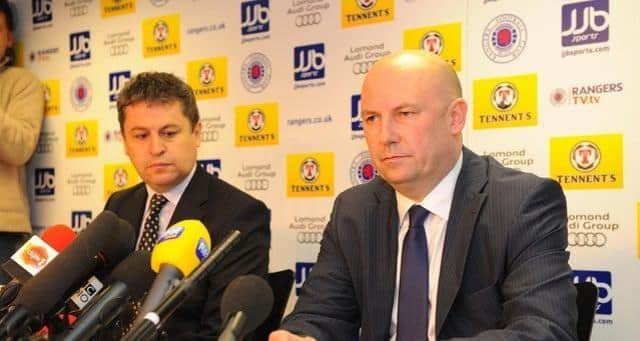 David Whitehouse, left, and Paul Clark were appointed the joint administrators of Rangers
Lord Advocate James Wolffe apologised to MSPs and the public for a "very serious failure in the system of prosecution" in relation to the case involving
administrators David Whitehouse and Paul Clark.
He said during a Holyrood statement on Tuesday that he would back an inquiry into what went wrong in the case, but said new safeguards had been introduced for "big and complex" cases in Scotland that should avoid a repeat.
Mr Whitehouse and Mr Clark were awarded £10.5m each in damages and a further £3m was paid to their legal costs over the botched prosecution in 2015.
But Tory MSP Murdo Fraser said sums paid out may be the "tip of the iceberg" with other cases still outstanding. He also claimed Mr Clark and Mr Whitehouse also given "tax indemnities", meaning any tax bill sought by HMRC would be met from public funds.
"The total cost could top £100m," Mr Fraser claimed.
Mr Wolffe responded: "I recognise the significance of the sums involved in these cases and Murdo Fraser is correct to observe that with other cases pending, the cost to the public purse will increase.
"The ultimate cost remains to be seen."
The pair were arrested in 2014 along with Duff and Phelps colleague David Grier. All charges were later dropped. Mr Grier is also pursuing his own case against the Crown Office and Police Scotland.
It has been historically assumed the prosecution service in Scotland is immune from damages actions over the way it handles cases, but the legal case brought by Whitehouse and Clark changed this.
Mr Wolfe was not Lord Advocate when the Crown Office action was taken in the Rangers case, having been appointed in 2016. The role was held prior to this by Lord Mulholland, now a High Court judge.
Mr Wolffe said the shortcomings in the Rangers case were down to failings in the "precognition" process, which is in place to set out the case against an accused, but had not been complete.
"There was evidence available which objectively was obviously inconsistent with the charges against these two accused," the Lord Advocate said.
Opposition parties are now calling for an independent judge-led inquiry to be held into what went wrong in the affair.
Mr Wolffe said a lengthy inquiry had been carried out by the Crown Office legal team, including external counsel.
"As a result of that investigation I concluded that the decisions to place Mr Clark and Mr Whitehouse on petition in December 2015 and to indict them were indefensible in law," he said.
"I concluded that those decisions proceeded without probable cause, ie without a proper evidential basis."
But Mr Wolffe said "lessons have been learned and will continue to be learned" from the case.
He said: "The precognition process has been reinforced and in 2018 I established new arrangements for the management and oversight of large and complex cases.
"Those arrangements are now well established and provide a substantial safeguard against anything life this happening again."
In a statement issued after wards, Mr Whitehouse described the case as "one of the most shameful episodes in Scottish legal history.
He added: "Never before has the government's top law officer had to admit to 'indefensible' actions and 'serious failure'.
"I welcome his apology to me and my colleague Paul Clark but as many MSPs pointed out today in their chorus of condemnation, that when something goes seriously wrong who is at fault?
"The Lord Advocate said no-one acted out of spite but the fact remains that it was people within Crown Office that took a series of
decisions that resulted in us being hauled out of our homes, falsely accused of crimes, incarcerated and prosecuted with malice. Those people should be held accountable. I firmly believe that a criminal investigation is justified."
Opposition MSPs also slammed the approach of the Crown Office in case.
Labour's Rhoda Grant said: "The Lord Advocate says that the system has been improved but there cannot be proper scrutiny of this until we know exactly what went wrong in the first place. Until this happens, how can he expect to restore confidence in the system?"
Liberal Democrat Liam McArthur branded the case a "true scandal of monumental monetary terms."
He added: "This is tens of millions of pounds that could have been spent on pandemic business support, education catch-up, or investment in mental health and there could be worse news yet to come, given we don't yet know the police's exposure.
He added: "The need for a full, independent and judge led inquiry is now achingly clear. The Scottish Government must now get to work setting the infrastructure up for this now, so that no time is wasted and that inquiry is ready to get to work as soon as the legalities conclude."
Greens justice spokesman John Finnie also called on the Lord Advocate to "restore public confidence" in Scotland's justice system.
He added: "The checks and balances sighted by the Lord Advocate as reasons people can have faith in the system seem to have been completely bypassed in this appalling situation. Members of the public may understandably wonder what chance they would have of receiving justice, when such an appalling failure takes place in what was a hugely high profile matter."
A message from the Editor:Thank you for reading this article. We're more reliant on your support than ever as the shift in consumer habits brought about by Coronavirus impacts our advertisers.
If you haven't already, please consider supporting our trusted, fact-checked journalism by taking out a digital subscription.