Lara Trump: who is Donald Trump's daughter-in-law and could she take Richard Burr's Senate seat?
Thought you'd seen the last of the Trumps? Lara could be the next to hold office – here's how
The Trump family may be gone from the White House, but its claws have been firmly sunk into American politics, and we may just have found out who may be the next Trump to hold public office.
Lara Trump, Donald Trump's daughter-in-law, could be the next from the dynasty to be elected into a position of power.
"My friend Richard Burr just made Lara Trump almost the certain nominee for the senate seat in North Carolina to replace him if she runs," Senator Lindsey Graham told Fox News on Sunday.
But why? And who is Richard Burr?
Here is everything you need to know.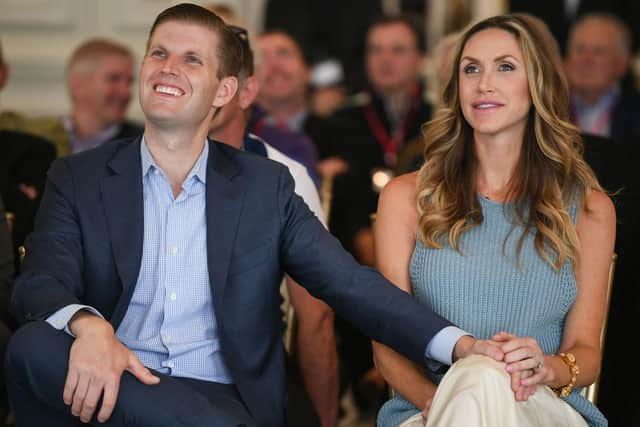 Lara Trump is former President Donald Trump's daughter-in-law, having married his son Eric in 2014 after a six-year relationship. They have two children together.
Trump was born in Wilmington, North Carolina in 1982, and later graduated with a Bachelor of Arts degree in communication from North Carolina State University. She also studied at the French Culinary Institute in New York.
As a television producer and broadcaster, she served as a story coordinator and producer for long-running TV news magazine Inside Edition (which was originally presented by the late Sir David Frost when it launched in 1989) from 2012 to 2016.
She was also the producer and host of Real News Update, a weekly webcast that launched in July 2017 to support Donald Trump's failed 2020 presidential campaign.
Filmed in a studio on the 15th floor of Trump Tower, the programme has been likened to state-sponsored propaganda by many commentators; Trump herself explained that the show was designed as "an outlet for under-reported positive news of Donald Trump's presidency."
What political experience does she have?
Trump has played roles in both of her father-in-law's election campaigns.
In 2016, she spearheaded the Trump–Pence Women's Empowerment Tour, and for her father-in-law's reelection campaign four years later, was a senior consultant to Brad Parscale, the Trump campaign's senior adviser for data and digital operations.
She was paid $180,000 (£130,000) a year through Parscale's private company.
She also campaigned with the anti-Muslim far-right conspiracy theorist Laura Loomer, and was forced to deny she had mocked Joe Biden's stutter and suggested he was suffering cognitive decline.
These were not her first controversial rodeos: in April 2019, Lara called Angela Merkel's decision to accept refugees during the European migrant crisis of 2015 as "one of the worst things that ever happened to Germany."
How might she be elected?
Donald Trump's daughter-in-law could secure the GOP nomination for Senator Richard Burr's seat in North Carolina, when he retires from office in 2022.
Such a move is likely to stoke passions within the Trump supporting citizens of North Carolina (of which Lara was once one), and what could be a more fitting leaving gift than replacing Burr with a Trump?
Senator Graham, a Republican from South Carolina, said that Donald Trump remains "the most vibrant member" and "the most potent force" in the party, adding that "the Trump movement is alive and well."
All of this hinges on if she decides to run of course, but with her doing so seemingly an easy win for the Republican party, it would not be surprising to see her do so.