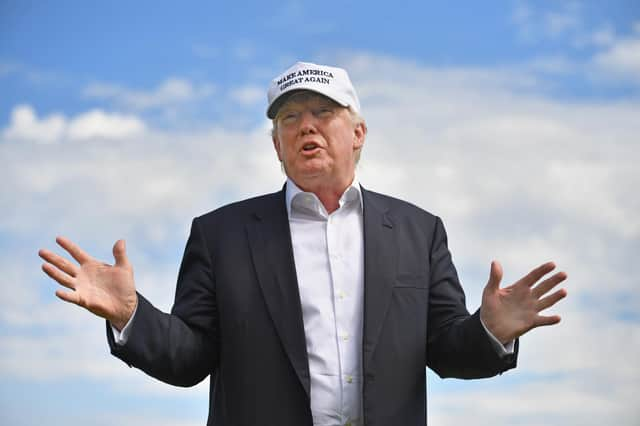 Trump is the first president in US history to be impeached twice (Getty Images)
Despite his recent exit from the White House, Donald Trump finds himself at the forefront of American politics once again.
He is the first president in US history to be impeached twice, and proceedings began on Tuesday (9 February).
The impeachment trial is expected to last several days - so will Trump be watching his fate from a distance, and if so, from where?
Here is everything you need to know.
Where is Donald Trump now?
The one-term president has spent the last three weeks since President Biden took over the Oval Office at his Mar-a-Lago resort in Florida.
He has been holed up at the resort, which is close to the Trump International golf club, since he left Washington DC at 8am on Inauguration Day.
Trump has reportedly spent most of his time golfing, taking a break to watch the NFL Super Bowl on Sunday (7 February), according to the Washington Examiner.
The town council for Palm Beach, where the resort lies, is discussing whether Trump should be allowed to live there full-time after neighbours complained.
When the former president developed Mar-a-Lago into a private club from a residency, he agreed with the council that members should not be allowed to live at the location.
However, he is an employee of the organisation that owns the club - a technicality that may allow him to escape being evicted.
Has he been watching the impeachment trial?
Trump opted to take a break from golf to watch TV coverage of his impeachment trial, according to reports, and plans to watch the entirety of the proceedings.
He was becoming "increasingly frustrated" with his legal team, Politico reported, after the Democrats showed a chilling 13-minute opening video from the Capitol riots.
A source said: "President Trump was not happy with the performance of his legal team in action."
Trump was annoyed that his team had appeared to concede that Joe Biden had won the election, the source claimed.
It is not known which news channel Trump is watching the impeachment trial on.
It will also be difficult for his supporters to know what he is thinking as the trial progresses, as he was banned from Twitter for "inciting violence" on the platform following the riots.
Is President Biden watching?
Meanwhile, President Joe Biden has said he will not be watching Trump's second impeachment trial.
He is currently busy trying to push through a $1.9trillion coronavirus aid package and will visit the Pentagon and the National Institutes of Health for meetings about the relief sum this week.
Responding to a reporter who asked if he would be watching the proceedings, he said: "I have a job."
Biden told NPR: "A lot of children are going to bed hungry. A lot of families are food insecure. They are in trouble. That's my job.
"The Senate has their job. They are about to begin it. I am sure they are going to conduct themselves well."
The new president concluded by saying that was all he had to say about the matter.
White House Press Secretary Jen Psaki confirmed that the president was "pretty busy" and had a "full schedule" so he would not spend time watching the impeachment trial.
She added: "Biden is the president – he's not a pundit. He's not going to opine on the back-and-forth arguments, nor is he watching them, that are taking place in the Senate."
However, Ms Psaki confirmed that Mr Biden will remain in touch with House Speaker Nancy Pelosi during the trial as members of Congress oversee the process of impeachment.
Will Trump be convicted in the Senate?
As things stand it seems unlikely that Trump will be convicted.
A two-thirds majority are required to vote in favour of conviction.
With the upper house of congress split 50-50, 17 Republicans would be required to vote in favour of conviction, assuming all Democrats back it.
Republicans have already shown reluctance to turn on the former leader, with 45 senators backing a motion brought forward by Kentucky Senator Rand Paul which suggested the trial was unconstitutional.
This reluctance will partly be down to a desire to keep the support of Trump's base which remains strong despite his defeat.
Just one republican senator, Mitt Romney, voted to convict Trump at his first impeachment trial.
Republican Senate leaders are split on the vote with Senate Minority Leader Mitch McConnell saying that he will keep an open mind ahead of the trial.
John Barrasso of Wyoming, the third highest ranking Republican in the senate has said that "at this point, there's not going to be a conviction. You can read the writing on the wall."