Labour: Angela Rayner makes 'cast-iron commitment' to introduce Employment Rights Bill in first 100 days of government
The deputy leader promised a bill banning zero-hours contracts.
Angela Rayner has given a "cast iron commitment" that Labour would introduce an Employment Rights Bill within its first 100 days of government.
The deputy Labour leader, who leads for the party on workers' rights, made a series of announcements on Tuesday, prompting a standing ovation after addressing the TUC Congress.
Delegates heard she had one message, which is that a Labour government would build an economy that delivers for workers.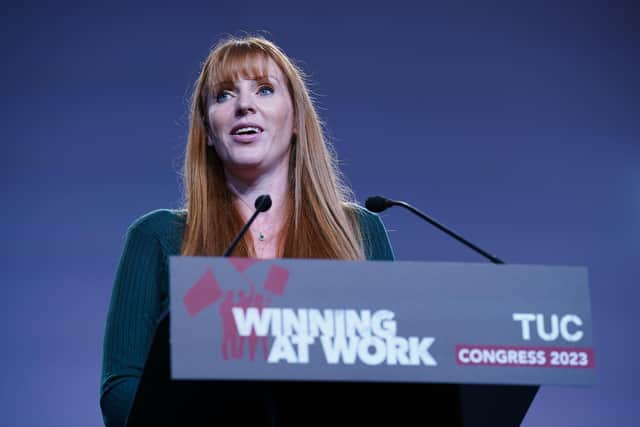 Announcing a "new deal", she said: "Labour will start by bringing forward an Employment Rights Bill to legislate for this within the first 100 days of entering office. That is a cast-iron commitment.
"Labour's New Deal for Working People will transform ordinary working people's lives. Work will finally pay, rights will be properly enforced, and crucially it will strengthen the role of trade unions in our society.
"I come here with one message. The next Labour government will build an economy that works for working people, with a new deal for working people".
Promising to support unions, Ms Rayner outlined plans to update union laws, give unions a new legal right to access to workplaces, making it easier to recruit and represent workers, and allow electronic balloting.
The party had previously been accused of watering down the plans. But speaking in Liverpool, Ms Rayner insisted the deal was "absolutely vital to [Sir] Keir's [Starmer] missions going forward".
She also mentioned strengthening sick pay, fair pay agreements in social care and ending the gender pay gap.
Ms Rayner added: "We'll bring in a proper living wage that people can actually live on. The State will take a more strategic and active role in our economy by fixing the UK's broken labour market, giving businesses the confidence they need to invest in our infrastructure and people once more."
The deputy Labour leader appealed to unions to stand with her party in the run-up to the election and campaign "side by side".
The Ashton-under-Lyne MP also refused to promise to raise the state pension in line with the "triple lock" if her party wins power. Ms Rayner said Labour could not commit to the policy, under which pensions rise by the highest of prices, average earnings or 2.5 per cent, until an election.
The Prime Minister has also refused to say whether the triple lock will be in the next Conservative election manifesto, but has confirmed it remains current government policy.
TUC general secretary Paul Nowak said: "Angela Rayner set out a vision for a Britain that delivers for working people. Labour's transformative New Deal for Working People stands in stark contrast to the Tories' dire record on workers' rights and pay.
"The Conservatives have presided over an explosion in insecure work and the longest pay squeeze in modern history, and they are now launching a full-scale attack on the right to strike. The country desperately needs a fresh start.
"British voters across the political spectrum want more security and fairer treatment at work. Make no mistake – implementing the New Deal would be the biggest upgrade in workers' rights in a generation."
Comments
 0 comments
Want to join the conversation? Please or to comment on this article.