Kate Forbes hits out at 'urban-centric environmentalists' in the Scottish Greens and says Just Stop Oil are alienating people
The former finance secretary says cutting off oil and gas will plunge people into poverty
The Skye, Lochaber and Badenoch MSP was on a live recording of Matt Forde's The Political Party at the Edinburgh Fringe on Monday when she made the comments. She also said Scotland could not cut off oil and gas tomorrow without plunging people into poverty, and claimed protestors such as Just Stop Oil were alienating the public.
Mr Forde asked the former finance secretary if the SNP brand was being compromised by having Mr Harvie and Ms Slater in government.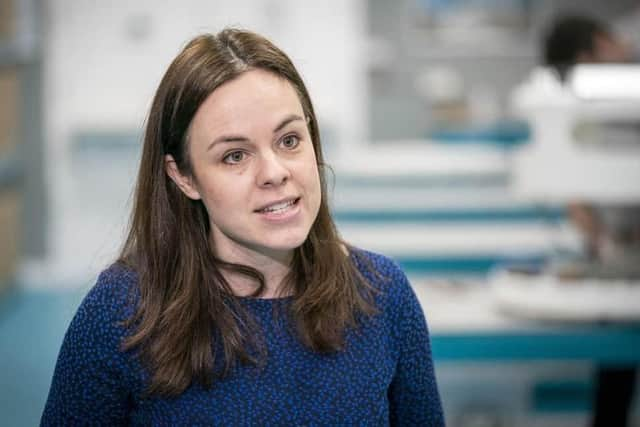 Ms Forbes said: "If I take my local area as an example, a really rural area, my rural constituents are often querying why it feels like urban-centric environmentalists can have more say about the rural economy than the actual people working there – the farmers and fishermen and so on.
"That I think is where the rub is. I've engaged before with both of them, but you actually have to take the public with you on any front. There is no reaching net zero unless you take the public with you on some of the more difficult issues.
"If you can't take them with you, we ain't going to get there. So that requires a respect and not necessarily a sense of being preached at."
Ms Forbes reiterated her calls to "check in" with SNP members to see if they still agreed with the Bute House Agreement, which officially brought the Scottish Greens into government.
She said the agreement had changed a lot over the two years since it was signed and she "doesn't see a problem" with it evolving over time.
Ms Forbes then said the oil and gas industry can't stop tomorrow as it would simply "plunge the country into poverty". She said: "If you cut it off tomorrow, or even if you cut it off next year, or maybe even in five years' time, you won't have built up the supply chain that can cater for all of these new jobs that are going to be created."
Ms Forbes also hit out at protestors such as Just Stop Oil, saying they are wrecking people's lives with their actions, which have recently included blocking roads and interrupting high profile sports games. She told the podcast: "I think they are alienating the public.
"Protest is fundamentally important, but protests that continue to hit workers, those that are struggling to get about their daily life, once you start wrecking people's lives in that way, you've lost them as an audience. Behaviour has never changed as a result of being preached at.
"Most people want to do the right thing, but they don't want to see their lives wrecked in the process."
An interview with an SNP politician at the Fringe can't go past without touching on the subject of Scottish independence, and this event was no different.
She said: "There has been a massive generational shift, but it needs to be at the right time and there is a majority there to be persuaded on the merits of independence. I want to get rid of a very distant power that doesn't reflect how Scotland votes – it's that tired old concept of a democratic deficit."
Mr Forde ended the live podcast recording by asking what is more likely – the second coming or a second independence referendum, to which Ms Forbes joked: "Both have an equal likelihood of happening, but the second coming could happen at any time – the referendum will take a bit more work."
Comments
 0 comments
Want to join the conversation? Please or to comment on this article.